Digital Transformation
True Digital Transformation in E-Commerce: What Does This Look Like?
In recent years, digital transformation has gone from buzzword to an organizational necessity. Technology may solve a lot of e-commerce pain points, but companies are often confused about the best way to implement it. Below, we report on the growth of digital transformation, its drivers, and how you can best incorporate it into your business.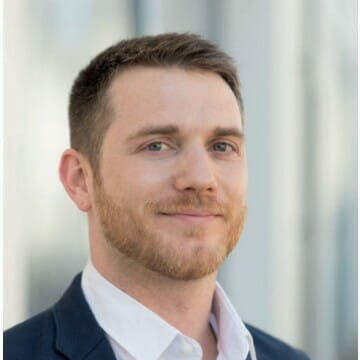 Ricky Sutton
Solutions Content Marketing Manager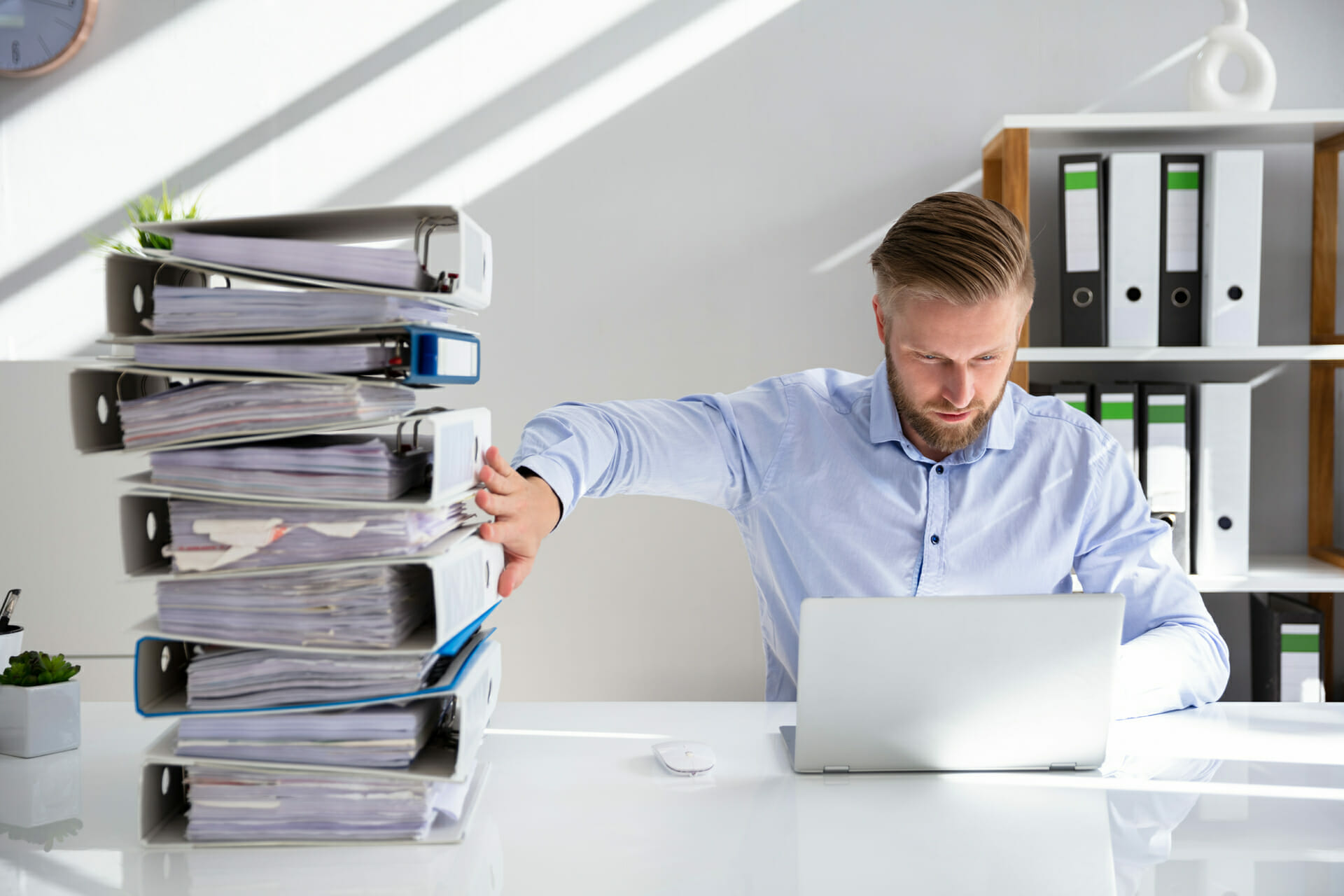 When adhering to its simplest definition, digital transformation takes place any time a physical process is replaced with a digital one. This is usually with the goal of making the process more efficient and may be as small as switching to a note-taking app over using pen and paper.
From a business perspective, digital transformation often implies that the change taking place will assist an organization in gaining a competitive edge in their market. With this in mind, it's important to remember that digital transformation is not simply the introduction of technology for the sake of it. Digital transformation seeks to solve an issue and utilizes technology as the solution.
In recent years, digital transformation has gone from being a buzzword to an organizational necessity as more issues arise requiring digital integrations as solutions to help companies remain competitive. Stats showing the uptake of digital technologies attest to its ever-increasing popularity; in 2018, companies which had undergone digital transformation accounted for $13.5 trillion of the global nominal GDP. By 2023 these are forecast to account for $53.3 trillion, over half of the overall nominal GDP, the first time that digital will begin to dominate the global economy.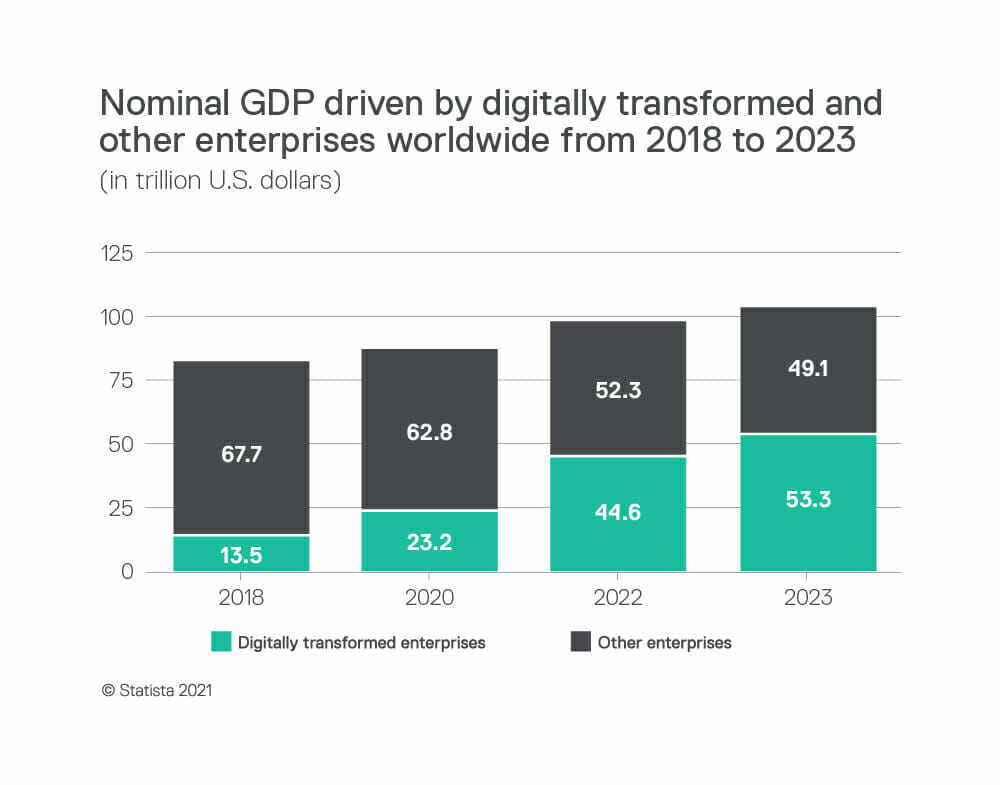 Particularly since the COVID-19 pandemic, companies have been embracing technologies to overcome issues in relation to lockdowns. Statista reports that during this period 97% of companies sped up the digital transformation of their operations "somewhat" or "a great deal". The necessity of digital transformation due to the pandemic cannot be overstated, with 50% of companies feeling they should have digitally transitioned at an earlier stage, and 80% of organizations reinventing their business model directly because of COVID restrictions.
As digital transformation can look different for every company, we're going to focus specifically on e-commerce. This, unsurprisingly, also boasted increased uptake during the pandemic, with an estimated ten years' worth of industry growth in just three months and e-commerce's share of global retail trade jumping from 14% in 2019 to nearly 18% in 2020.
Drivers of digital transformation in e-commerce
Due to COVID-19, necessity may have been a major driver of digital transformation, but it's not the only driving force of technological change. To understand how to best implement digital transformation it helps to understand the issues it aims to solve. Below, we've identified three additional catalysts in the growth of digital transformation, specifically in relation to e-commerce.
Trends and changes in technology
Although creating and expanding online stores has been a key aspect of e-commerce digital transformation, it's important to remember this doesn't simply mean transferring your product offering online. Digital transformation incorporates new technologies to solve a range of issues which broadly fall into three camps: e-commerce, customer support, and supply chain management.
Developments in technology, including the introduction of AI, headless commerce, augmented reality, and mobile shopping, drive digital transformation and help organizations gain a competitive edge over rivals. The same can be said for trends in technology, such as offering increased convenience to customers, or businesses simply requiring an online presence to indicate value and trust.
To gain an idea of how rapidly technological advances are being made, consider that 90% of the world's data was collected in the last two years due to consumers being more digitally connected than ever. Estimates also predict that the number of IoT devices will number 75.44 billion by 2025.
And it's worth considering how these trends may develop in future. With digital currencies ever-closer to commonplace use, it's important to keep an eye on the horizon for the next trend and transformation which will offer you an edge over competitors.
Customer expectations
Customer expectations are on the rise. Although some of these were partly influenced by the pandemic, others are long-known consumer patterns which were exacerbated by lockdowns.
For many years convenience has been a key factor in the adoption of e-commerce among consumers, with 97% of customers having abandoned a purchase because the buying process was not convenient enough. Using tech to offer customers multiple touchpoints and the omnichannel shopping experience they expect adds convenience to their shopping process.
Personalization has also become a demand among consumers, with 72% engaging exclusively with personalized messaging. Digital integrations such as AI and machine learning can scalably tackle personalization, which also adds a level of trust customers hold in higher regard since supply chain and delivery disruptions of Covid.
Finally, the pandemic revealed that if customers' needs aren't met, they will look elsewhere to fulfill them. 37% of consumers now report shopping with more brands than they did a year ago, whilst 46% say they are less loyal to the brands they love. Quality, value and availability, all of which are still uncertain due to dubious supply chains and panic buying, have caused consumers to break loyalties with their favourite brands during and after the pandemic.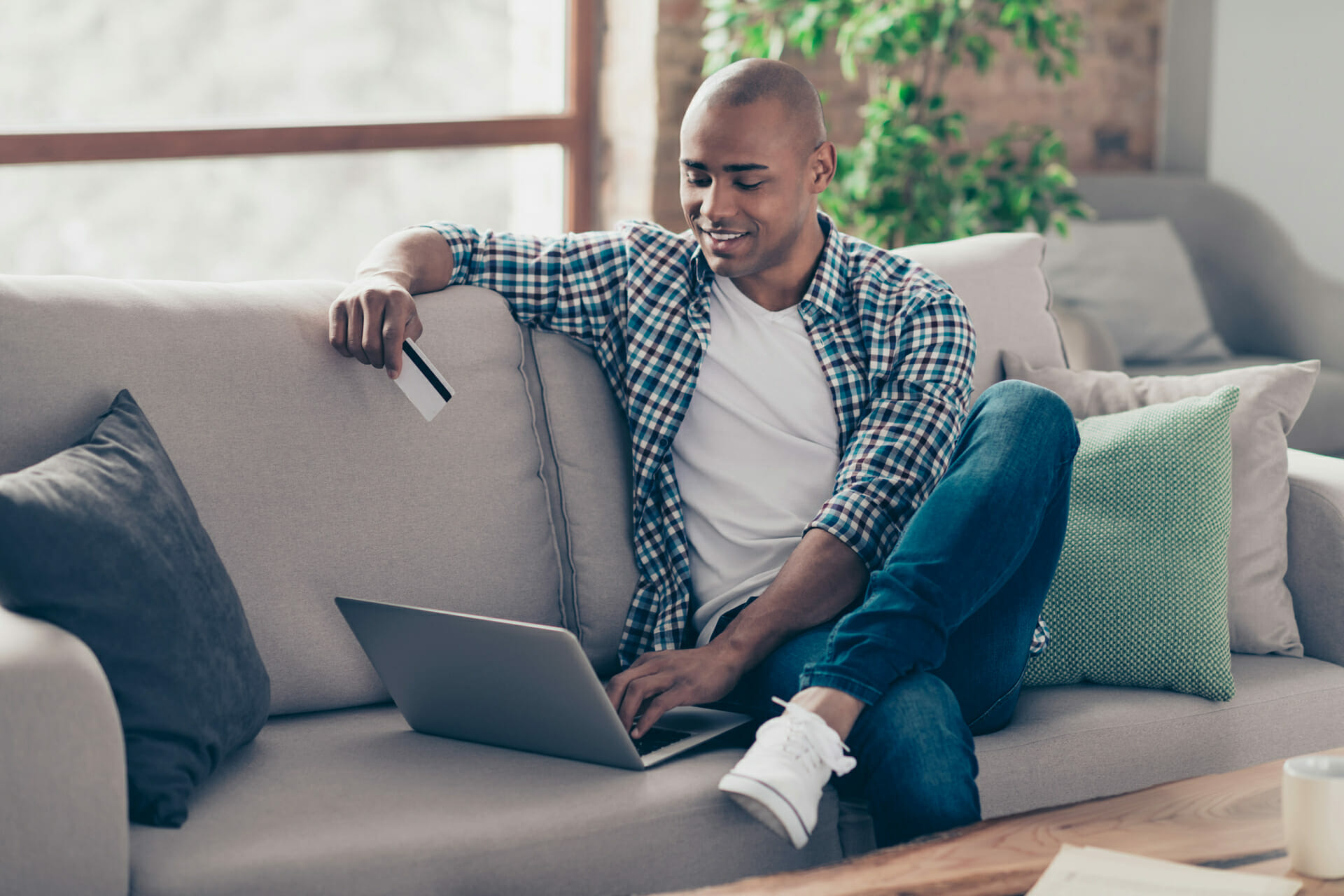 Competition
Competition may come in the form of a new disrupting competitor or simply in the way a competitor utilizes technology to alter the methods in which they carry out business. If this new digital practice adds to their profits, other companies will want to emulate or develop this in order to remain competitive.
Companies are well aware of their need to invest in digital to remain ahead of their rivals. More than one in seven UK retailers created roles specifically to cater to increased digital commerce during the pandemic. Those which invested and rode this wave of change have and will continue to advance ahead of their competition.
Digital transformation can also offer insights into real-time analytics, allowing companies to forecast trends and action predictive purchases, offering a key competitive edge in dubious times. This can relate specifically to supply chain issues, but can also allow businesses to proactively track and monitor resources, reducing wasted product, time and costs.
On top of this, both you and your competition are being assessed by prospective customers. 38% of consumers feel online reviews are critical when deciding whether or not to make a purchase. The need to stay ahead of the competition is becoming more and more critical, with digital transformation a crucial way to achieve this.
—
The above three factors can also converge, with new disruptive competition often incorporating trends or innovative technologies, which in turn set the benchmark for customer expectations.
How can Spryker help achieve true digital transformation?
You may recognise a weakness in your own organization detailed in one of the factors above. Perhaps you are not embracing new trends to remain competitive? Maybe customers are abandoning carts due to an inconvenient purchasing process?
If you're looking to implement digital transformation in any company, McKinsey offers ten guiding principles split into three stages. As every business is different this blog post focuses on the broader stages of digital transformation rather than the individual steps. However, we describe how Spryker can assist at each of these three main stages, offering a clear roadmap of how we can assist in your digital transformation.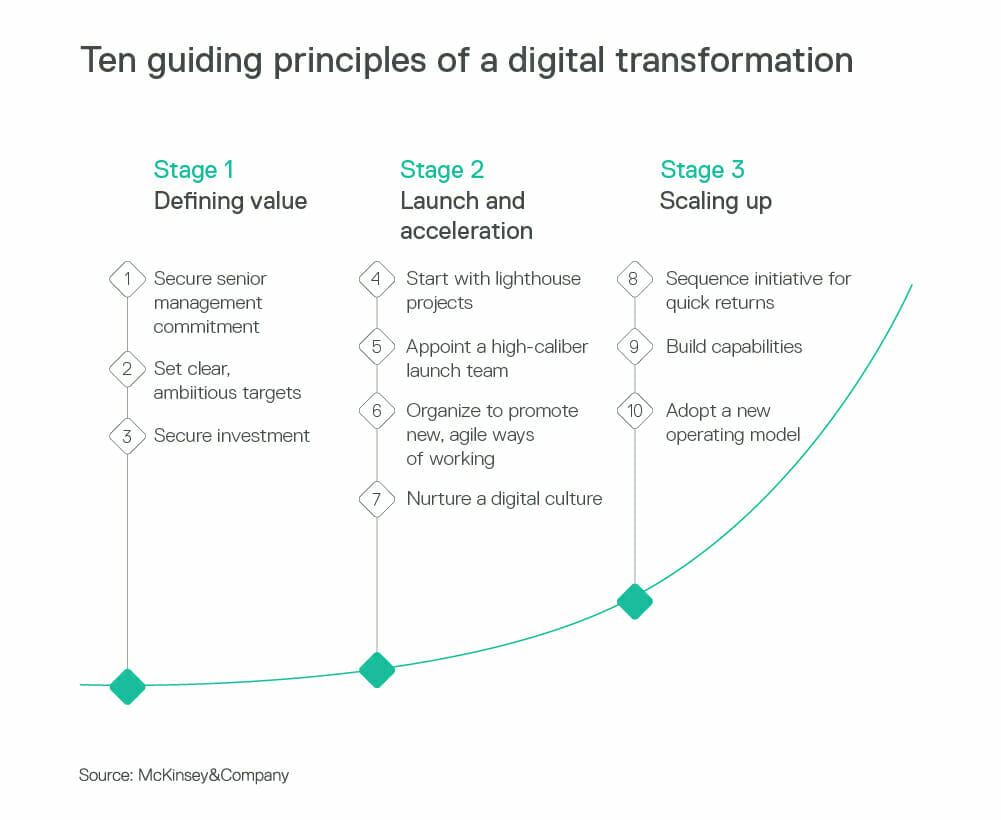 Stage 1 – Defining value
As seen in previous statistics, defining value in digital transformation in e-commerce is not difficult. However, it's important to understand how that value can be achieved starting from a business-first approach.
Taking a business-first approach is essential in attaining true digital transformation. Although technology is an essential part of the process, focusing purely on the tech will not bode well for your organization in the long run. To succeed, digital transformation must be planned, integrated and part of a company-wide cultural shift. 46% of companies who have grown via digital transformation stated that having an engaged leadership team was a key enabler for their accelerated growth.
As an e-commerce platform, Spryker can advise how to best implement digital transformation to your business and help define the value best suited to your organization.
Stage 2 – Launch and acceleration
This stage is about implementing digital transformation and ensuring the project is given the necessary resources to thrive.
For launch, Spryker is highly effective due to our modular approach. Features and products can be added to your e-commerce platform as and when needed, meaning launch and acceleration can take place quickly by rapidly offering a minimal viable product (MVP).
By this same token, operational costs are reduced by only including the features and products necessary to your business, allowing these functions to be focused on and successfully accelerated as a key part of your business offering.
Stage 3 – Scaling up
Due to our same modular approach, scaling your business' digital transformation is made simple with Spryker. Packaged Business Capabilities (PBCs), which are independent groupings of features tailored to your business, can be added to your platform to increase functionality. Featuring only the capabilities you choose, this is more flexible than a monolithic approach, keeping your code base lean while also allowing customization.
Spryker also offers the GLUE API, which connects the Spryker back-end with a multitude of touchpoints and third party services. This creates an omnichannel offering for your consumers, creating much sought-after convenience in access to your products.
Finally, the Spyker code architecture itself is clean and well defined. It offers predictability and easy navigation, meaning your developers save time and effort when it comes to any internal developments or making customisations. This reduces total cost of ownership and allows scaling to take place more rapidly.
—
Undertaking digital transformation may seem like a daunting task, but with adequate planning and companywide buy-in, the benefits can be easily achieved. It's important to remember that, as previously mentioned, true digital transformation is not the practice of introducing technology for the sake of doing so, but that the technology introduced should solve a problem. But with many problems of modern commerce needing technological fixes, digital transformation is likely to be the answer to a problem you're perhaps already experiencing.
Considering a digital transformation for your company but not sure how it can be best implemented? Speak to our sales team for practical steps towards your digital evolution.