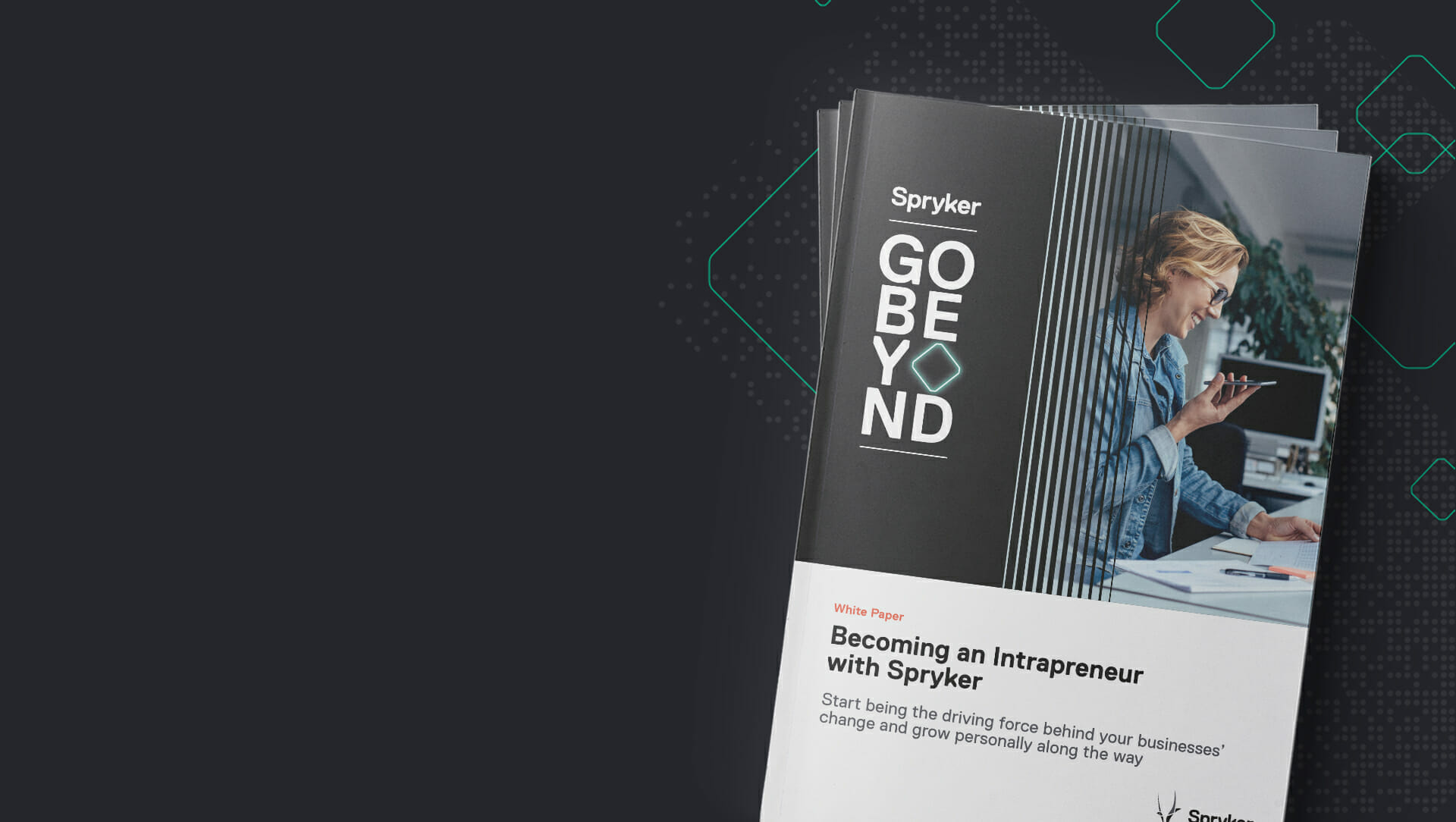 Becoming an
Intrapreneur

with Spryker

By becoming an Intrapreneur you'll start being the driving force behind your businesses' change and grow personally along the way

An Error occured while trying to load the form. Please reload the Browser to try it again.
White Paper Overview
Most companies greatly need more intrapreneurs - especially in the digital field. Finding them can be difficult, so why not start by being one yourself? How? By leveraging intrapreneurial behaviors and counting on the right partners.
Find out and learn
Where to take your intrapreneurial spirit from
What intrapreneurs in e-commerce aim for
How to fnd the right peers to support you
How to to start being the accelerator of your success
This white paper is for you if you
Look for personal opportunities to push your intrapreneurial spirit
Want face the challenges in your commerce environment
Are looking for the right partner to initiate commerce change
Want to be the one that made your career and digital business take off
Get a preview of the guide below
Reading sample
Where to take your intrapreneurial spirit from (identifying the problem)
The value of an intrapreneur is based in their deep understanding of the unique challenges that their company faces. To become more intrapreneurial, the first step is to spend ample time researching a specific problem within your area of expertise. In other words, you'll have to gain insights into what needs fixing.
"Even though we had little time to make a decision, it should still offer a long-term perspective. And it quickly became clear to us that Spryker would provide us with the greatest innovative power and flexibility in the future."

Daniel Richter, Director Multichannel at Globus
Working in the commerce sphere is fast, sometimes even hectic. Hence, fueling your intrapreneurial actions can be rewarding in many ways. Firstly, besides being a top solution against monotony you can also see it as an option to finally find your creative outlet, for instance by testing your boundaries. Moreover, if you ever get the feeling that the commerce world would still spin without you, it is your chance to "put a dent in the universe".
Read guide
Download the guide to
learn more today.