Spryker's future-proof solution for
cloud-based commerce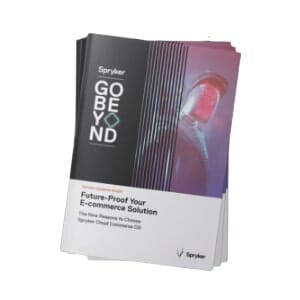 The 9 Reasons to Choose Spryker Cloud Commerce OS
This Handout will help you understand how Spryker's Cloud Commerce OS can support you in building a future-proof e-business.
Spryker Meets The New Requirements For Commerce

Spryker Constantly Enables New Digital Business Models

Spryker Offer The Latest Technology For Endless Innovation

Spryker Supports Multiple Business Models In A Single Platform

Spryker Has Modern Architecture

Spryker Has Proven Scalability

Spryker Is Efficient And Ensures Lower TCO

Spryker Works With Leading Consulting Firms

Spryker Offers Guidance From Start To Finish
An Error occured while trying to load the form. Please reload the Browser to try it again.
Handout Overview
The only constant in digital business is change. The expectation of customer-centricity will continue to increase throughout all industries. "How to sell" is becoming more important than "what to sell". With constant change and growth of digital sales channels comes a shift in the previous distribution of market share. Successful business strategies have shorter half-lives than in the past. This development puts the long-term growth of organizations at risk. Markets are becoming highly competitive due to innovation cycles becoming even shorter. Businesses must find ways to commercialize the successful application of innovation reliably.
In this handout you will learn:
How to keep up with a constantly changing digital environment
E-commerce solutions for B2B manufacturers
Spryker Cloud Commerce OS for e-commerce innovation
Transactional business models of the future
Who should read this handout:
Manufacturers
Retailers
B2B Merchants
Business Executives
Medical technology experts
Get a preview of the handout below
Cloud-based commerce for Manufacturing and beyond
Many businesses are under immense pressure to either innovate and meet the demands of modern customers or lose the race to early adopters. Headless, modular B2B commerce, requires sophisticated experiences that are seamless, scalable, and truly flexible. Spryker's leading B2B Cloud-based Commerce platform fulfills every intricate business need–effortlessly. Additionally, it is a PaaS company that enables customers to use best-of-breed components on a single point of contact for the full service, without hassles or complex multi-party agreements.
Throughout our evaluation, Spryker was the one technology fulfilling over 90% of our high-complex use cases from the get-go. And it's paid off so far!

Jochen Hostalka, SVP IT & Enterprise Services at Siemens Healthineers
Spryker Cloud Commerce OS–a proven history of e-commerce innovation
What Spryker provides for cloud commerce and beyond:
Future-proof business
Improved customer experience
Faster return on investment
Support in a single platform
Read entire Handout
Download the handout to
learn more today.