A B2B Marketplace on Spryker is your Next
10x Initiative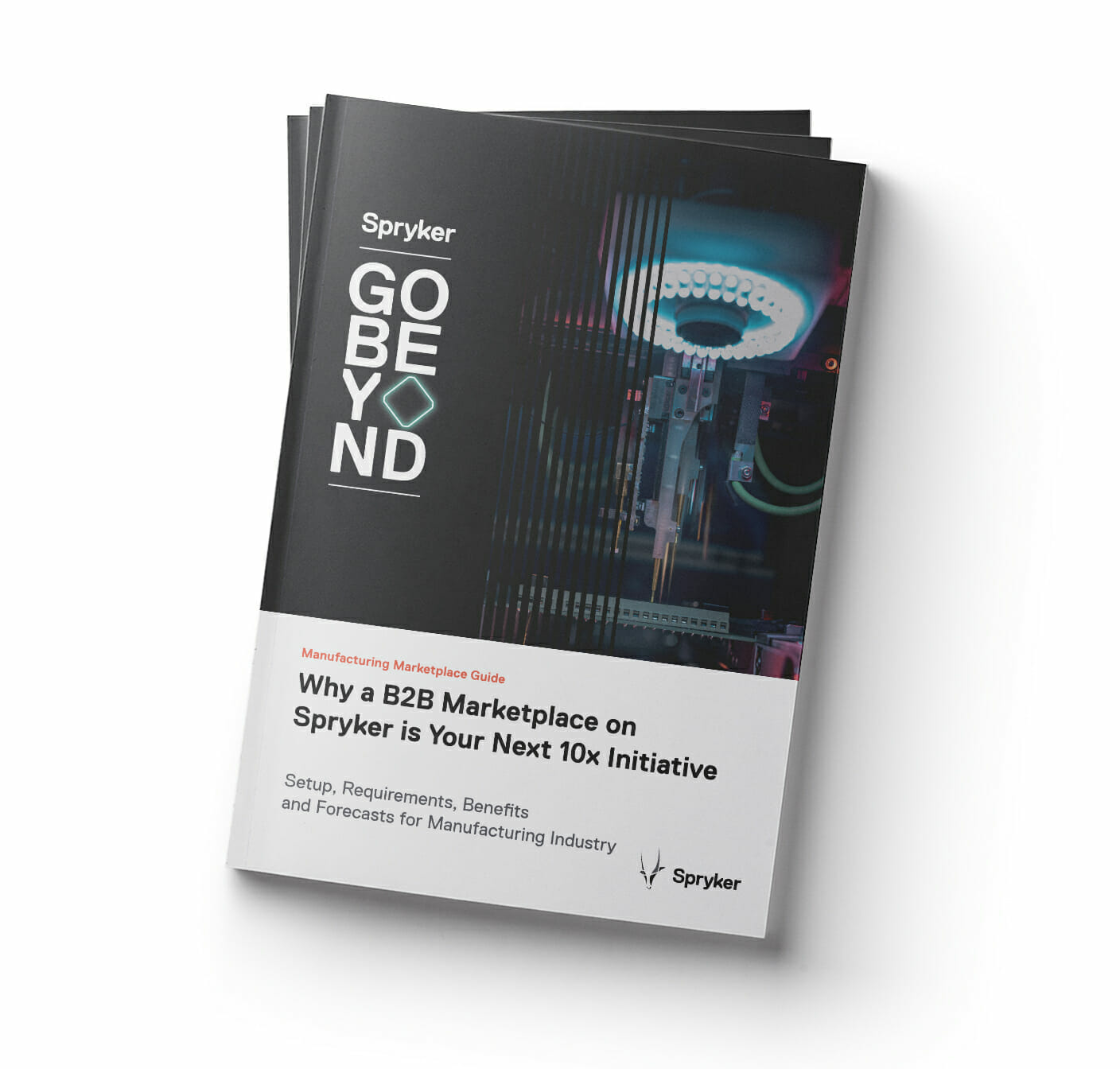 The rising opportunity of B2B marketplaces
Defining the market future due to a customer-centric marketplace will be a game-changer. In this guide we will cover the following:
The relevance of B2B Marketplaces as your next 10x initiative

Building a successful marketplace business model with enterprise-ready commerce technology

Proof of value: Running your marketplace on Spryker

Executive summary, data, charts, quotes, and more.
An Error occured while trying to load the form. Please reload the Browser to try it again.
Reading sample
Why Marketplaces are Your Next 10x Initiative
As the pandemic has taught us yet again, every crisis also offers opportunities. 2020 felt like a 10-year leap in digitization. We witnessed a lot of consolidation, acquisition, and new business development. Among these, it was particularly noticeable that the manufacturing industry picked up momentum, got a kick start, and made a big leap in technology adoption during the pandemic. Some of this momentum is here to stay, so it's important to think big: How does a current B2B manufacturing company manage to grow 10x leveraging this once-in-a-lifetime opportunity?
Including Market Data, Charts, and Metrics
Gartner agrees with this concept as well. They predict that 70% of marketplaces will have B2B business processes connected by 2023. Indeed, massive B2B markets like health care and logistics remain opaque and intermediary-driven, with orders and payments being processed via email, SMS, fax, and written correspondence. It is therefore important to seize the opportunity, because, unlike Amazon, for example, the B2B manufacturing market is fragmented but large enough for several players to participate. In addition, the increased customer journey complexity can be used for the advantage as a high-entry barrier for future market players.
Proof of Value: 10x Your Growth with Spryker
Self-empowering network effects are omnipresent on marketplaces and define a major force to drive 10x growth for your business. In short, as an operator, each additional merchant will exponentially improve your marketplace business. Let's take a brief look at those improvements: