Event
Seamless Middle East 2022 – Recap
For 22 years, the brightest and most innovative minds in e-commerce, fintech, and retail have been converging at Seamless. This year's event definitely lived up to the hype, and it was another great success for the Spryker team.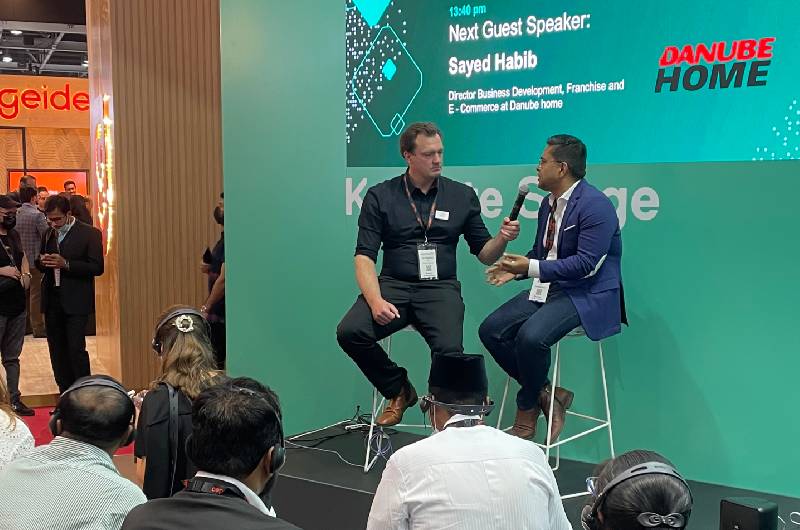 Seamless is one of the key summits of the new world of commerce. With over 22 years of experience, this multi-brand exhibition is known across the world as a key strategic conference for the industry. 
The event took place between the 31st of May and the 1st of June at the Dubai World Trade Center, and over 10,000 people attended from all over the world. 
As a major player in the commerce industry, we were determined to have a strong presence at Seamless 2022. That's why we set up a 160 m² booth stage, through which we hosted numerous live podcasts, demos, and countless meetings. We also held four keynote sessions and organized a boat tour with live music, food, and drinks. 
Read our summary of the event below to get the full run down of Spryker's initiatives at Seamless 2022. 
Spryker Plaza Booth Stage Sponsored by Publicis Group and Actindo
The Spryker Plaza, our booth stage at Seamless 2022, was located at one of the event's prime locations. We wanted to be front and center to be able to show as many companies as possible why it's time to digitize and how they can grow their business. Our 160 m² double-decker booth was co-sponsored by Publicis Group and Actindo, who presented live demos at the booth stage.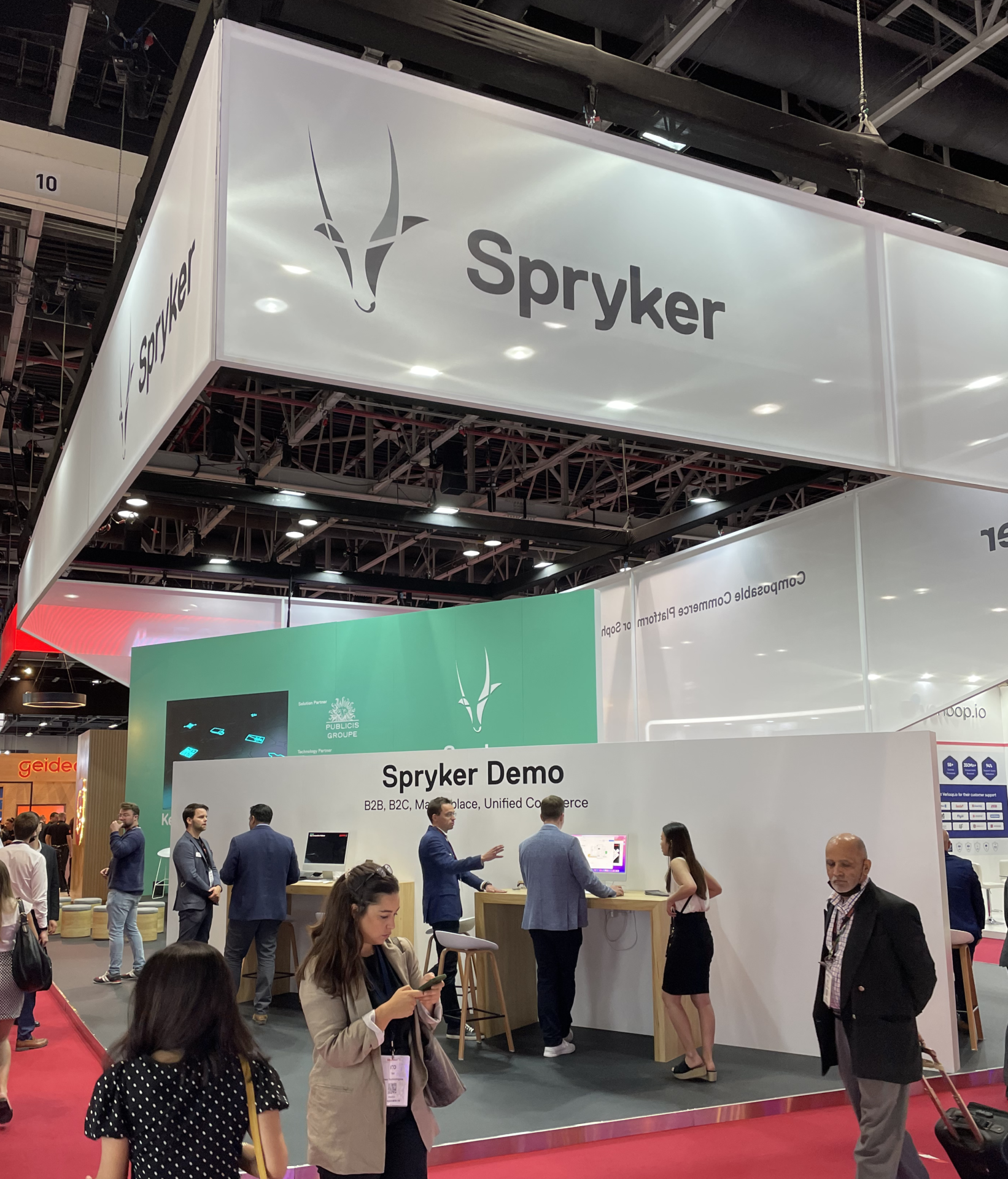 Hundreds of Seamless attendees came to our booth to learn about the newest commerce technology, meet our ecosystem of agency and technology partners, experience live demos of brand-new Spryker products, and listen to industry leaders in our dedicated content tracks. In general, we are extremely grateful for the exceptional level of interest shown towards Spryker and its many ventures.
Live Podcasts with Renowned Commerce Leaders 
One of the highlights from our booth stage was the Commerce Talks podcast hosted by Spryker Co-Founder & Co-Ceo Alexander Graf. Six podcast sessions were held in total, and in each one, Alex interviewed a high-level executive from a leading brand. The conversations were centered on current digital trends, challenges, and the overall outlook.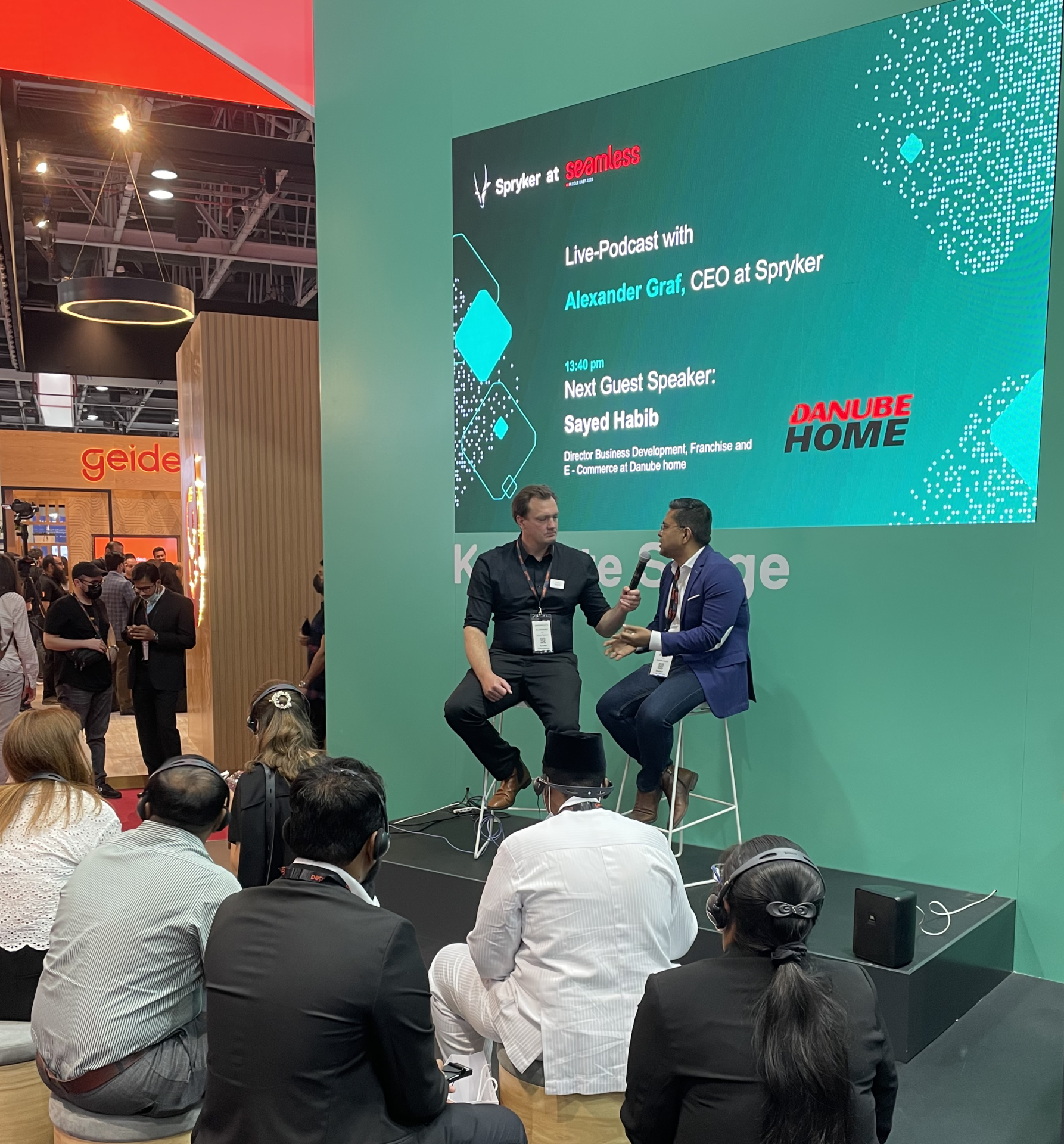 The booth was outfitted with a speaker so that the audience could listen live, and a big screen was set up to announce the speaker names and podcast topics. Below is a brief description of each of the podcast sessions that we hosted at Seamless 2022: 
Interview with Sayed Habib, Director – Business Development, Franchise and E-Commerce at Danube home
In this podcast session, Sayed Habib gave an excellent recap on Danube Home and their strategy in the MENA Market. He explained the main benchmarks for Danube in Europe and the US, as well as how their e-commerce strategy evolved during the COVID-19 pandemic. He also dived into some of the most innovative digital commerce concepts in the Middle East today, and some new digital initiatives Danube is planning in the next 18 months. 
Interview with Nalla Karunanithy, Ex-CDO at Majid Al Futtaim, ex-Rocket Internet, Entrepreneur
Nalla Karunanithy gave an expert overview of the general MENA e-commerce landscape in his interview with Alex Graf. He covered some of the latest and most innovative digital business models launched in the region, and he also named the local leaders and trend-setters. 
Interview with Apoorva Kumar, EVP Group Supply Chain and Cross Border business at Jumia Group
In this interview, Apoorva Kumar elaborated upon Jumia Group and its positions in the African market. He explained how their e-commerce presence evolved during the pandemic and addressed the main complexities they faced during this change. Conjointly, Apoorva covered his main digital initiatives for the next 18 months, the most innovative trends arising in Africa and the Middle East and Jumia's marketplace strategy within the region. 
Interview with Kartik Bhatt, COO Sharaf Retail
Kartik Bhatt gave an excellent synopsis about Sharaf Group's key business areas, synergies, marketplace strategy, and its benchmarks in Europe and the US. He also presented his view on the forefront of e-commerce and whether Amazon is a "thing" in the region. 
Interview with Mitch Bittermann, SVP Commercial at DubaiCommerceCity. Topic: Latest and most innovative digital business models arising in the MENA Region
In this podcast, Mitch Bitterman described the free zone concept, and what makes Dubai Commerce City's offering unique. He gave compelling reasons for why a European retailer should start in this zone, and compared the impact of e-commerce in South-East Asia and the UAE. Mitch further elucidated upon what kind of service level can be expected in Dubai from a customer's perspective and whether influencers have had a significant impact within the region. 
Interview with Ritz Steyter – E-Commerce director MENA and APAC, Electrolux
Ritz Steyler mentioned some of his favorite highlights from Electrolux's presence in the Middle East and Asia. He also explained the e-commerce differences he sees in these regions compared to other geographic areas in which Electrolux is involved. Finally, he named his current marketplace strategy, new digital business models, and key competitors in the Middle East and Asia.
Impactful Keynote Sessions from the Spryker Team
In addition to the podcast sessions offered at our booth, we also hosted four keynote sessions covering the latest technologies in the world of digital commerce. The sessions were a big success, and they were very well received by the event attendees, who approached the speakers in flocks to ask questions after each keynote. Below you can find a summary of each of the sessions: 
Composable Commerce: Going Beyond With Spryker and the Building Blocks of the Future
The composable commerce keynote was masterfully presented by Christoph Bohm, one of Spryker's Senior Solution Consultants, at the E-Commerce University. In this presentation, he explored the Spryker Composable Commerce portfolio, and why we believe it's the future of the e-commerce industry. 
Panel on the Evolution of an Online Vertical Marketplace: Positioning Your Business for Growth and Success
One of our most interesting keynote sessions was our panel on the evolution of online vertical marketplaces, led by Edmund Frey, Spryker's CRO, and moderated by Dr. Nihal El Daley, Managing Director at Axellerus Consultants. In the panel, we were joined by: Ronnie Varghese, Vice President of Digital Product at Seera Growth; Kunal Cholthram, Global Partnerships MEA for Stripe; Jad Halaoui, Co Founder & COO at Washmen, and Stanislav Betin, CCO at ekar.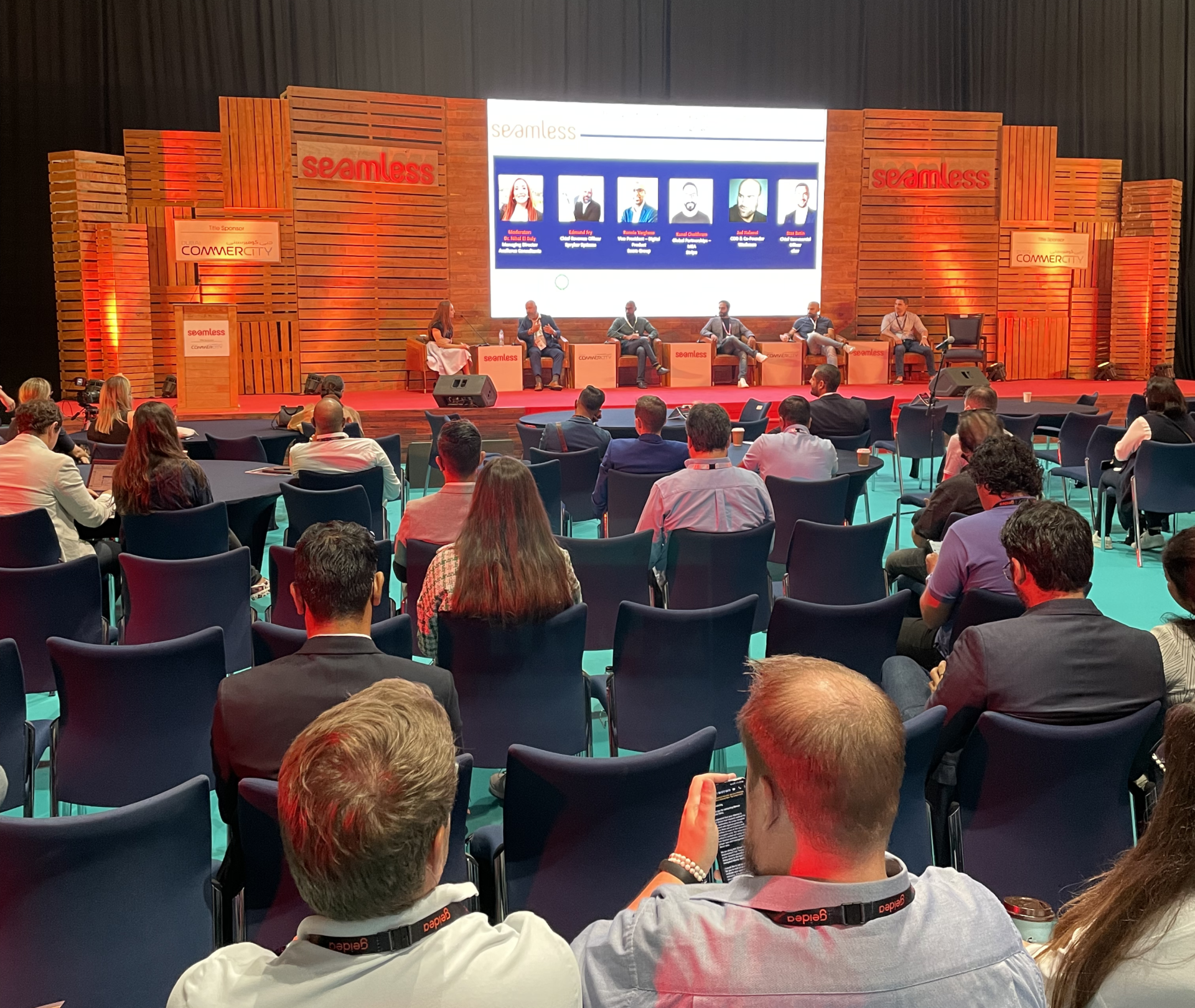 Future of E-commerce in the Middle East: Who Is Winning?
Alexander Graf, Spryker Co-Founder, and Co-CEO gave an insightful keynote on the future of digital commerce in the Middle East at the E-Commerce Stage. He demonstrated the evolution of e-commerce generations, digital best practices, and how tech companies like Spryker are currently leading the industry. His answer to who is winning in the e-commerce industry was "You can tell yourself, by who is running the platform economy approach, who is investing into the technology…and who is moving away from the inventory risk."   
How to Adopt True Composable Commerce With Spryker App Composition Platform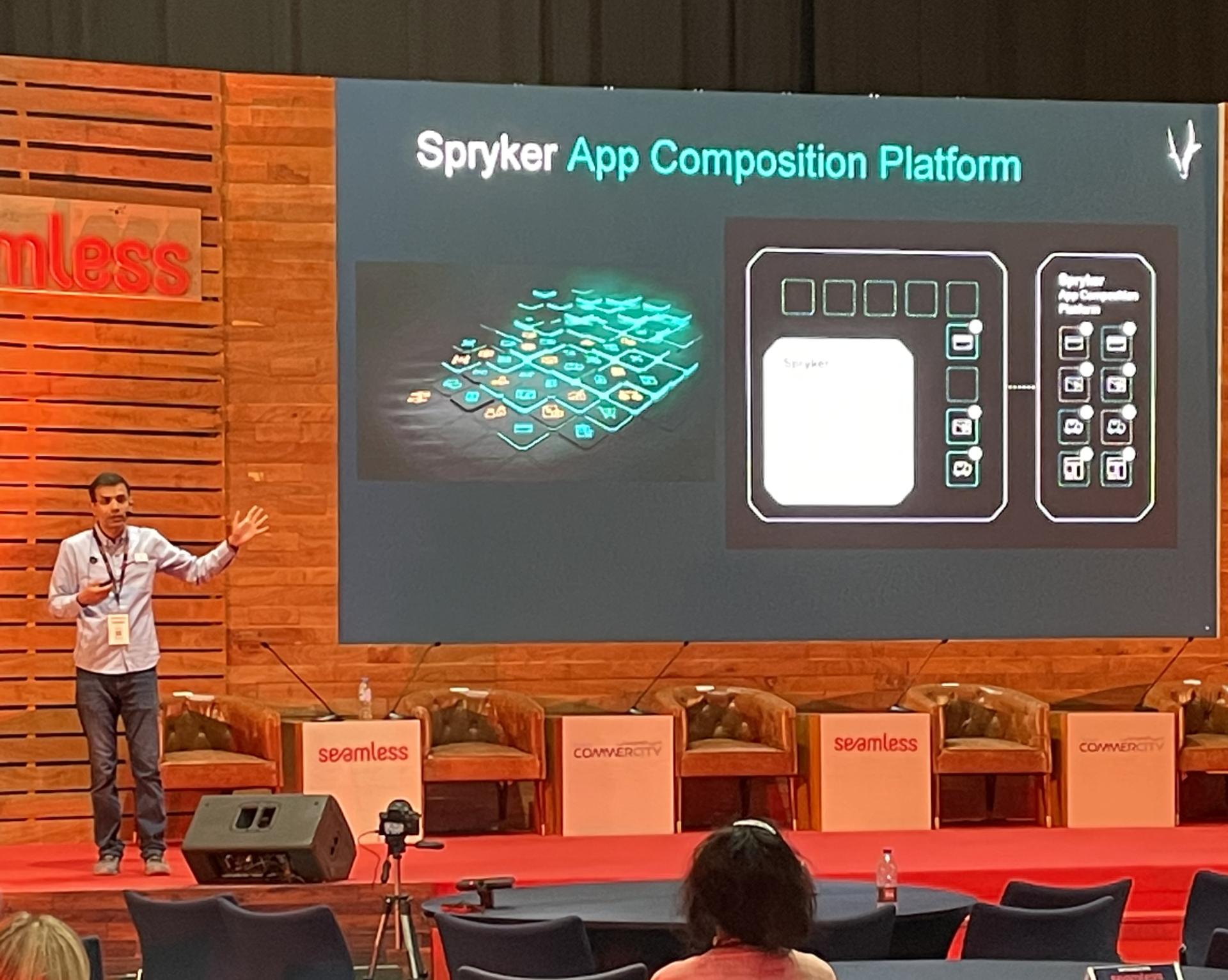 This keynote was presented by Manishi Singh, the SVP of the App Composition Platform. He skillfully untangled Spryker's App Composition Platform, its benefits for users, and why it's the fastest spreading modern enterprise platform, with 100% growth year after year. During the presentation, he perfectly synthesized the Spryker mission as being, "we are here to make our customers' lives easier." 
Boat Tour Sponsored by SQLI and Algolia 

One of our favorite parts of Seamless was the boat tour we organized with the sponsorship of our partners SQLI and Algolia. The cruise took place on day one along the Dubai Marina, under the illuminated skyline of the city. 

The 36 participants that joined us were able to enjoy breathtaking views and sights of popular Dubai landmarks, as well as a BBQ buffet dinner, delicious drinks, and lively background music. It was the perfect cherry on top of a productive and memorable first conference day. 
We hope to see you at Seamless again next year!
Watch the full recap of Seamless Dubai 2022