5 Key Takeaways from Spryker EXCITE 2022
Missed Spryker EXCITE 2022? No sweat - we've gathered the top 5 key takeaways from the coolest e-commerce conference in town so you can catch up. See you next time?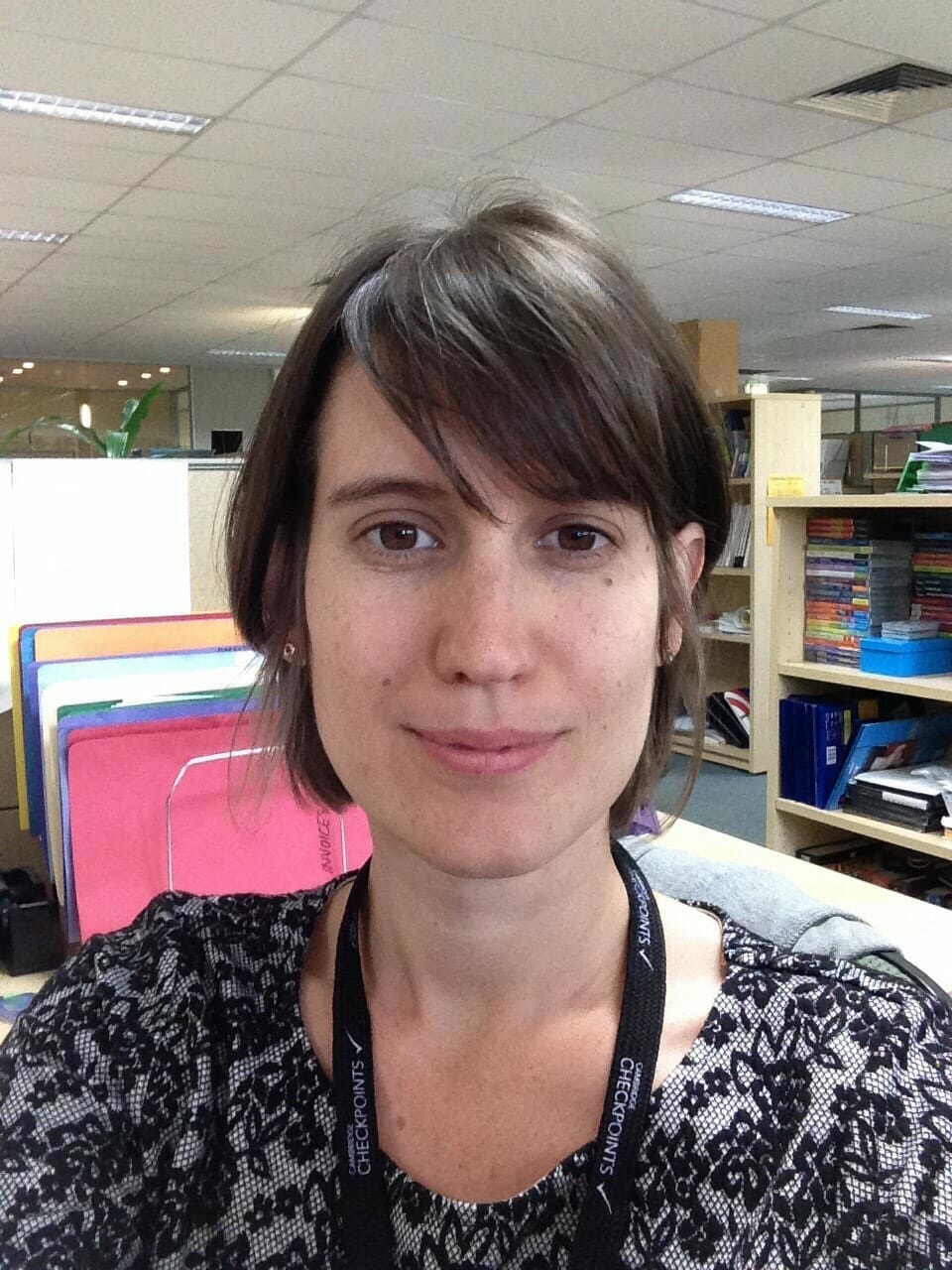 Daniella Mattiuzzo
Content Marketing Manager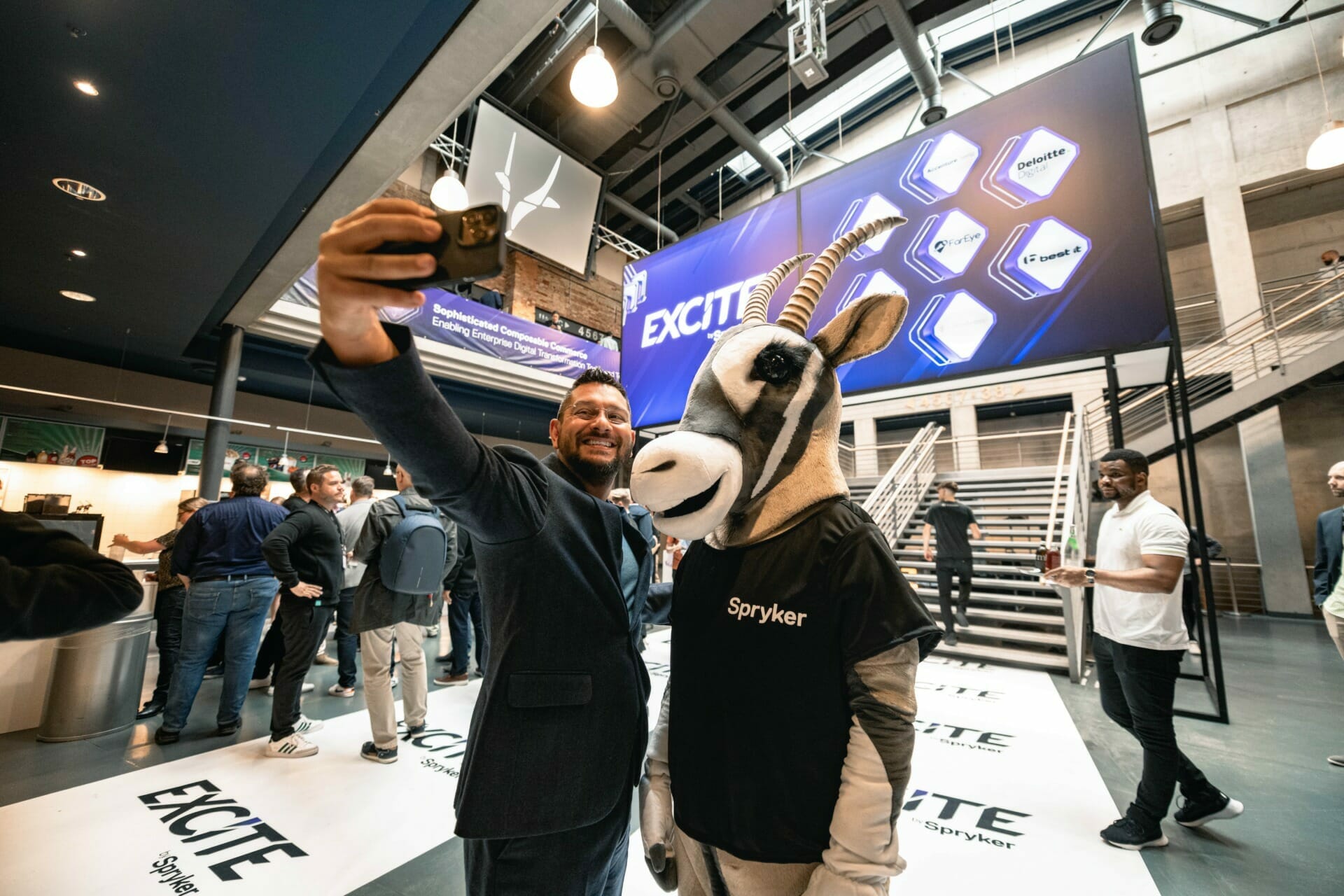 Third time's a charm they say, and that couldn't be more true for Spryker EXCITE. The 2022 edition of our hybrid Berlin conference was bigger and bolder than ever! With over 400 people on-site, and thousands tuning in online around the globe, there was plenty of inspiration, insights, and forecasts for the future to ensure your business is on the top of its game. 
Choosing just five key takeaways was a pretty hard ask. With keynote speakers such as our wonderful customer José Esparza from Mercado Mayco, to Dr. Camille Wardrop Alleyne from NASA, and one of the most legendary athletes of all time, Michael Phelps, our heads were absolutely bursting with ideas and inspiration at the end of the day! 
While the theme for 2022 was bold and new, there were definitely some key ideas that cropped up again and again. Read on below to find out our top takeaways, and how they can take your business to the next level – in 2022, and beyond. 
Watch Spryker EXCITE 2022 recordings here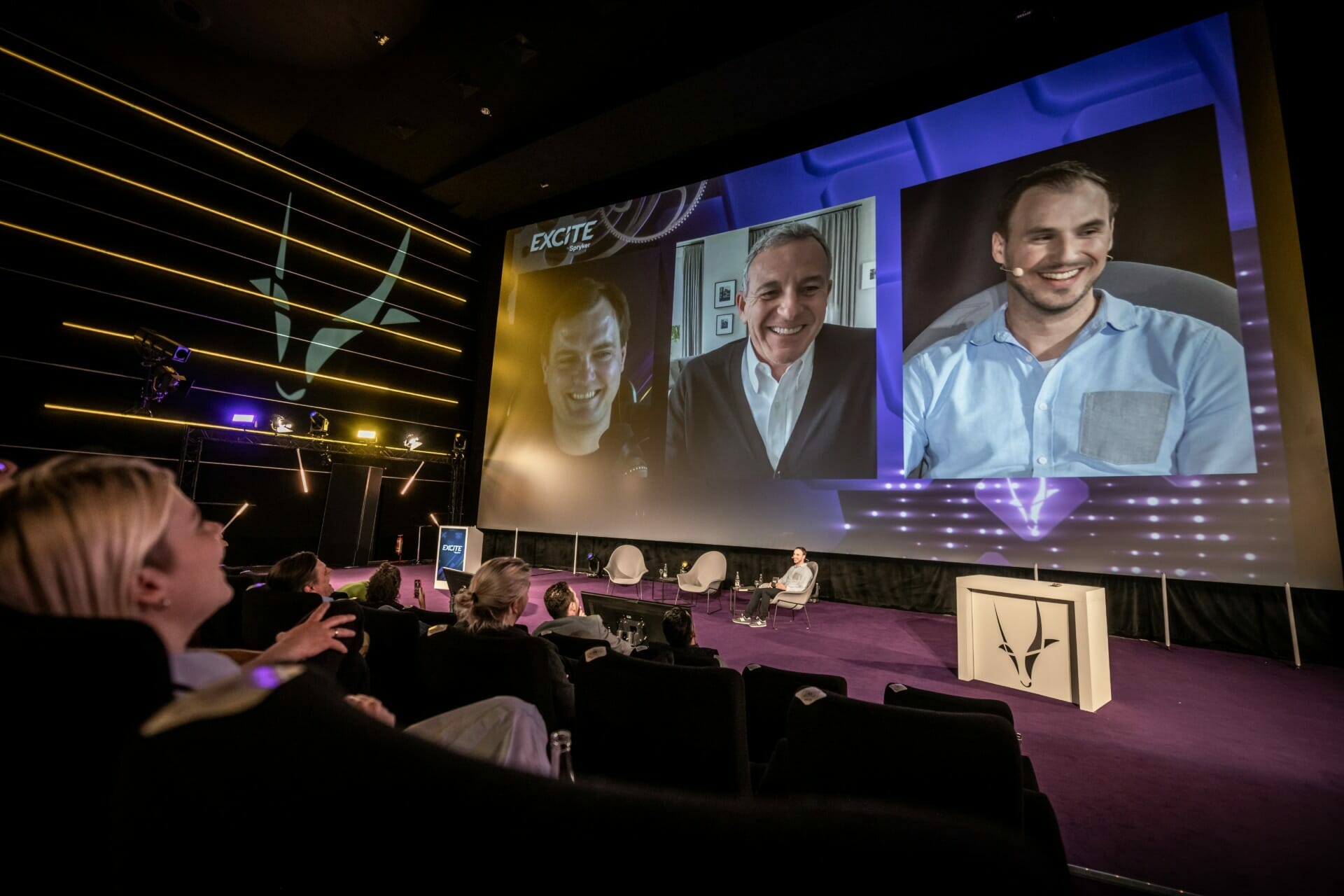 #1 All We Need is Love
This might seem a bit left-field, but the major thing we learned at EXCITE 2022 is that love actually is all around, and it's kind of all we need.
It started with our Co-CEO Boris Lokschin describing how proud and grateful he was of the way the Spryker Herd came together to support our Ukrainian colleagues during these past difficult months, and their dedication to helping keep the business striding forwards. Boris reinforced how respect, communication, and mutual understanding are part of our core values at Spryker, and how we don't tolerate hate or discrimination of any kind. Bob Iger, Former CEO & Chairman, The Walt Disney Company, echoed these sentiments when talking with Boris and our other Co-CEO Alexander Graf about the importance of leading with empathy, which has been crucial over the last couple of years. 
When you lead in tough times it's a balance of hope and optimism, and realism. It's important to have both. (Bob Iger, Former CEO & Chairman, The Walt Disney Company)
Fast forward a few hours to the Inspirational Stage, and we listened to an incredibly inspiring talk from Tom Sietas, a world record holder in apnea diving, where you hold your breath for long periods of time. Tom explained how he figured out the key to smashing his record (he can hold his breath underwater for over 22 minutes!!!) also helped uncover an amazing tool that anyone can utilize to cope with a stressful situation – and it's all to do with, you guessed it, love (sort of). At least, the same hormones we experience when we're in love: oxytocin (also known as the cuddle or love hormone), dopamine, and other endorphins. There's a reason people say: love is a drug! 
Well, it turns out, our minds are also capable of generating this powerful cocktail of drugs just by visualizing a positive memory or idea. Tom outlined the technique he discovered – by doing some simple breathing exercises and then intensely focusing on a happy memory, he was able to hold his breath for much longer. The reason why? These chemicals help the brain focus, and you feel calmer and more in control. Negative thoughts have the complete opposite effect: our breathing becomes faster and you take in less oxygen, your brain function literally slows down, and it hinders your ability to find solutions or be creative. 
"When you're better at handling pressure and you're more relaxed, positive, even loving … you will be more successful in any professional, personal or relational aspect of your lives." (Tom Siestas, Apnea Diving World Record Holder)
The next time you've got something stressful coming up, be it a presentation at work, a difficult conversation, or even a wedding speech, give Tom's method a go – we think you'll be amazed at the difference it makes!
The day also ended talking about love with Michael Phelps, and how the love for his two young sons and family is what motivates him now he's retired from swimming. Phelps was incredibly open and vulnerable about his struggle with mental health and now works with charities through his foundation to help not only things dear to his heart like water safety but also emotional wellness.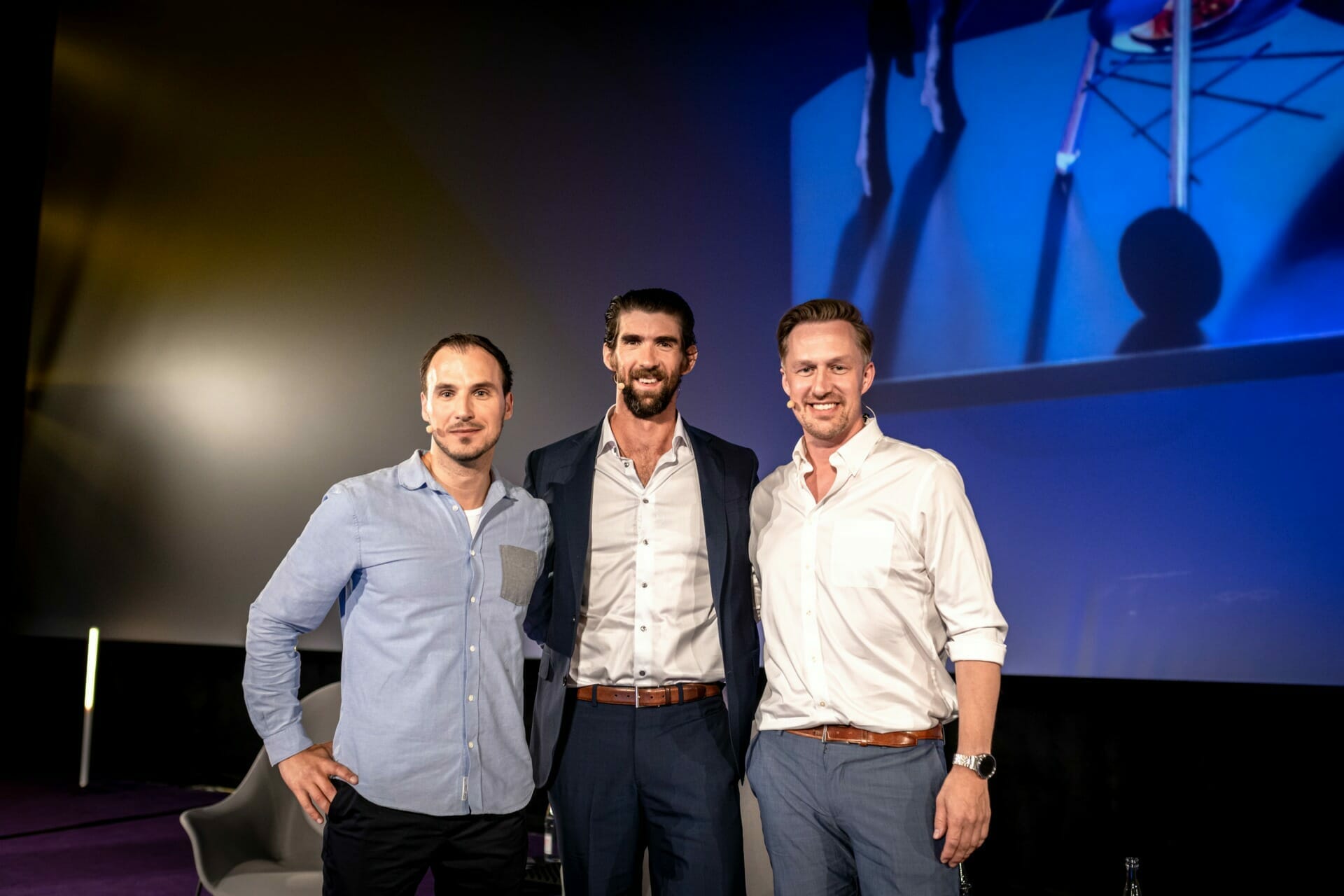 "Being able to save a life is a thousand times better than winning a gold medal." (Michael Phelps, Olympic Gold Medallist)
Michael Phelps left us with the important message of how important it is to talk about mental health, and the ripple effect that it has, which is an important lesson for us all, no matter where we work, where we live, or who we are. 
#2 Customer Success is Still our Number One Priority 
Speaking of achievements, Chief Customer officer Chris Rauch outlined Spryker's simple formula when it comes to our customers: obsession + engagement + experience = customer success!
"At Spryker it's about making the customer experience amazing. That's our focus, and that's our commitment to our customers." (Chris Rauch, Spryker)
But what about our customers' perspectives? Well, Chris cooked up a recipe for success for them too: it's all about finding that sweet spot between what you want and what you actually need. That means focusing on business outcomes, KPIs, and the value you are seeking from your investment. His bottom line? Connect what you want as an organization with delivering the value and the outcome you are looking for.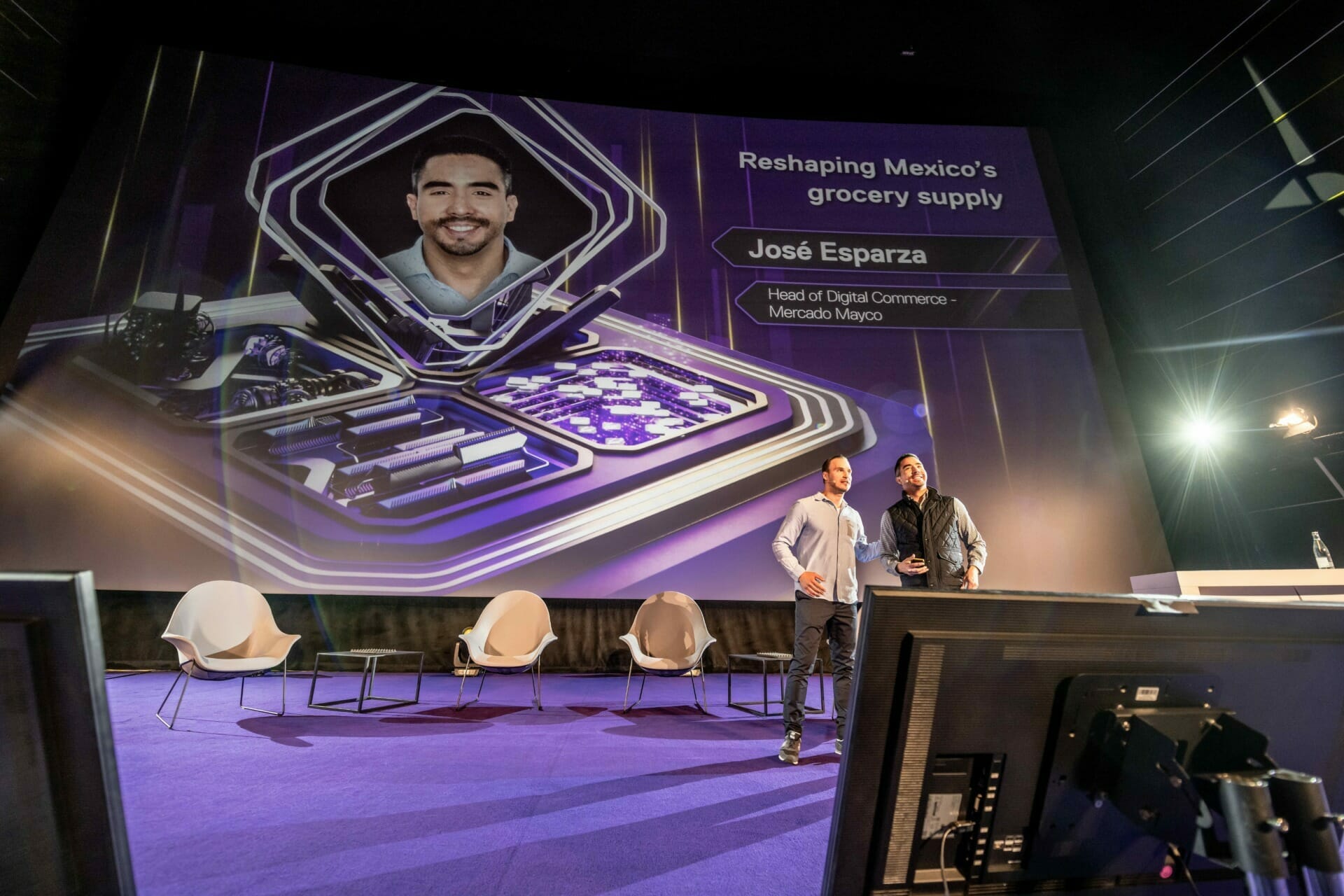 Elsewhere, customer success stories continued to inspire across all of our stages. Head of Digital Commerce José Esparza walked us through how the company used Spryker to implement a new supply infrastructure for Mexico's small grocery vendors, enabling cash-centric, hyper-local tienditas to go digital in ways they could never have before.
"Spryker is the centerpiece of our digital ecosystem. It enables orders to flow seamlessly from our customer's fingertips to our delivery team." (José Esparza, Head of Digital Commerce, Mercado Mayco)
Daniel Kugler, Head of Global Digital Marketing at Weleda, spoke about how the natural pioneer expands its global business with D2C. While Jürgen Schäffler, Head of Sales & Marketing at O'Neal, taught us how to move into D2C commerce without compromising on the B2B strategy – the big lesson: differentiate on service, not price. Back in the online sphere, our virtual attendees chimed in on D2C in a poll about what they saw as the number one benefit of D2C business models: 72% agreed that direct access to customers and their data was the biggest advantage.
Over on the Business stage, Alexander Planitzer CEO & Co-Founder of VIABIRDS, and Shaya Pourmiza, Head of IT Architecture at Atida told their own growth stories in the online grocery and pharmaceutical industries through digital transformation and innovation. VIABIRDS (also a winner on the day of a genuine Oskar award for best marketplace!) told the story of how they identified an untapped audience in regional Austria, while Atida had to scale quickly using Spryker to adapt to the astronomical growth of online pharmacies during the pandemic.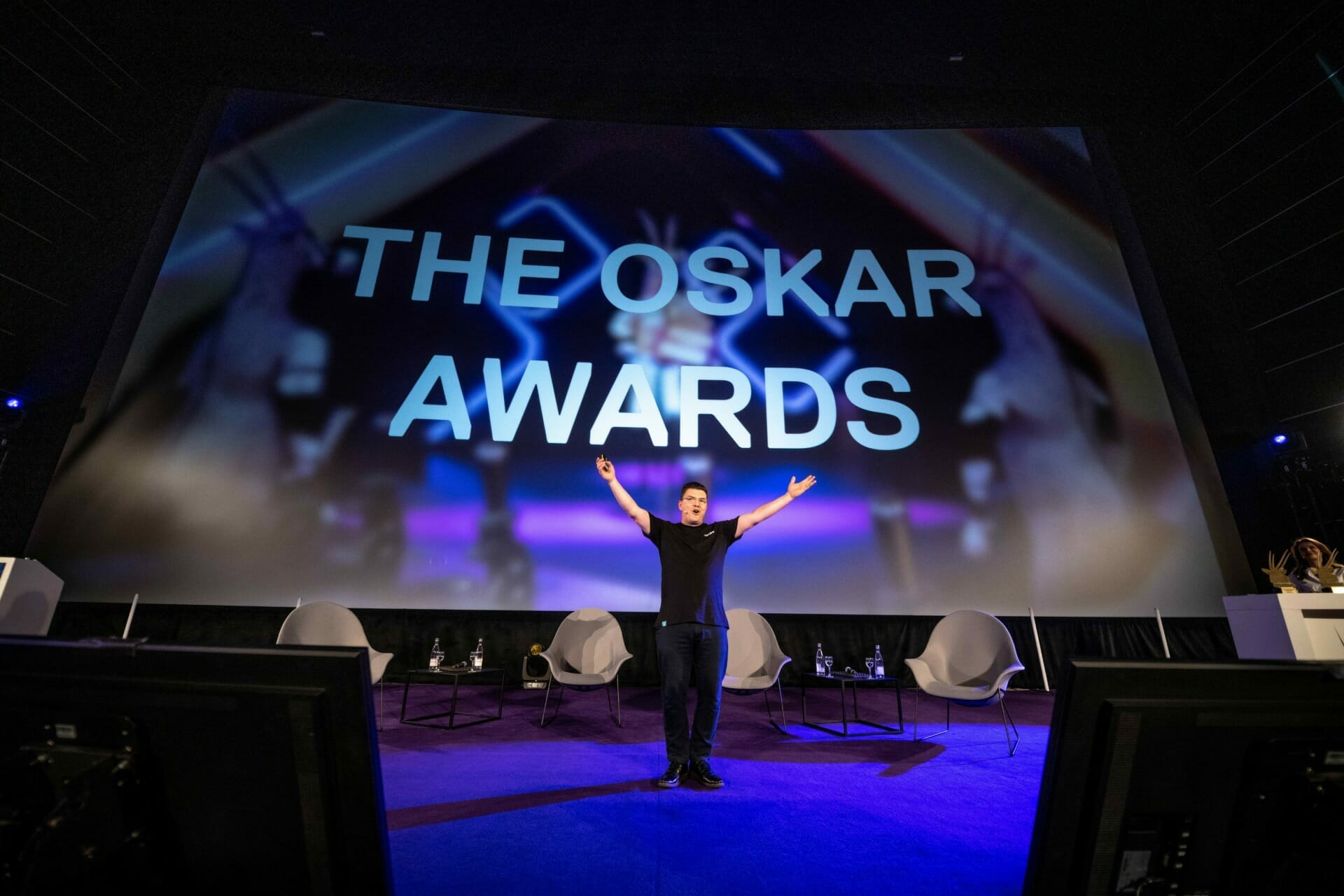 "We are using Spryker as the foundation of our framework because it allows us to build everything that matters to us. The ability to quickly adapt requirements and functionality is really the greatest value we see in Spryker." (Alexander Planitzer, CEO & Co-Founder of VIABIRDS)
#3 We Still Have Some Work to do to Make the Tech Industry More Inclusive and Diverse
This year at EXCITE, we had some incredible and inspiring female speakers on stage, including Safia Agueni and Elizabeth Theophille from Women in Tech, and rocket scientist Dr. Alleyne. While it was amazing to hear their success stories, they also offered a reminder that we as an industry still have a long way to go towards equity and equality. 
Safia, a Senior Technical Program Manager at Roche in Switzerland, forwarned that the world is developing in such a way that more than 70% of jobs in the future will really be tech positions, in one way or another. As tech goes more mainstream, the lack of diversity becomes a bigger and bigger problem, so we've got to tackle it from the ground up. That means education – starting in schools by educating our children about gender biases, and encouraging all children to pursue STEM subjects. 
The keynote focused on the idea of 'playing to your difference' and how to use personal experiences to encourage the next generation of girls and women to confidently take their place, celebrate their difference, and use their voice. The two speakers strongly believe that we who are currently working in tech are part of a small but privileged part of society, where our hands have the power to shape everyone's collective future. They are determined to increase the diversity of the technology workforce to better create tech that serves society as a whole and makes all our lives richer. 
"If you really want to make an impact, do it around you and within your own organization. Every little change counts." (Elizabeth Theophille, Chief Technology Transformation Officer at Novatis)
Safia and Elizabeth's talk was hugely inspiring and ended with a call to action – will we join them on their mission to make the tech industry a more equal environment? There was a resounding response from the audience: "Yes, we will!". As part of this, Spryker has pledged to donate 10,000 EUR to Women in Tech, and they will now join us along with our existing partner Girls in Tech to hold Spryker accountable for the changes we've pledged to help drive, and to support them on their work.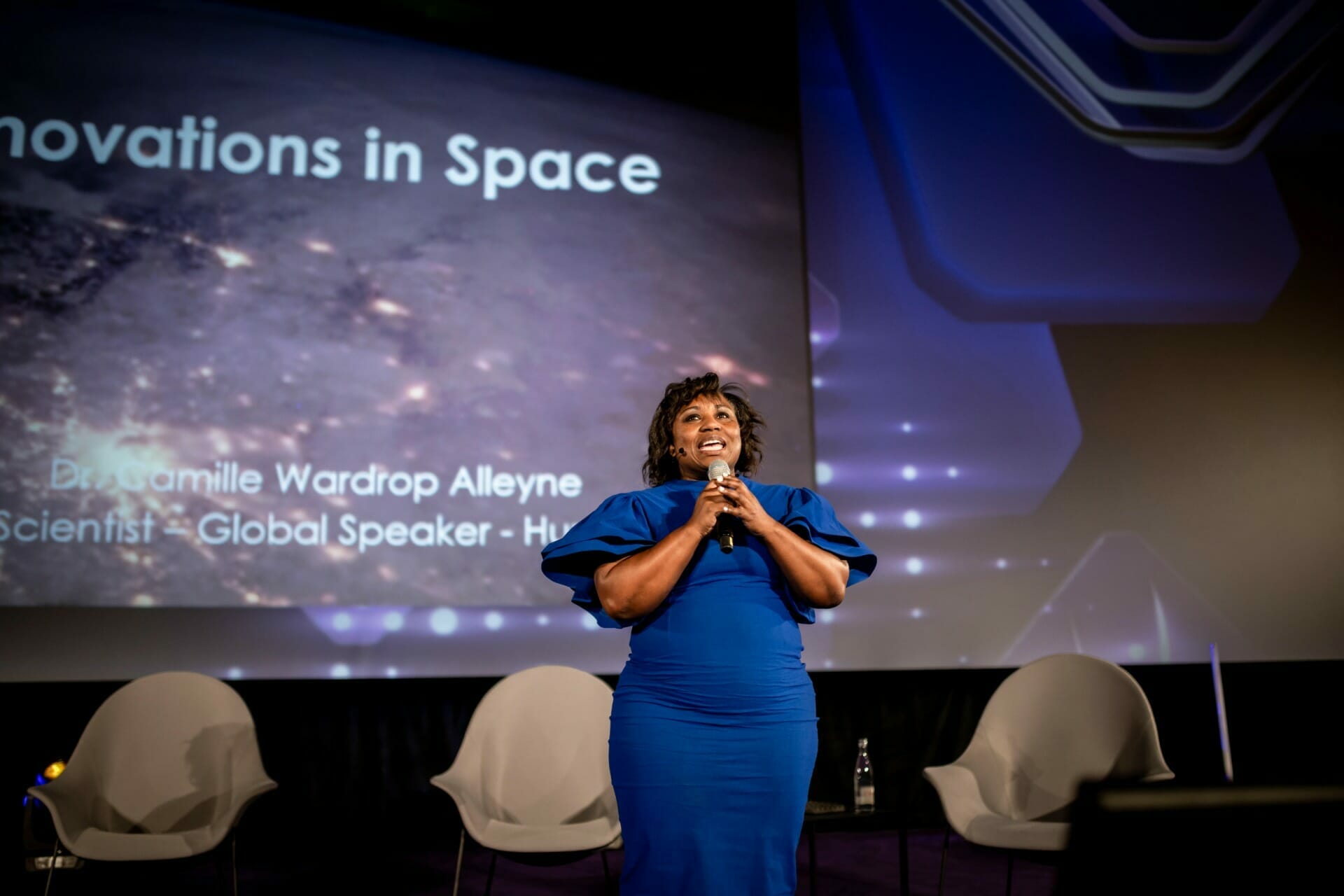 Dr. Alleyne, meanwhile, gave a mind-boggling presentation about the commoditization of space and how there is a huge amount of innovation and investment going into private sector manufacturing and logistics, that will eventually help companies to create a kind of DHL service to the moon – how cool is that! Next stop for Spryker – Marketplace on the moon?🚀
"Space is the language of peace. People with common goals and common good can come together to solve problems and advance humanity's knowledge." (Dr. Camille Wardrop Alleyne, Ed. D. Rocket Scientist, Speaker, Humanitarian)
#4 Start Small and Measure Often
Our illustrious partner panel including Russell Barber from Accenture, Tim Hagemann from Deloitte Digital, and David Barth from Algolia, discussed the dos and don'ts of digital transformation – spoiler: it's easy to f*ck up! Irina Kurdanwa, our Global Director Solution Partner, gave the startling statistic that 64% of all digital transformation projects fail. 
So how do you avoid failure? According to the panelists, it's all about taking little steps rather than trying to do everything all at once.
"Start small and measure often. Find a digital asset that you can actually f*ck up and work on it. We learn and then carry on. Make your team accountable for success, and reward them often." (David Barth, Global ISV Partnerships, Algolia)
Russel also pointed out that digital transformation is not just about implementing software, it's also about processes and company-wide culture. According to Russel, the biggest mistake people make is to just hand over the project to IT. It's important to make sure that you all share the same vision from the beginning since you are fundamentally changing your business. David and Tim agreed that companies need to have a clear, connected mission with all the right levels of competency from the outset in order to succeed. 
"Don't jump into the car without packing the bags – even as a company who wants to make money, you have to step back and do your homework. You need to get the idea right about what you want to do before you go on the trip." (Tim Hagemann, Director, Deloitte Digital)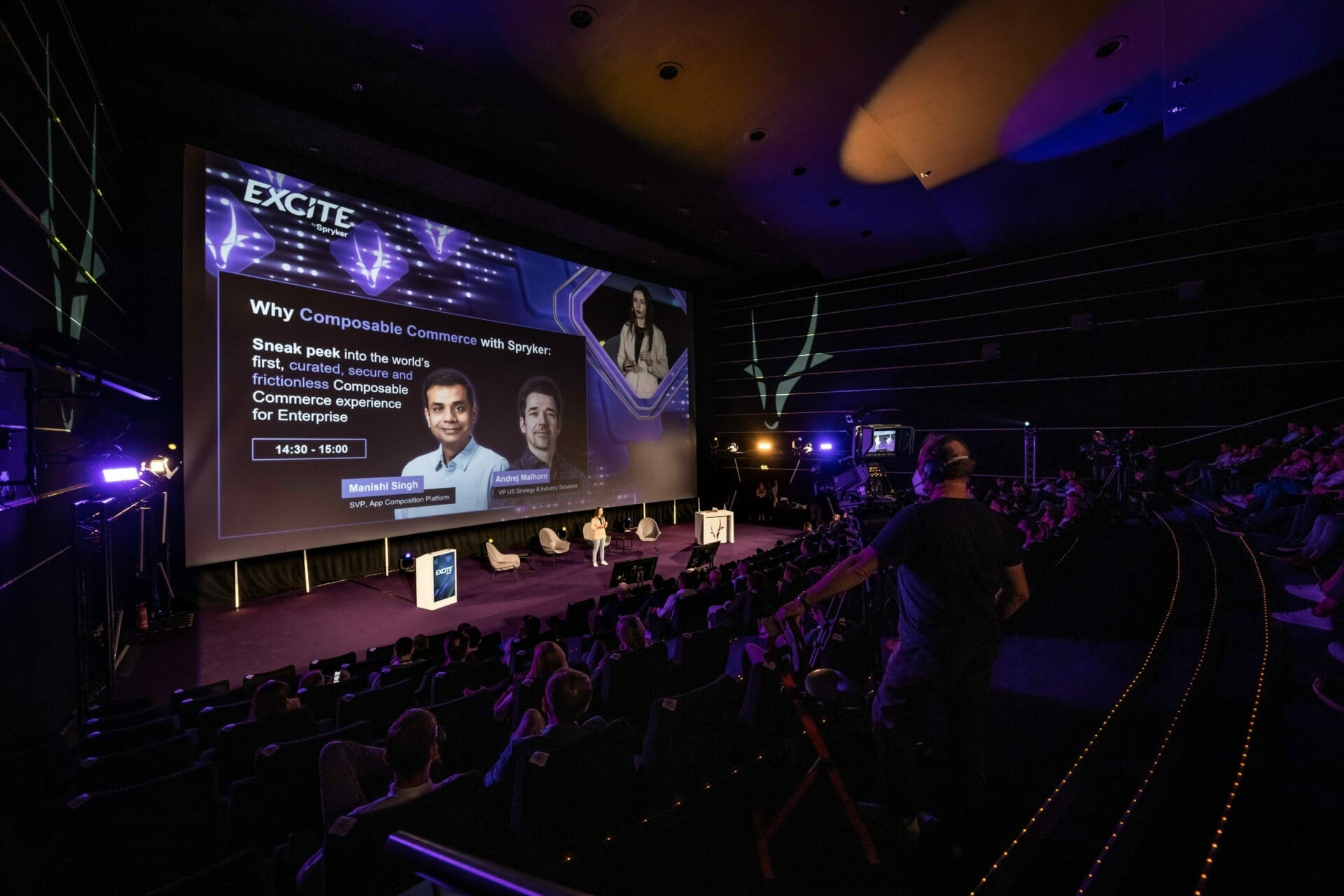 #5 The Future of Commerce is Composable
If you wanted to make a drinking game out of EXCITE 2022, it would be to drink whenever something mentioned anything related to composability. Boris started proceedings by explaining why composability is more important than ever to future-proof your business as it provides the agility to adapt to rapidly changing conditions. The prevailing message of the day was that businesses need to be composable or risk losing out. According to Gartner, by 2023, organizations that have adopted a composable approach will outpace competition by 80% in the speed of new feature implementation 
Next, Spryker VP Product, Elena Leonova, introduced our fancy App Composition Platform which allows companies to do just that – pick and implement the best-of-breed applications which suit their needs.
"​​All of you are the composers of your own unique commerce journey." Elena Leonova, Spryker 
Over on the Product Stage, Manishi Singh our head of SVP App Composition Platform, and Andrej Maihorn, VP US GTM & Industry Solutions, sang a compelling tune about why you should choose composable commerce with Spryker, likening a composable system to a hi-fi/home theatre that allows you to customize and choose the best products to make your listening/viewing experience as epic as possible. And as seen with EXCITE 2022, at Spryker we always like to GO EPIC and this year was no exception!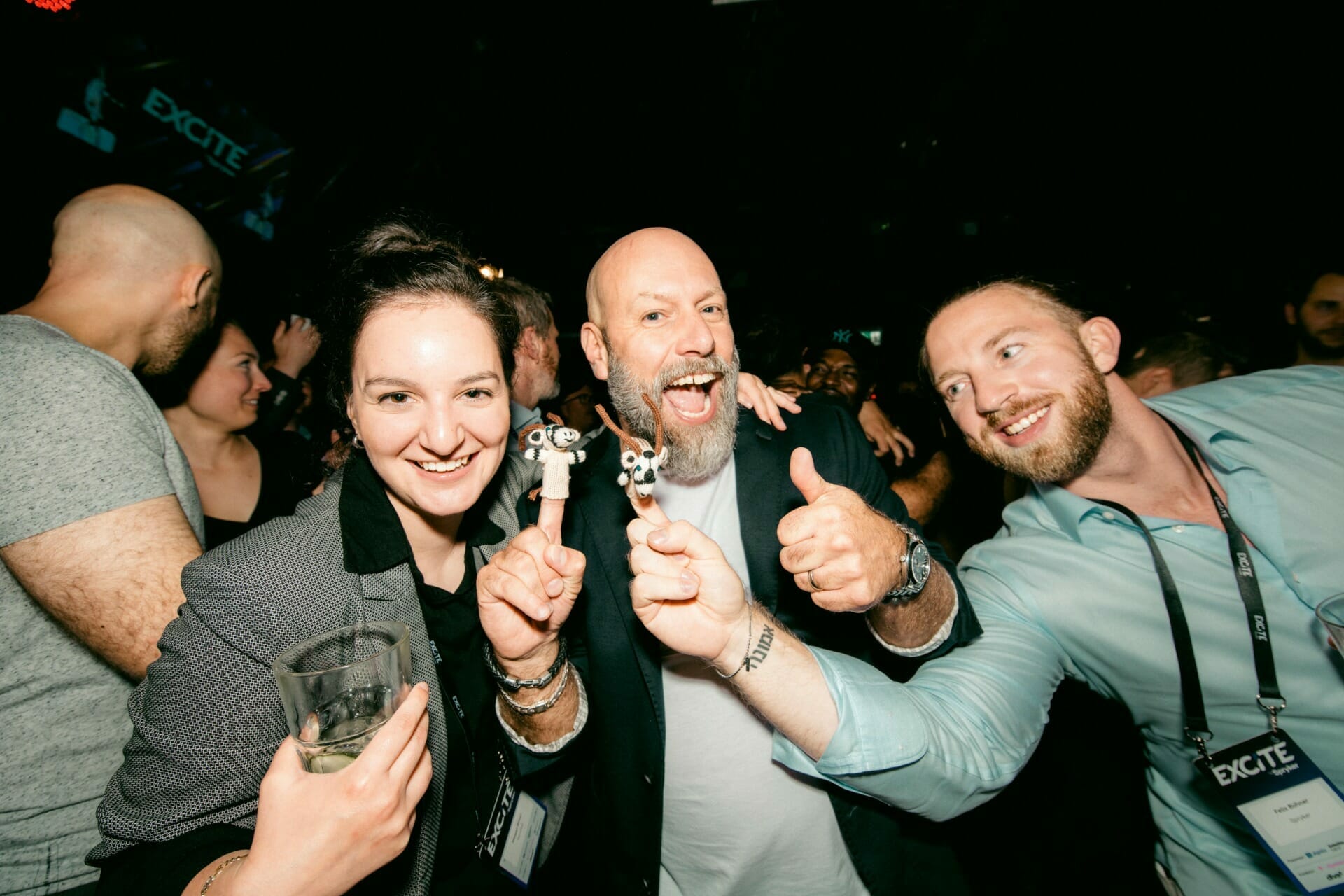 We had a blast getting to network with our customers, partners, speakers, and everyone else who attended, whether in person or in the digital universe! Our insight-packed speakers made us laugh, reflect and think deeply not only about the future of digital commerce but also about how we want to continue doing business as human beings first and foremost. And last but not least, who could forget the incredible after-party!
Watch Spryker EXCITE 2022 on-demand now
Gutted that you missed out on EXCITE 2022 after absorbing these awesome takeaways? You can still watch recordings of all the sessions by clicking below! 
Watch Spryker EXCITE 2022 recordings here