White Paper
Which Digital Levers Lead to B2B Success?
E-Commerce Pioneers From Various Industries Share Their Strategies
Our goal is not just to report on the meta-level, but to take a deeper dive to report on real successes. If you believe the raw market numbers, every B2B company in Germany should be growing their e-business sales at least 10-15% annually. Read this white paper to learn about tried, tested and successful best practices for building digital customer journeys in B2B.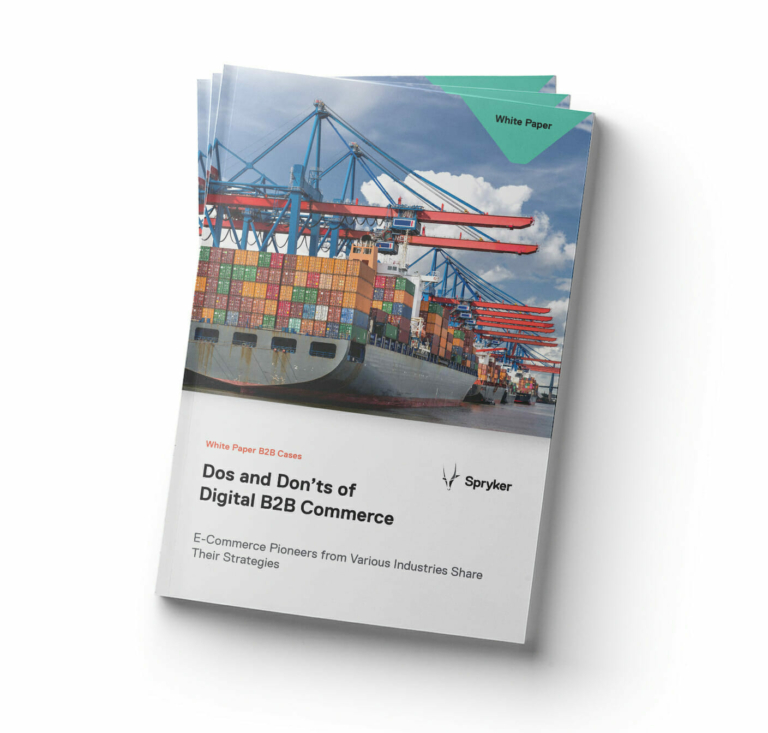 Extract
02 What is happening in B2B?
You can find a lot of opinions about digitization in B2B, but meaningful facts and figures are missing.
The most frequently asked question in discussions with retailers and manufacturers is, "What do I have to do to implement digitization?" There is more than one answer here which is why we divide the topic of digitization into strategy, implementation and best-practice cases. Our aim is to provide answers and concrete recommendations for action, which will take your business several steps forward.
We often hear sentences like, "It's better for us to wait a bit so we don't digitize prematurely." This is the biggest mistake many B2B entrepreneurs make, falling into a kind of shock-induced state of paralysis. Though, one thing is clear to everyone: The importance of digital distribution channels is increasing. The question for B2B manufacturers is this: How can we participate without losing the market position we have built up so far?