2021 Gartner® Magic Quadrant™ for Digital Commerce
Spryker sprintet mit 100% Wachstum in den Visionary Quadrant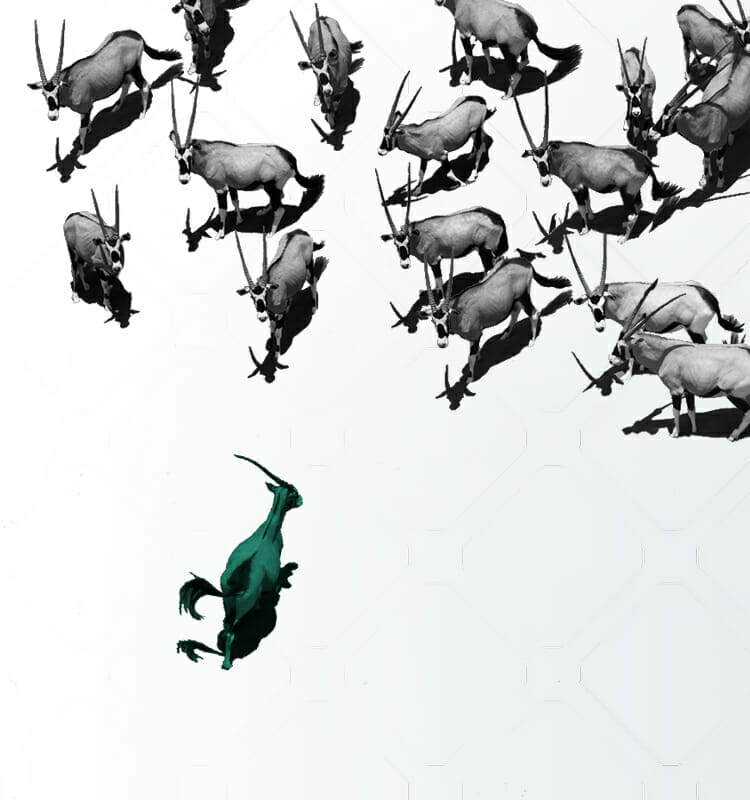 Spryker macht den größten Sprung von allen Anbietern
Im Vergleich zum 2020 Gartner Magic Quadrant for Digital Commerce hat Spryker auf beiden Achsen den größten Sprung von allen Anbietern gemacht und ist nur ein Jahr nach dem Eintritt in den Magic Quadrant zum Visionär aufgestiegen.
Die Vision von Spryker ist es, transaktionale Geschäftsmodelle jenseits von Einzelhandel, E-Commerce und Desktop zu ermöglichen. Unser modulares Commerce-Framework erfüllt die heutigen Anforderungen von Unternehmen an anpassbare und skalierbare Commerce-Lösungen, was durch ein erneutes Wachstum von 100% YoY bestätigt wurde. Laden Sie den Magic Quadrant herunter, um zu erfahren, warum Gartner Spryker als Visionär im digitalen Commerce auszeichnet.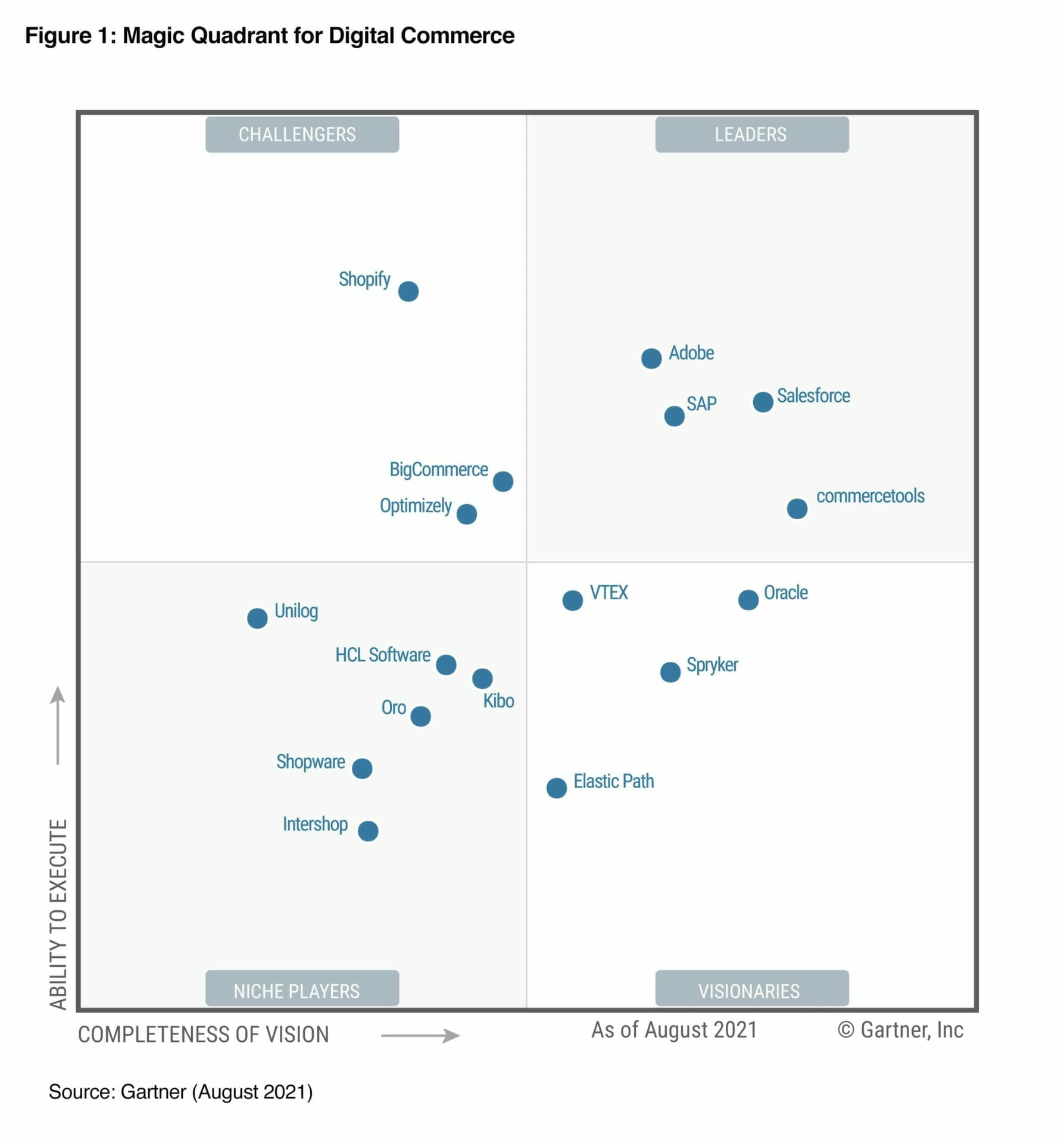 Letztes Jahr konnte Spryker feiern, als jüngstes Unternehmen jemals in den Magic Quadrant aufgenommen worden zu sein. In diesem Jahr haben wir mehr Fortschritte gemacht als jeder andere Anbieter und sind bereits ein Visionär. Ich bin sehr stolz auf diese Leistung und freue mich darauf, dieses Wachstum fortzusetzen.
Eine Plattform zur Entwicklung von Geschäftsmodellen
Spryker ermöglicht neue Geschäftsmodelle und Einnahmequellen, da wir B2B-, B2C-, Unified-Commerce- und Marktplatz-Geschäftsmodelle unterstützen - und damit vielfältige Anforderungen an den digitalen Handel mit einer einzigen hochentwickelten Plattform erfüllen.
Gartner würdigt Spryker im Magic Quadrant 2021 for Digital Commerce für seine "Composability" und nativen Marktplatzfunktionen, die als "ein echtes Unterscheidungsmerkmal unter den MQ-Anbietern" bezeichnet werden, und empfiehlt Spryker als "führendes Produkt aufgrund seiner Architektur für unternehmerische Agilität".
Business-Perspektive

Steigern Sie Ihren ROI, indem Sie Ihren digitalen Handel zu einem Wettbewerbsvorteil machen mit einer All-in-One-Commerce-Plattform, die sich im Hyper Growth befindet.

Commerce-Perspektive

Machen Sie Ihren digitalen Handel zukunftssicher durch schnelle Anpassungsfähigkeit und unbegrenzte Commerce-Anwedungsfälle von Unified Commerce bis hin zu nativen Marktplatzfunktionen.

IT-Perspektive

Erleben Sie Business Agilität mit einer wirklich modularen, API-first PaaS-Architektur, die auf Packaged Business Capabilities (PBC) basiert, um die führende Lösung in Ihrer Branche zu kreieren.
Was macht Spryker aus?
Spryker ermöglicht es Unternehmen, anspruchsvolle transaktionale Commerce-Erlebnisse in den Bereichen B2B, 1p&3p Marktplätze, Unified Commerce und B2C zu schaffen. Es ist die modernste Plattform-as-a-Service-Lösung mit einem jährlichen Wachstum von über 100 %, Cloud-nativ, Enterprise-ready und beliebt bei Geschäftsanwendern und Entwicklern weltweit. Sie ermöglicht die schnellste Time-to-Value mit den besten TCO im modernen Enterprise-Segment.
Erweitern Sie Ihre Vertriebsreichweite und steigern Sie Ihren Umsatz mit einem System, das es Ihnen ermöglicht, grenzenlos in neue Regionen, Branchen und Touchpoints zu expandieren oder neue Geräte auf agile Weise zu entdecken. Erschließen Sie neue Märkte und Geschäftsmodelle ohne technische Einschränkungen auf der Grundlage unseres modularen, Capabilitiy-basierten Systems.
Mit den Lösungen von Spryker haben über 150 globale Unternehmen Transaktionen in mehr als 26 Ländern weltweit abgewickelt. Hersteller, Einzelhändler und Marken wie ALDI Süd, Siemens, RICOH, Toyota, Hilti und MyTheresa vertrauen auf Spryker.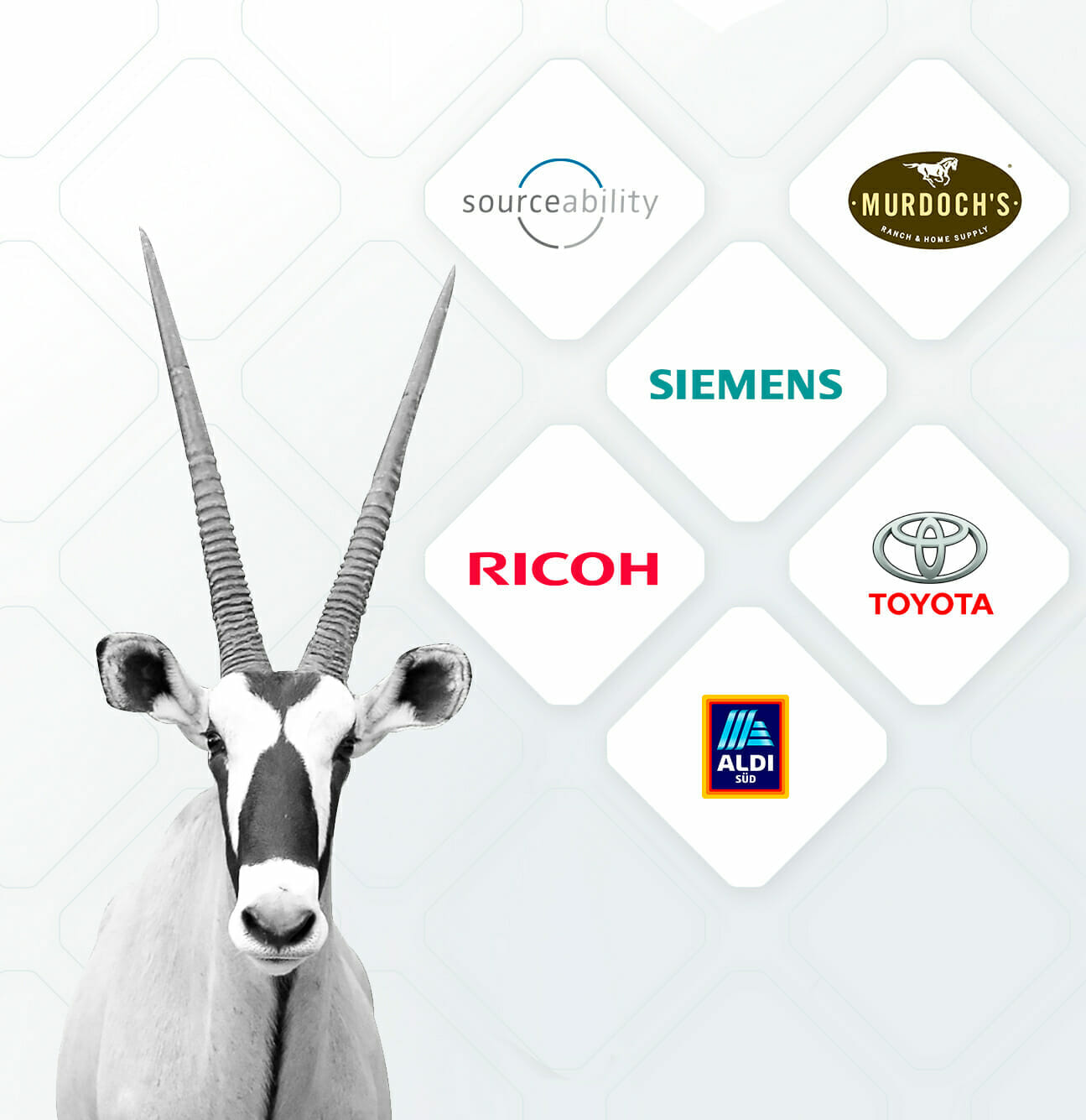 Empowering 150+ global companies to manage transactions in over 26 countries worldwide
Curious to learn more about Spryker?
Disclaimer
Gartner, Magic Quadrant for Digital Commerce, 25 August 2020, Mike Lowndes, Jason Daigler, Sandy Shen, Penny Gillespie, Yanna Dharmasthira.
Gartner unterstützt keinen der in seinen Forschungspublikationen dargestellten Anbieter, Produkte oder Dienstleistungen und rät Technologieanwendern nicht, nur die Anbieter mit den höchsten Bewertungen oder anderen Bezeichnungen auszuwählen. Die Forschungspublikationen von Gartner geben die Meinung der Forschungsorganisation von Gartner wieder und sollten nicht als Tatsachenbehauptungen ausgelegt werden. Gartner lehnt jede ausdrückliche oder stillschweigende Gewährleistung in Bezug auf diese Studie ab, einschließlich jeglicher Gewährleistung der Marktgängigkeit oder Eignung für einen bestimmten Zweck.
Diese Grafik wurde von Gartner, Inc. als Teil eines größeren Forschungsdokuments veröffentlicht und sollte im Kontext des gesamten Dokuments bewertet werden. Das Gartner-Dokument ist auf Anfrage bei Spryker erhältlich.