 B2B Marketplaces

Expert Voices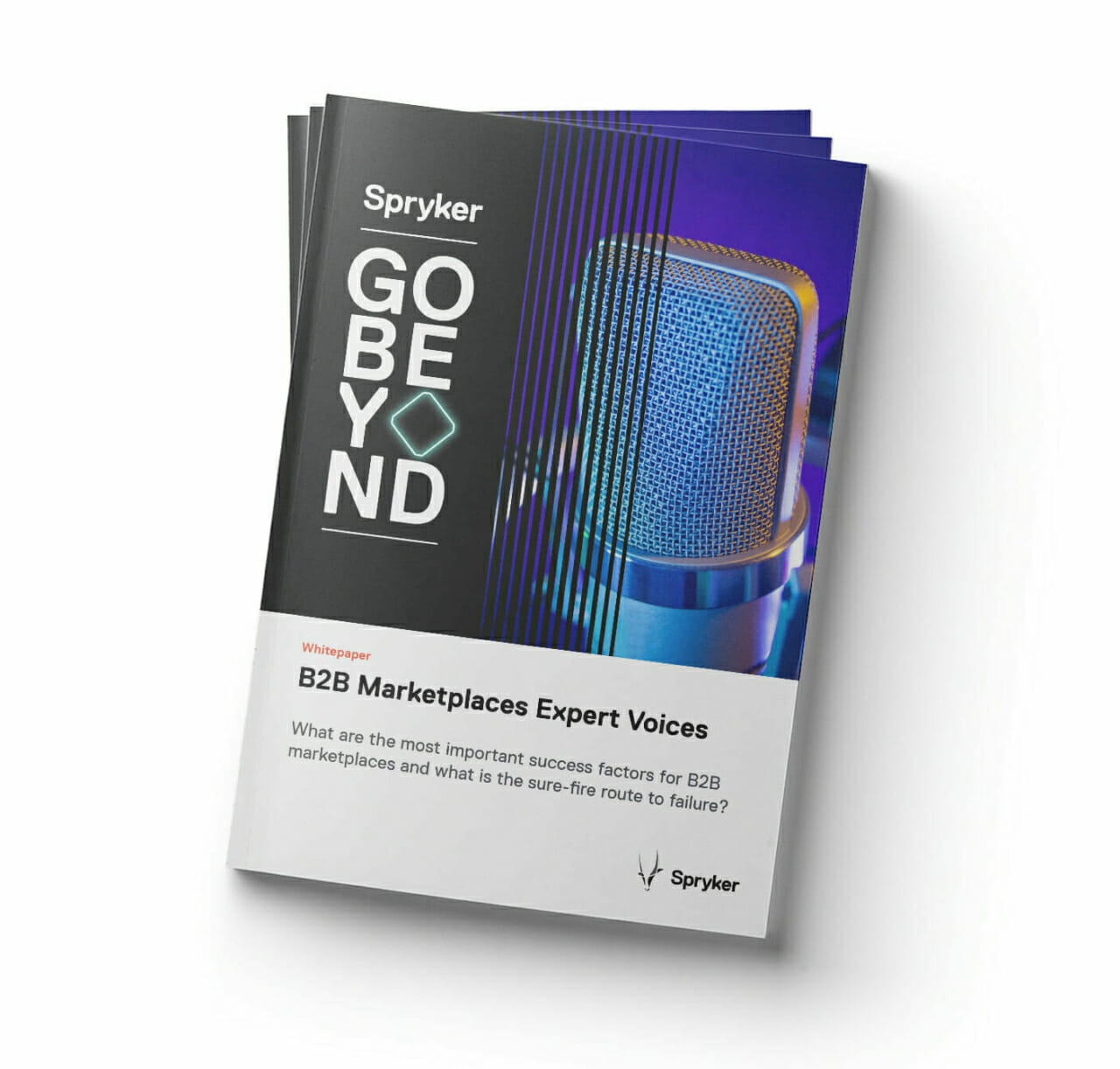 Learn more about B2B Marketplaces
E-Commerce sales opportunities have grown immensely during the last months and businesses must find new ways to satisfy the increasing customer demand. This is where the Marketplace model comes into play as it's a proven way to scale online business. We asked these 8 commerce experts about most important success factors for B2B marketplaces: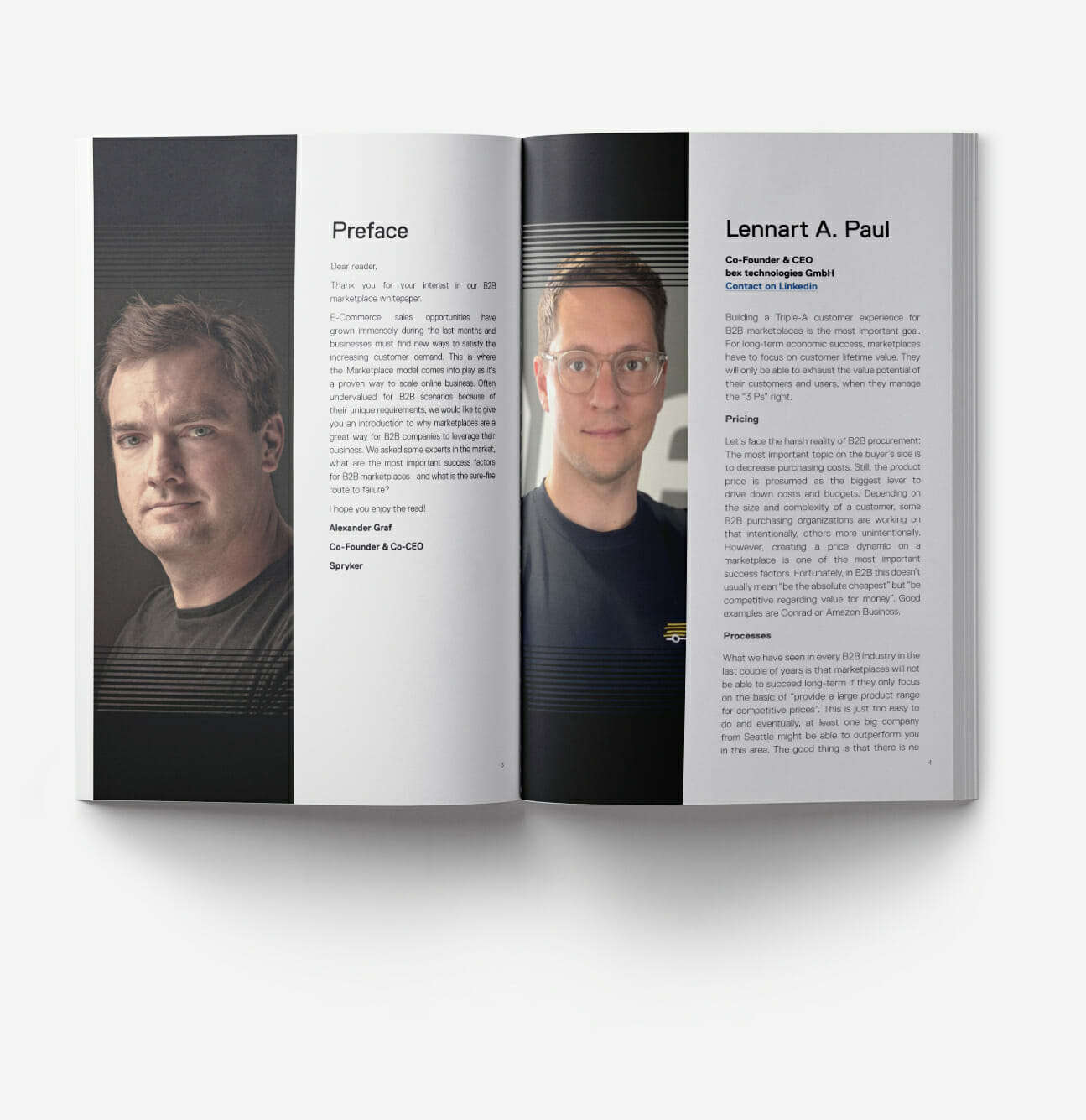 EXPERT #1 Lennart A. Paul, Co-Founder & CEO at bex technologies GmbH

EXPERT #2 Nils Seebach, Entrepreneur, Member of Board & Investor

EXPERT #3 Michael Saitow, Founder & CEO at ALZURA Tyre24 / SAITOW AG

EXPERT #4 Stefan Grimm, Managing Director Sales & Strategy at GKS Handelssysteme GmbH

EXPERT #5 Goppi Vaddi, General Partner at TVC

EXPERT #6 Christopher Möhle, COO at Turbine Kreuzberg

EXPERT #7 Alexander Damm, Director Digital Strategy & Innovation Consulting at mediawave commerce GmbH

EXPERT #8 Martin Himmel, Managing Director at Digital Operations & Tech Consulting GmbH
Learn more from the Marketplace Experts
An Error occured while trying to load the form. Please reload the Browser to try it again.
What is a B2B Marketplace?
Marketplaces offer immense growth potential for businesses within B2C and B2B industries. By adopting a marketplace model, companies have the opportunity to scale at a much quicker pace while reducing risk. Gartner predicts that by 2023, 15% of medium-to high-gross-merchandise-value digital commerce organizations will have deployed their marketplaces, thereby creating an entirely new digital ecosystem. For organizations with an existing traditional e-commerce platform, a digital marketplace could be the next step in accelerating customer acquisition and increasing revenue. B2B is when businesses provide products or services to other businesses. Marketplaces are where multiple buyers and sellers transact. Therefore, B2B marketplaces are typically centralized digital platforms that enable large entities to conduct business with their partners or other organizations on a large scale.
Worldwide B2B marketplace sales could reach an estimated $3.6 trillion by 2024, up from an estimated $680 billion in 2018.

Digital Commerce 360
As global marketplace heavyweights like Alibaba, Amazon, eBay, Etsy, and many more continue to compete for market share, the value of online marketplaces will become even more apparent to both potential vendors and B2B or B2C businesses.
Marketplace technology can go beyond the typical "many-to-many" marketplaces. You can:
Create a direct-to-consumer (D2C) business
Leverage marketplaces for procurement processes
Communicate with resellers more effectively
There are several marketplace business models, such as Standalone Marketplace, Marketplace Extension, Indirect Sales Solution, Sourcing Platform, Auction Platform, and Multi-Brand Store. The key to successfully commercializing your business services is choosing a marketplace approach that meets your business requirements.
Learn more about B2B Marketplaces