White Paper
Conversational Commerce: Oh my Bot!
We spend 90% of our time on messenger platforms while on our phones. For perspective, the average person only uses about 5 different apps on their personal smartphone.
We dive deeper into this topic, in this whitepaper answering the questions: Are chatbots the solution to retain customers? What tasks can a bot take on? And what are the advantages offered by chatbots and voice bots for a company?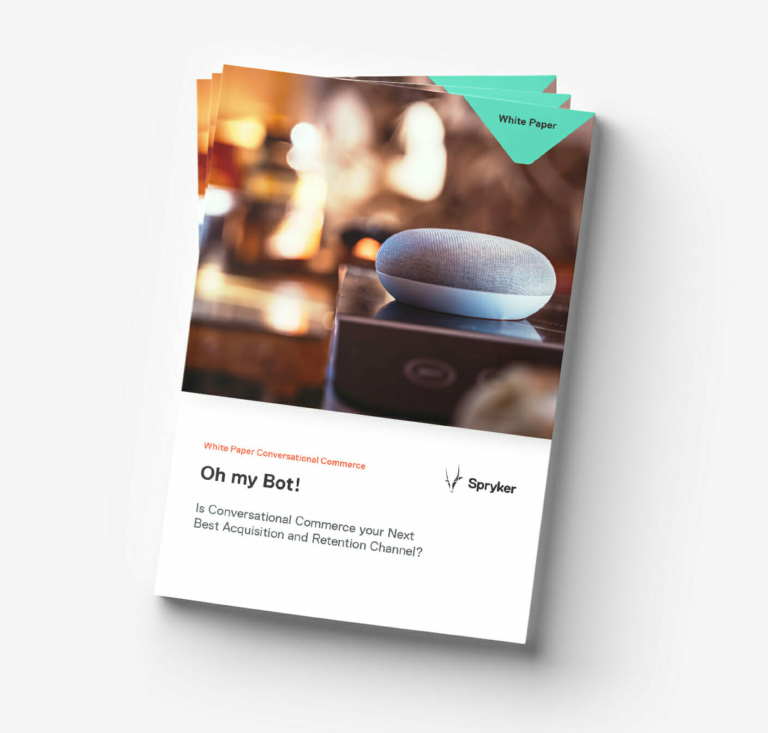 Extract
Introduction
Is Conversational Commerce your Next Best Acquisition and Retention Channel?
The Cluetrain Manifesto is famous for its opening thesis, "markets are conversations". For hundreds of years, commerce meant markets and bazaars full of lively conversations and bartering. Following the rise of digital communication channels, we're going back to the bazaar, but this time on a much larger scale.
90% of the time spent on our smartphones is spent on email and messaging platforms. For perspective, messaging service Facebook Messenger has 1.2 billion monthly users as of April 2017. In the same month, Chinese social app giant Weixin, which is internationally known as WeChat, reached close to 1 billion monthly users.
Meanwhile, the challenge – in all areas, specifically in e-commerce – remains to foster a loyal relationship with customers and cost-effectively engage in individual conversations around their needs and desires. Feeding those desires will not only convert customers but also help your business retain them long-term.