If you like Magento, you will love Spryker!
Spryker is the most modern platform-as-a-service (PaaS) solution available, enabling companies to build sophisticated transactional business models. With cloud-native technology, we are enterprise-ready and loved by developers and business users worldwide.
Learn why former Magento customers switched to Spryker Cloud Commerce OS, as well as what our customers love about us on third-party review platforms. While you're there, explore what Spryker can offer your business in terms of Marketplace capabilities, flexible B2B solutions, and Unified Commerce. 
Don't just take our word for it, read our customer success stories and let us convince you with a free DEMO!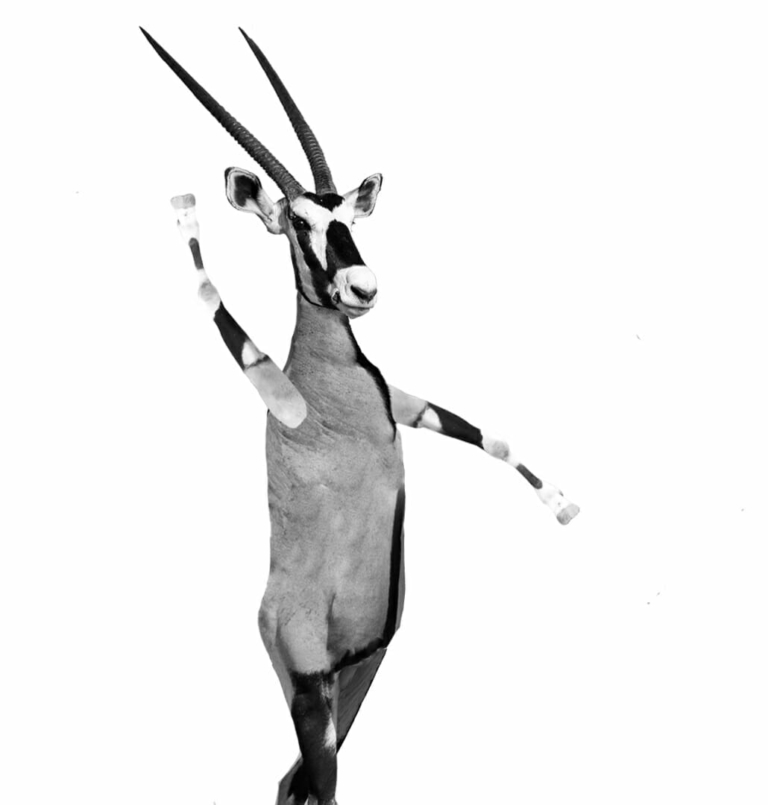 Why Customers Switched from Magento to Spryker
Lighting expert SLV re-platformed from Magento to Spryker Cloud Commerce OS to enhance customer experience and enable technology ownership. Their MVP went live after only 4 months, impressing customers and making SLV the proud owner of digital value creation. This led to sales growth of 45% in the year after the relaunch.

Breaking out of its legacy setup with Magento, business equipment and office furniture vendor Certeo switched to Spryker Cloud Commerce OS. This enabled them to flexibly develop their brand, leading to shorter release cycles. Now, 94% of customers would recommend Certeo, and they have average customer reviews of 4.7 stars.

With a digital-first approach, FOND OF has grown into an international brand with shops for fashion, bags, backpacks, and accessories. With Magento 1 being discontinued, FOND OF switched to Spryker Cloud Commerce OS, and re-launched in around 100 days, creating 7 brand shops under one roof and 4x faster page speed.
What Customers Say About Spryker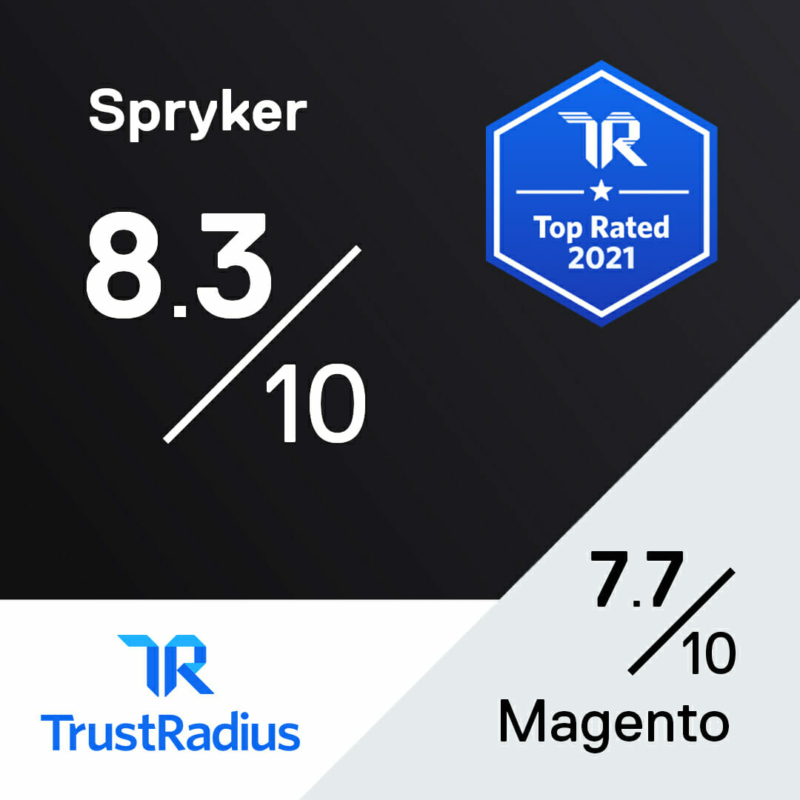 Top-rated for 2021, Spryker scores 8.3/10 on TrustRadius overall, compared to Magento's 7.7/10. 
Areas where Spryker excels, according to real customer reviews, are our easy online payment system, the overall strength of our e-commerce marketing, our second-to-none personalized recommendations, and our abandoned cart recovery process.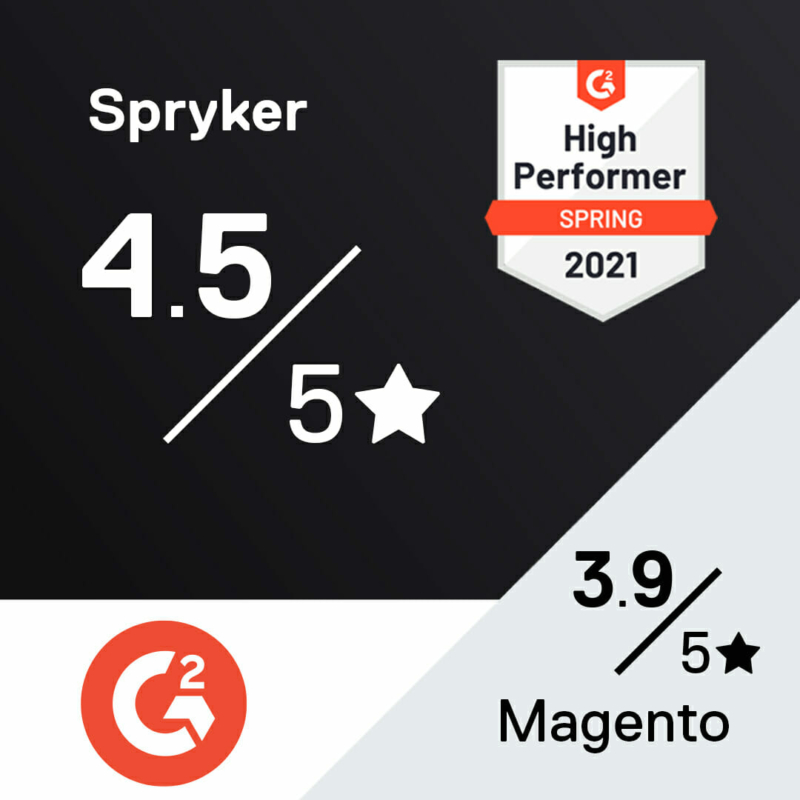 Marked as a High Performer Spring 2021, Spryker gets 4.5 stars on G2 overall, compared to Magento's 3.9 stars. 
Customers review our service and support very highly, as well as our positive product direction, our APIs, and our performance and reliability.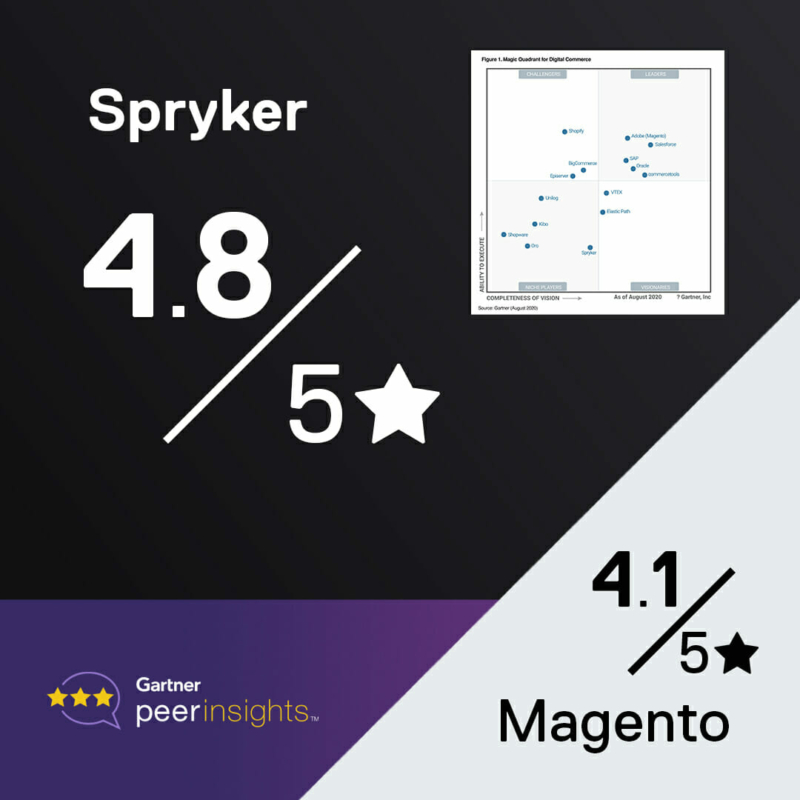 Along with being featured in the 2020 Gartner Magic Quadrant for innovation, Gartner Peer Insights gives Spryker 4.8 stars compared to Magento's 4.1 stars.
Spryker also receives high scores for ease of integration, service and support, quality of end-user training, and ability to understand customer needs.
What Customers are Building with Spryker
#1 Marketplaces
The strong and versatile set of features and Packaged Business Capabilities (PBC) at Spryker Cloud Commerce OS makes it easy for companies to adapt to market changes and quickly move into new areas of digital commerce. Our new extensions in Enterprise Marketplace and Unified Commerce are available for you to take your business to the next level. Check out some of our customers who are already benefiting from a Spryker Enterprise Marketplace: Prym, Ricoh, Durst, and Intersport.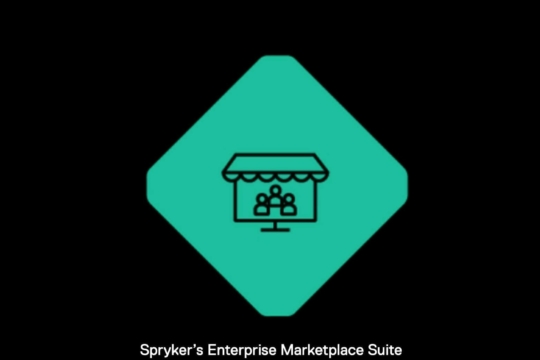 What Customers are Building with Spryker
#2 B2B Commerce
Custom-build your e-commerce platform with the Spryker Cloud Commerce OS B2B Suite, and get your business online and functional in a matter of weeks. Our ultimate feature flexibility means that you can tweak and adjust your platform to offer the best solutions for you and your customers. By integrating with our 70+ partners, we take advantage of the industry's best-of-breed expertise to get you on the market in the shortest amount of time, with the fastest possible return on investment. With B2B brands like Ricoh, Hilti, Sourceability, Metro, and Siemens Healthineers utilizing Spryker Cloud Commerce OS to digitalize and innovate, your business would be in good company.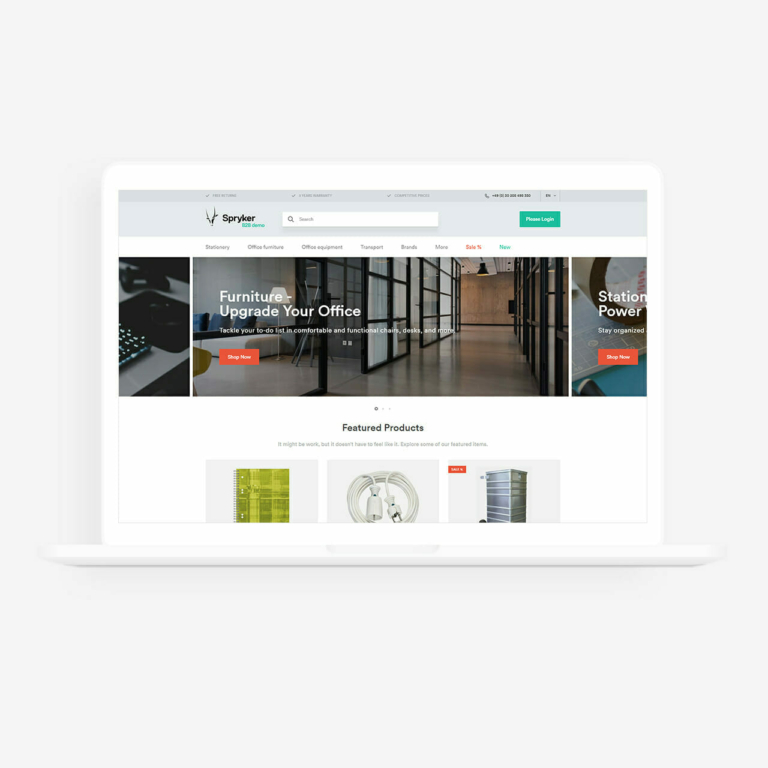 What Customers are Building with Spryker
#3 Unified Commerce
Nowadays, whether your business is B2B or B2C, customers expect a consistent online and offline experience from a single platform. They want to seamlessly browse and transact across channels and various touchpoints, from mobile apps to wearable devices. Not only that, but they expect flexible options in terms of delivery, whether that's Click&Collect, home delivery, ship-to-store or classic in-store shopping. This is known as Unified Commerce, and is integral for any successful modern vendor. We have extended our existing functionalities to serve real-life Unified Commerce scenarios, taking into account the multitude of ways that different stores operate.
Read all about how Spryker helped German food retailer Globus launch their Curbside Pickup Solution in just 14 days.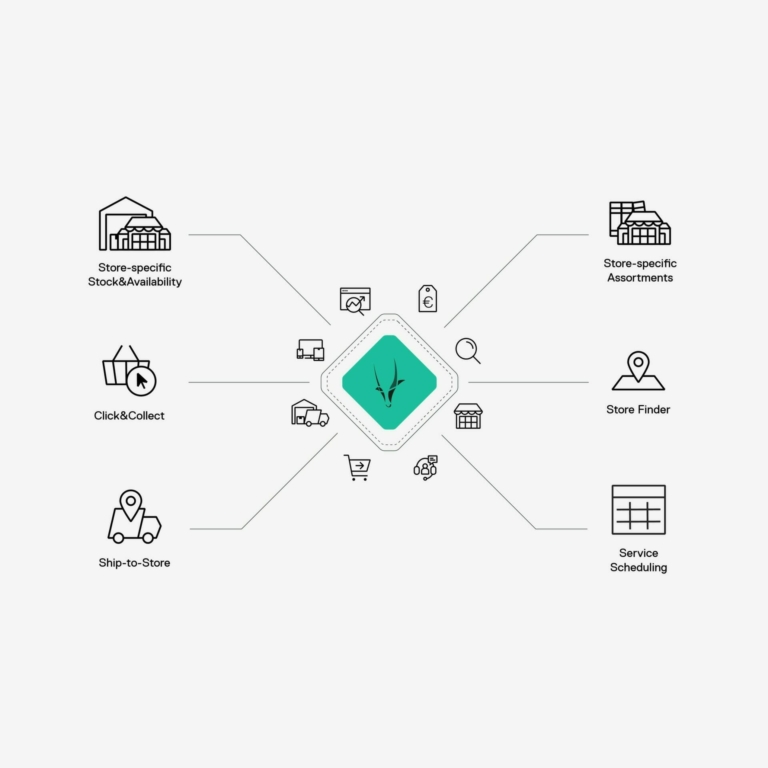 Why Spryker?
Developers love Spryker for our modern and flexible technology. Both B2B and B2C companies rave about our unparalleled Time to Market. Innovative businesses are excited about our new Enterprise Marketplace and Unified Commerce capabilities. Things you won't get with Magento. Just read this real TrustRadius review here from a Magento user. Come join us for a completely free demo. You've got nothing to lose, but so much to gain.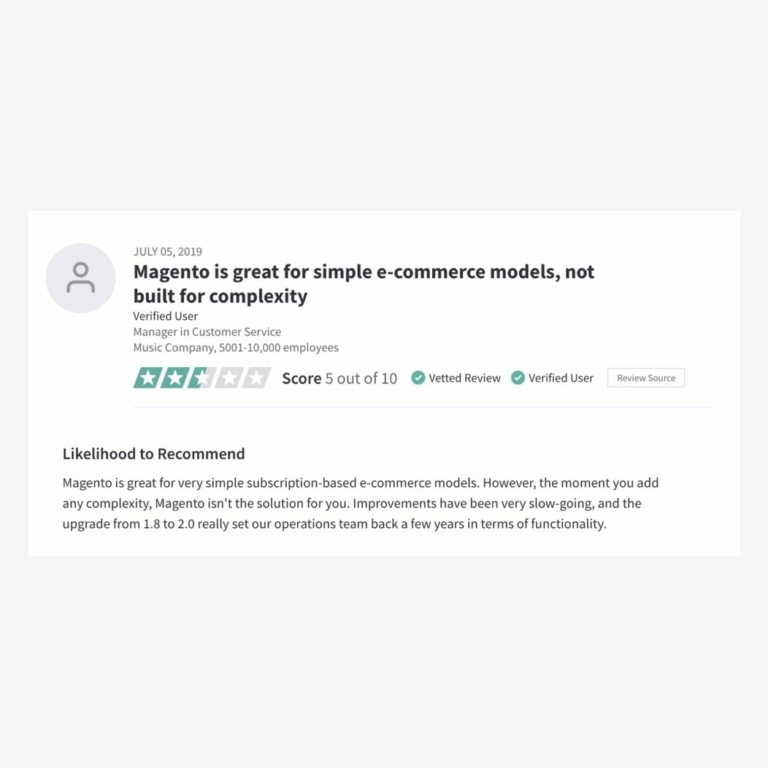 Compare Spryker Versus Magento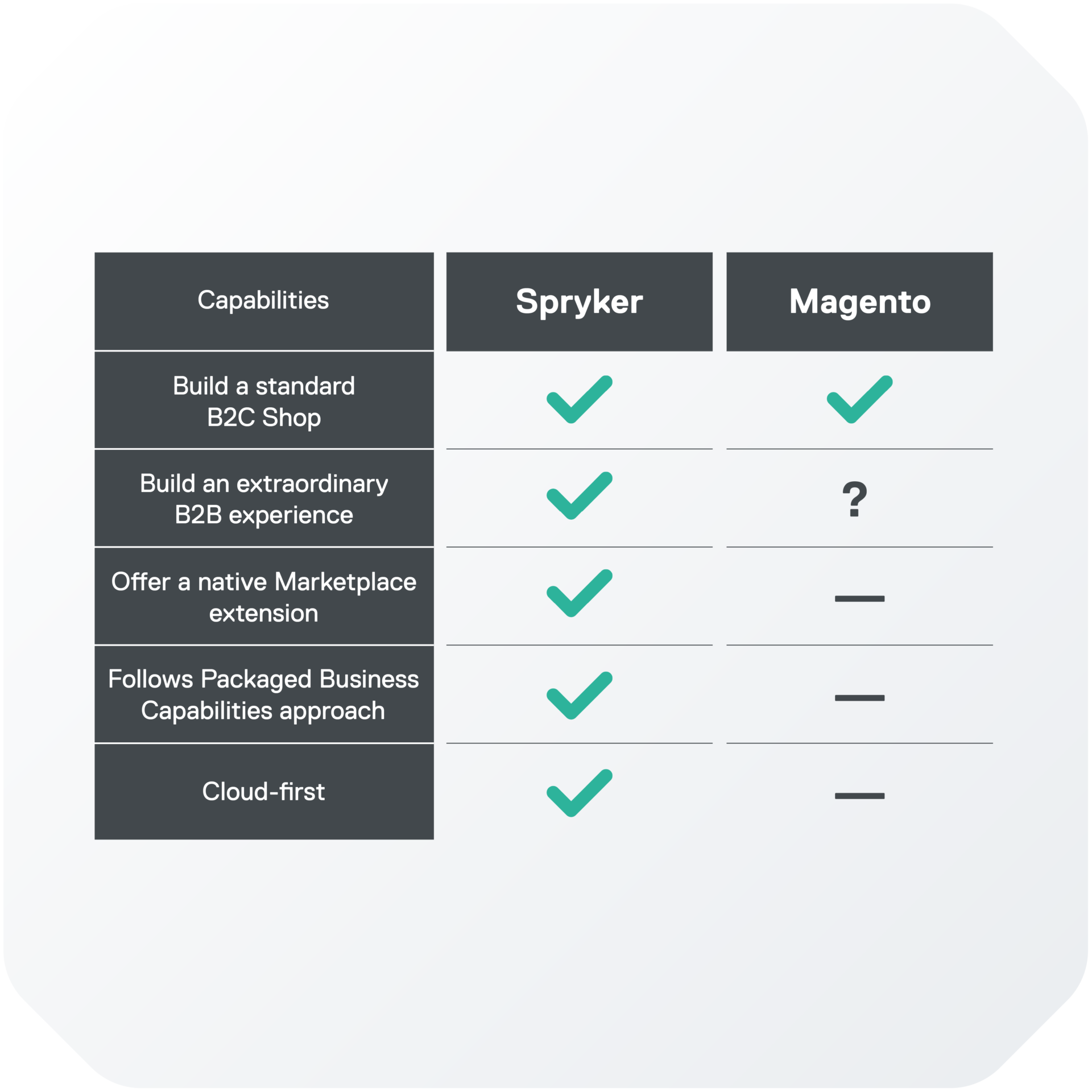 Real Spryker Customer Reviews: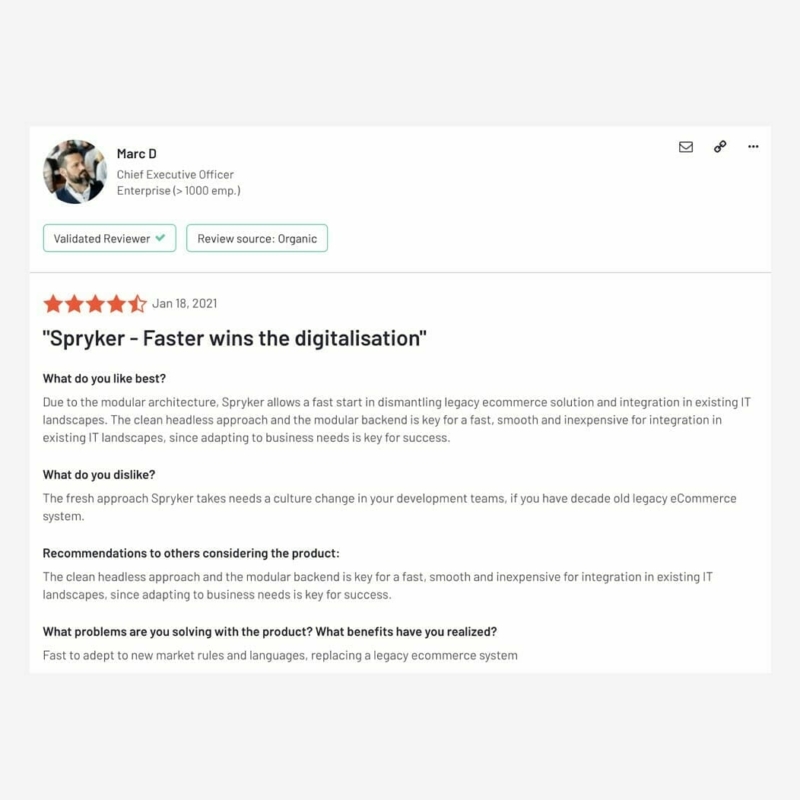 G2 Testimonial for Spryker
TrustRadius Testimonial for Spryker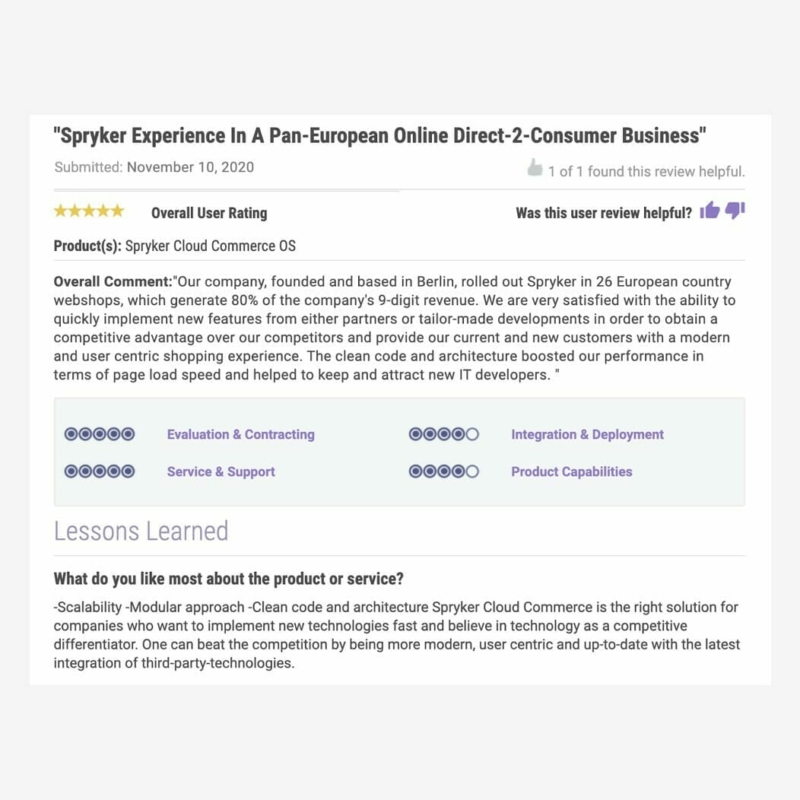 Gartner Peer Insights Testimonial for Spryker