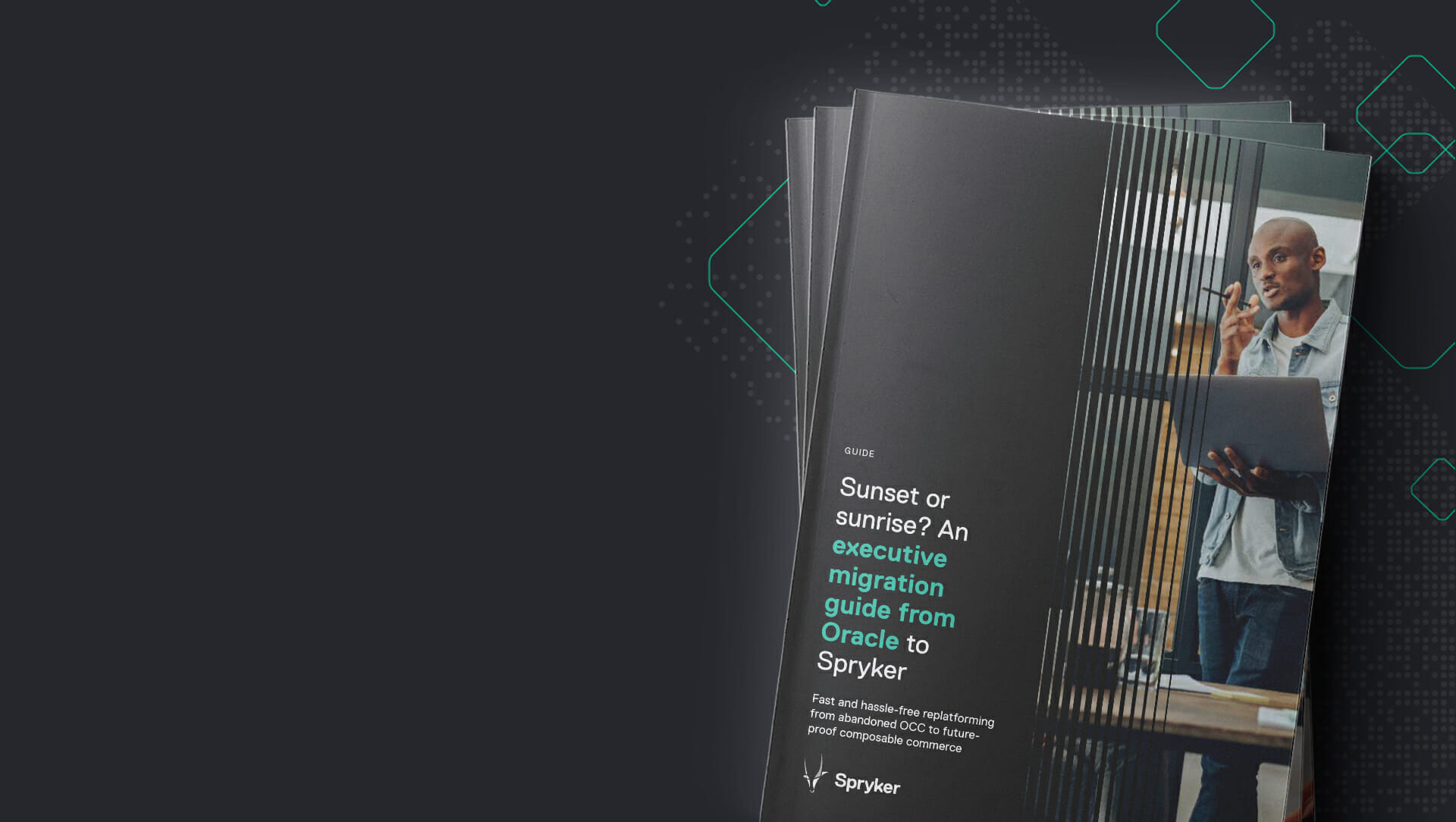 Sunset or sunrise? An executive
migration guide from Oracle to Spryker
Oracle Commerce Cloud (OCC) has been retired; what's next? This brief guide will help you quickly migrate from Oracle Commerce to Spryker. It's a simple process, and our team is available to help you every step of the way.
An Error occured while trying to load the form. Please reload the Browser to try it again.
Guide Overview
Migrating to Spryker not only solves your old problems but also opens up new possibilities. We support B2B, B2C businesses, and enterprise marketplaces on a single platform.

IN THIS HANDOUT YOU WILL LEARN:
What went wrong with Oracle Cloud Commerce
How Oracle Commerce users can migrate to Spryker
Spryker's easy migration roadmap
What thriving digital commerce businesses say about Spryker capabilities
This handout is for:
Business Executives
CIOs
CEOs
Business decision makers
Replatforming project managers
Sponsors
Industry influencers
Get a preview of the guide below
Migration made simple
Replatforming can be time-consuming and costly, but with the Spryker App Composition Platform, businesses can build the platform they want by choosing from pre-configured app lists with little to no developer assistance. We represent Composable Commerce and best-of-breed solutions more than any other vendor on the market.
Why Spryker is the best option for your business:
Spryker is the first choice for companies with sophisticated business models.
Migrating to Spryker is a seamless transition that reduces your TCO while providing complete flexibility and scalability today and in the future.
Spryker recognized in the Magic Quadrant™ for Digital Commerce for the 3rd consecutive year.
Spryker understands how difficult it can be to be abandoned by your vendor of a critical business capability such as e-commerce. We are here to help, which is why we have created a simple and quick migration plan that can be customized to any business. Our top priority has always been and will always be the success of our customers

- Boris Loskchin, CEO of Spryker
The transition to a new shop system can become a real business risk if not carried out efficiently, particularly if you had issues with your previous system. Spryker has assisted numerous businesses, both large and small, and is a tailored solution that will simplify your commerce setup today and prepare it for future expansion.
Read the entire guide to see how quick and easy it is to migrate to Spryker!
Migrate from Oracle Commerce Cloud to
Spryker, a Digital Commerce Visionary
Migrating to Spryker is a seamless transition that decreases your TCO and gives you full flexibility and scalability today and in the future.