Experts in Digital Commerce United: The Success Story Behind Colons.de
Tim Jägers offers insights into how Spryker and Valantic helped him launch B2B commerce platform Colons.de at our fireside chat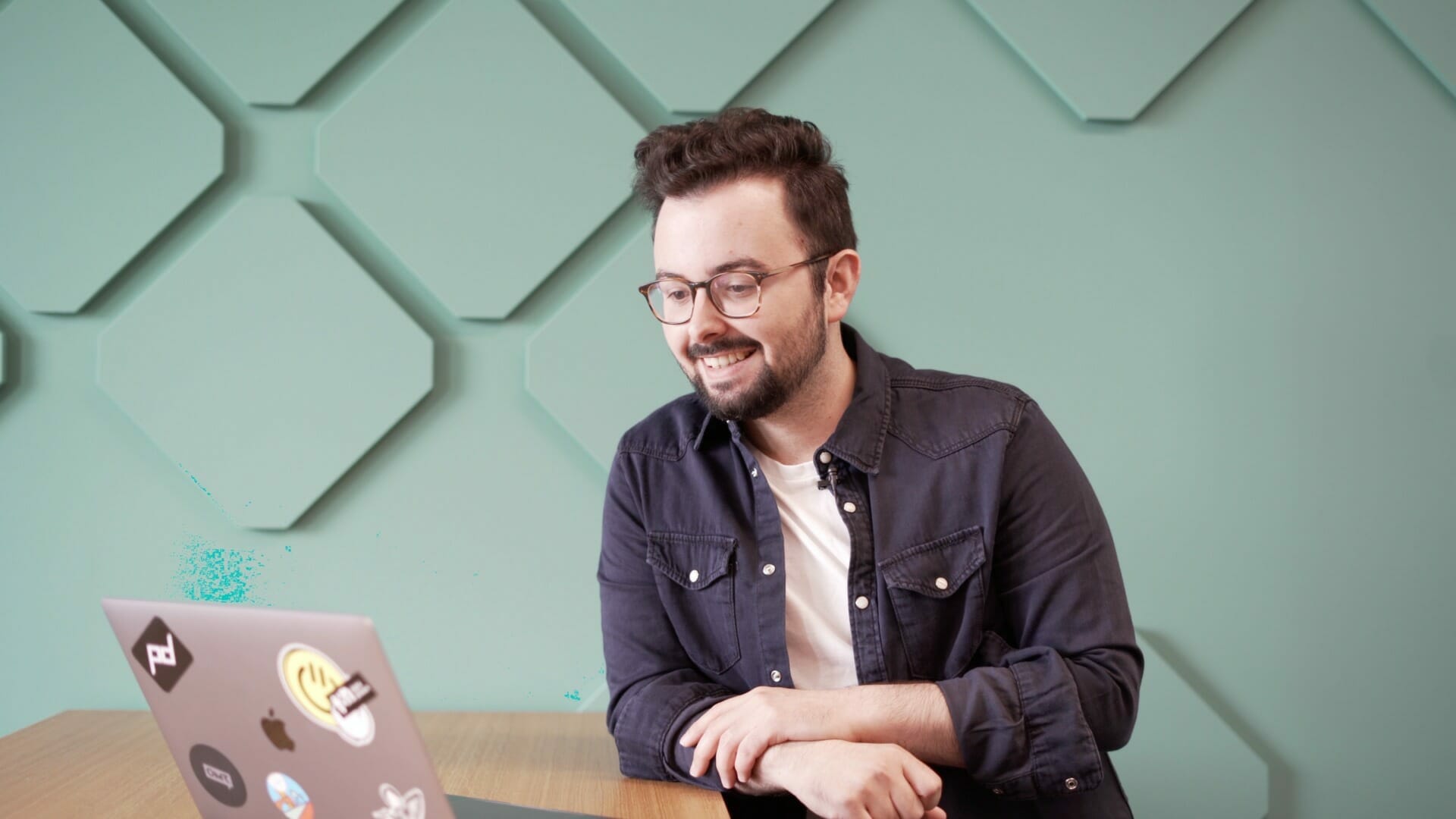 Samuel Pais
Customer Marketing Manager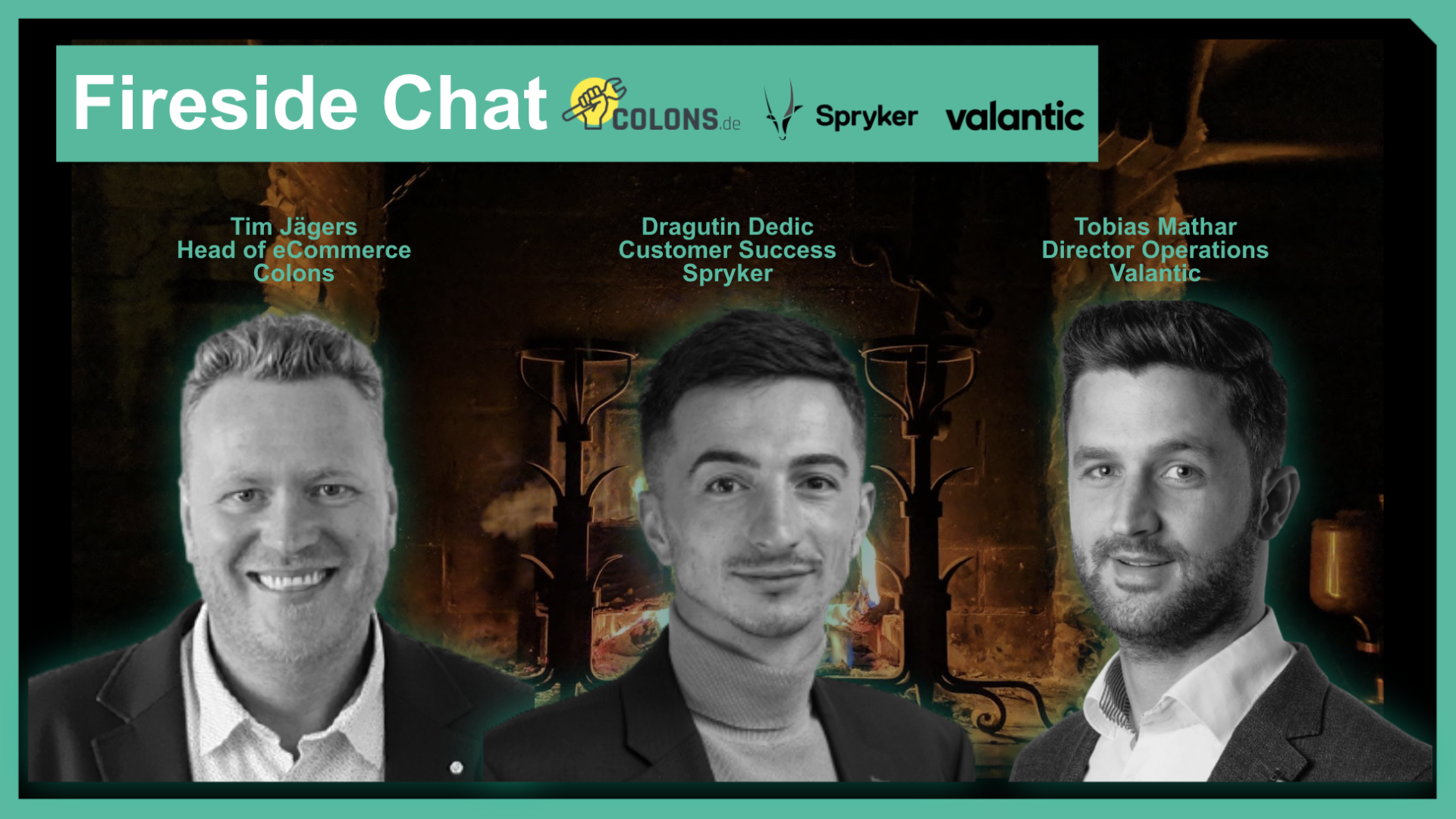 What does it take to successfully launch a new digital commerce platform? One that has to satisfy the high expectations of someone with over 200,000 items on offer and over 20 years of experience in the online B2B commerce business? In our latest fireside chat, we met Tim Jägers, head of e-commerce at Colons, who told us all about their success story but also the challenges along the way of launching Colons' digital commerce platform. Learn more about how Spryker and Valantic helped Colons become a successful B2B commerce project.
Introducing Tim Jägers, our customer and Head of e-commerce at Colons
At our fireside chat, Tim Jägers was more than willing to spill the beans on how Spryker and Valantic made launching the new Colons digital commerce platform not only a success, but also a rewarding and enjoyable collaboration.
So, who is Tim and what is his story? If you ask him what he's working in, he'll laugh and tell you, basically he's just selling toilets. That is both true and an understatement:
Colons is a German B2B commerce business specializing in high-quality "SHK" articles. That's the German abbreviation for "Sanitär-, Heizung- und Klima-Handwerk". In English: Sanitary facilities, heating, and air conditioning.
Colons not only prides itself on having more than 44,000 articles in stock and over 200,000 on offer on their digital commerce platform Colons.de, but also on its long history: Before going online, their B2B commerce business has existed as part of the company group Pietsch for over 70 years. They have over 1,300 employees working in over 88 cities.
However, the B2B commerce company faced one fundamental challenge: How to supply customers that were not living close to existing shop locations? The solution was obvious but not easy: Launch a digital commerce platform for Colons.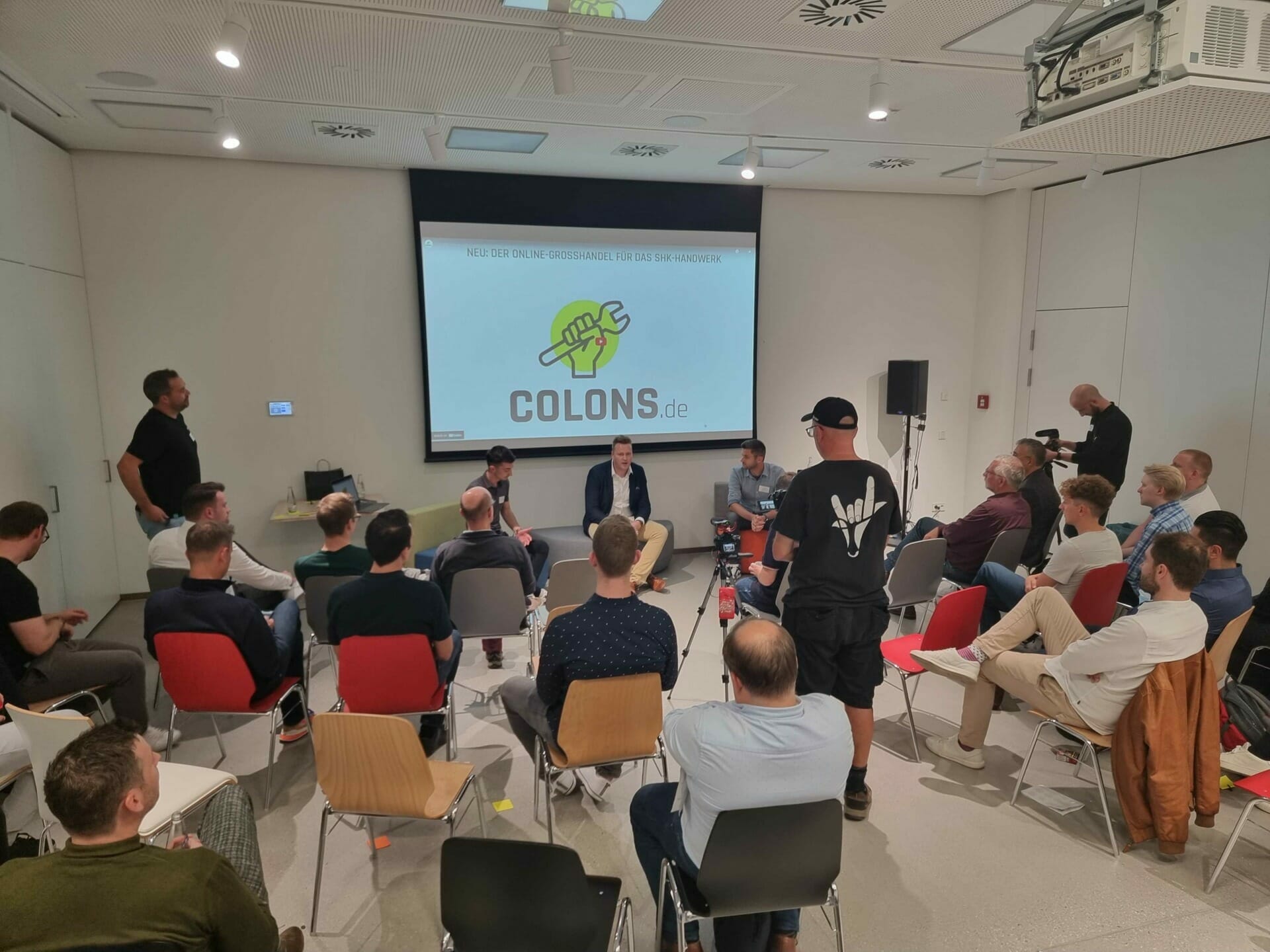 Introducing Dragutin Dedic (Customer Success at Spryker) and Tobias Mathar (Director Operations Valantic)
This would not have been possible for Tim without the expertise in digital commerce provided by Spryker and Valantic. To learn more about their successful cooperation in launching a B2B commerce platform, Dragutin Dedic and Tobias Mathar joined Tim Jägers at the fireside chat to provide their perspective.
Dragutin Dedic works in Customer Success here at Spryker. His job is to ensure that all parties involved in setting up the digital commerce platform are working together smoothly. In his own words, he is there to "help the customers achieve success with our technology as much as possible" because: "The success of our customers is the success of Spryker!"
Tobias Mathar represented Valantic. This agency specializes in advising digital commerce and B2B commerce strategies. What scope for a B2B commerce platform can be implemented with a limited budget? What digital commerce solution needed to be implemented by Spryker for Colons to go live successfully? Tobias had the answers – and when he didn't, help was only one phone call to a colleague away. He credits the incredible collaboration on all things digital commerce within Valantic as well as with Spryker for the fast launch of Colons.de.
Colons initial challenges: Finding the right partner
At the beginning of 2018, Tim began to consider what the perfect digital commerce solution for Colons could look like. He knew about other B2B commerce platforms that took at least four to five business days to verify new customers before they could order online. He knew his customers wouldn't want to wait that long. The ideal digital commerce solution for Colons had to allow businesses to sign up and order within less than two minutes. His envisioned B2B commerce platform required a sophisticated system: It would need to verify users automatically but also needed to limit how much a new user could spend before their credit rating was verified manually.
Another challenge would be to enter over 200,000 items the digital commerce platform would have to list. Based on over 20 years of experience in the B2B commerce business using digital commerce platforms, the Pietsch company group knew the needs of their customers very well. Tim is very satisfied with the PIM, i.e. "Production Information Management" system they ended up using for Colons' digital commerce platform.
Tim explains that they checked out several shop systems and agencies for digital commerce solutions, giving them a check list of features that they needed implemented. He wanted to know, what was possible and what approach they would take to establish his B2B commerce platform. In the fireside chat he reveals one of many aspects that spoke for working with Valantic and Spryker: While other agencies gossiped about their competition in the digital commerce sector, Valantic immediately offered a clear plan: They could go live within 90 to 120 days.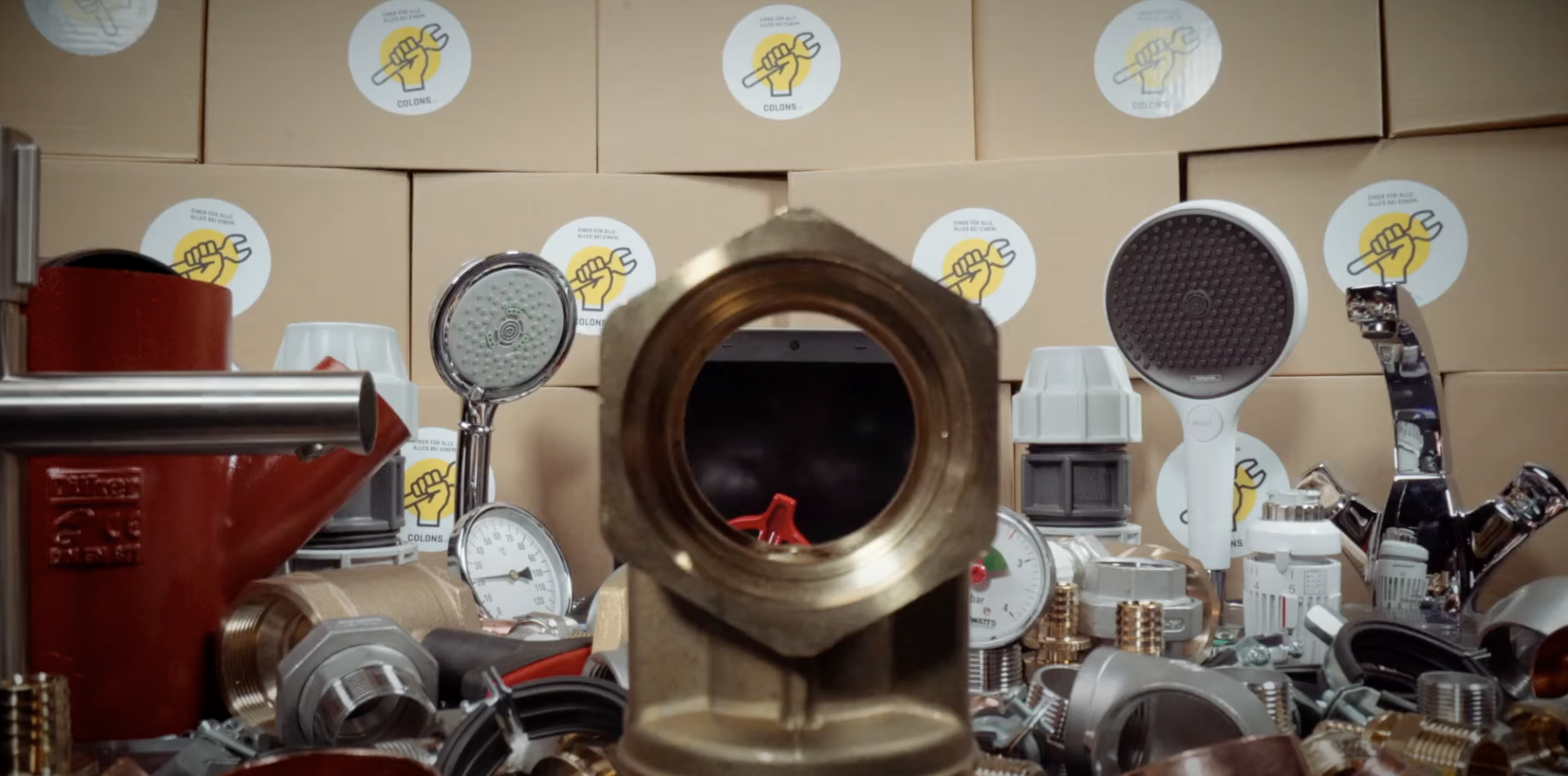 The question of going live at the right time
Tim recollects how skeptical he was about launching the digital commerce platform too quickly. He knew the first impression of the new digital commerce platform would count a lot for his customers. If the B2B commerce platform would not meet the specific needs required in the SHK trades, they would take their business elsewhere. Colons needed a lot of features for their B2B commerce business to work, even as an MVP. "Minimal Viable Product" means: Going live before all features are fully implemented into the digital commerce platform – just enough that the product can already be used by customers.
Together, Tim and Tobias figured out which features were indispensable for the launch of his B2B commerce website. Valantic recommended working with Spryker as the best fit. For example, Tim needed a shopping cart that trainees could show to their boss before ordering. As customers on a B2B commerce platform often order items in the range of several thousand euros, it is important to have orders approved beforehand. Such features minimize the "eff-up potential" in digital commerce, as the trio good-humoredly call it in the fireside chat.
The work is never done but collaboration is everything
In the end, it took roughly a year until digital commerce platform Colons.de went live. All parties had to face challenges along the way, they are ready to admit. Tim particularly highlights how willing Valantic was to work with a limited budget and find a good solution between a broad scope for the B2B commerce project and keeping within a budget. They enjoyed the regular meetings, emphasizing the positive atmosphere and attitude on both sides.
Was going live with the B2B commerce platform the end of their collaboration? Tobias laughs: "We're never done!"
Dragutin further explains that adjusting the digital commerce platform based on the reception by its users after the launch is even more important for success. Together, they are mapping out the next steps to take for their joint vision of success.. 
Their experience is true to Spryker's vision of our teams being like a herd: Only if individuals bring their unique skills and expertise together, can challenges be overcome. While the trio is far from being done with working together, they look forward to having many more success stories about digital commerce to tell.
Interested in B2B commerce topics, and what trends are shaping the industry? Check out this IDC report Three Ways B2B Commerce Will Fundamentally Change by 2025.