The 10 biggest failures in end-of-year business – these companies lost millions
Website malfunctions and overloaded commerce systems at the busiest shopping period of the year are a recipe for disaster, as these 10 companies can testify.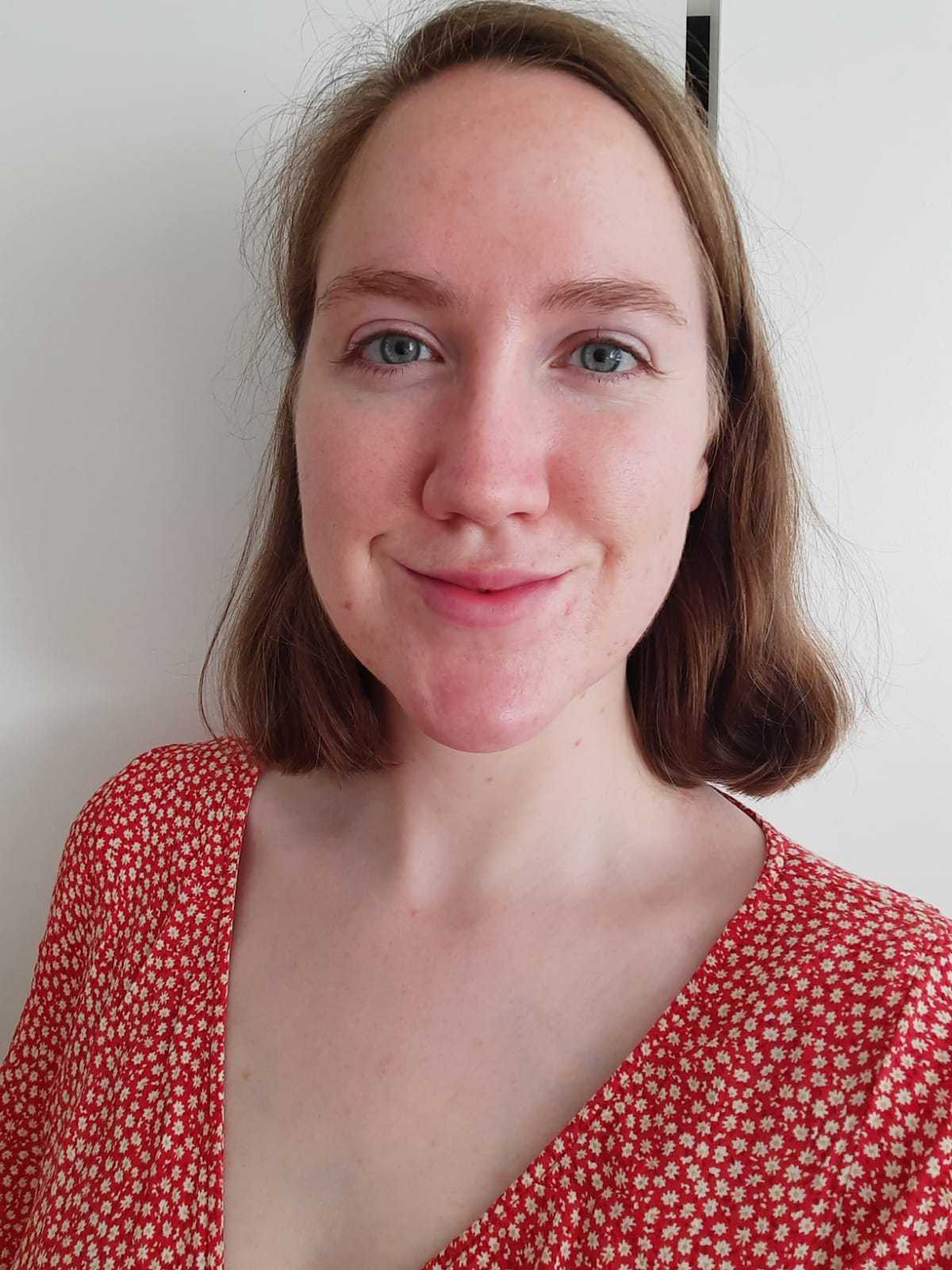 Elizabeth Ryan
Content Marketing Strategist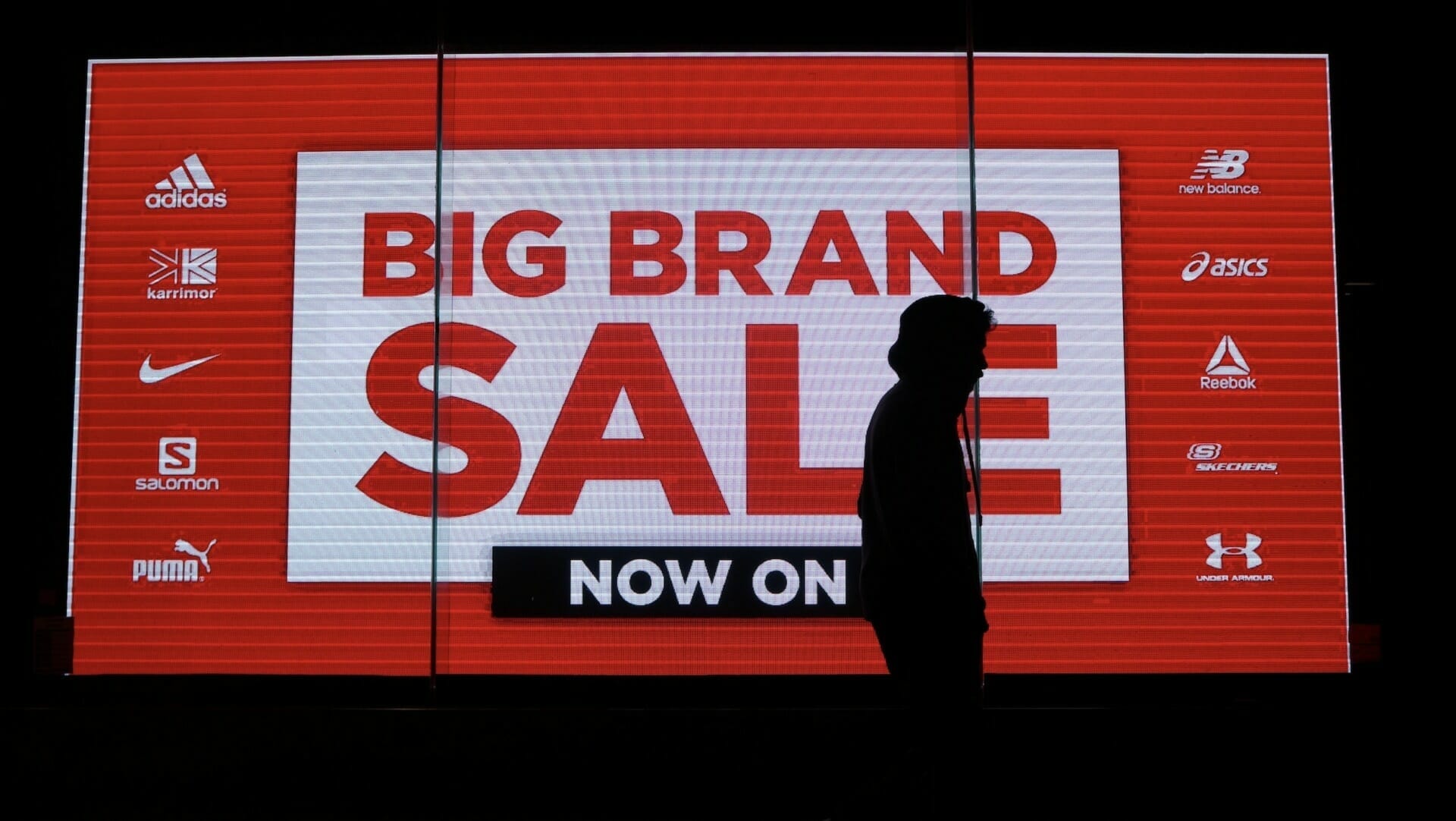 Source: Jon Cellier
What is this blog post all about?
This post highlights how retailers, even big-name brands, can lose millions of dollars in business when it comes to Black Friday and Christmas sales – all because their e-commerce system can't deal with an increase in traffic or sales volume. For those businesses who are unsure if their platform can cope, it's never too late (or too early) to consider whether your technical infrastructure can scale, or if it's time to migrate to a new shop system.
Contents
Want to skip part of this blog and get to the info you care most about? Just click on each navigation link below to jump to the relevant section.
Picture this – It's Black Friday. The sneakers you've been desperate to get are 70% off. Heart thumping with excitement, you see your size still in stock. Holding your breath now, you add them to your cart. You click check-out, hardly believing your luck, when…the page crashes.
Source: Target
Is there anything more disappointing as a consumer when a retailer doesn't have their sh*t together to handle a big sales day?
Just how much profit is up for grabs during end-of-year sales?
End-of-year sales are so vital to retailers, that any kind of technical malfunction due to an unprepared system can result in billions of dollars of losses. And, the most wonderful time of the year no longer means simply just Christmas – an increasingly globalized world means that country-specific shopping days like Black Friday (originally a Thanksgiving phenomenon from the United States) mean big business for companies all around the world.
Add in Cyber Monday, a fairly new kid on the block, and the Chinese Singles Day on 11th of November (believed to be the biggest online shopping day in the world) and the importance of business going smoothly during the last two months of the year are self-evident.
For obvious reasons, retailers can be quite tight-lipped about exact loss numbers when experiencing a malfunction during the biggest sales time of the year, but Forbes reported that for an apparel company, one hour of their site being down accounts for $4.5 million of lost sales. 
With between 20-30% of a retailer's yearly sales happening during the end-of-year holiday season, according to the National Retail Federation, this loss figure could be even higher. 
In 2020, in the United States alone, consumers spent $9 billion on online sales during Black Friday, up 22% from the previous year. The Covid-19 pandemic has accelerated online sales and consumers (think, Baby Boomers) who might have been reticent to shop online previously are now comfortably using one-click checkout and BOPIS (Buy Online Pick-up In Store). 
Make sure your shop system is scalable
Companies simply cannot afford to have preventable technical malfunctions or system overloads on the biggest shopping days of the year. Aside from the huge potential earnings loss, it also risks something even more valuable – your customer lifetime value. 91% of customers that have a bad experience simply never return. 
Yet, according to a Forbes 2020 e-commerce survey, more than 100 retail IT managers said that 72% of their customers experienced slow load times during the holidays. Ouch. 
Even without a giant technical malfunction, poor user experience due to an unprepared commerce system is not going to impress your customers, or your bottom line. If you're already considering platform migration, or this post is making you think about a shop system upgrade in time for end-of-year sales, check out this replatforming guide so you can avoid the most common software migration pitfalls:
We'll get into how your organization can prevent a Black Friday Fail later, but first let's look at the top 10 biggest end-of-year business failures to really drive the message home. 
10 biggest end-of-year business failures
1. Best Buy Canada
Date: Black Friday, November 27, 2015
Fail: Site was down for 3 hours due to technical difficulties, attributed to record visitor numbers. Resulting loss of undisclosed millions of $ and thousands of valuable customers.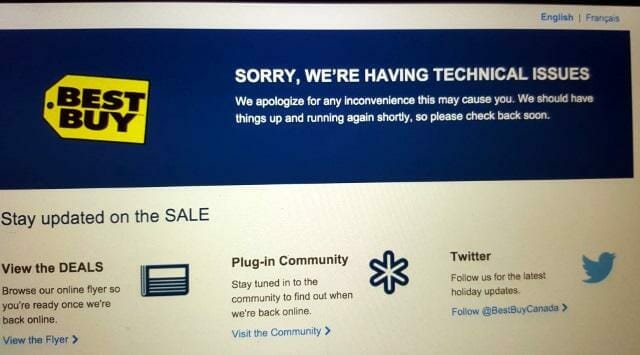 After announcing on Twitter that their Black Friday promotions had started on Thursday night, Best Buy Canada visitors started complaining that they couldn't check out due to website malfunctions. This led to a huge social media backlash, with many shoppers sharing photos going to a competitor's website to buy what they wanted there instead. 
Disappointed shoppers were savage on social media, with tweets going out such as  "@BestBuyCanada you ARE a technology-based online business right? This sale proves you're in the wrong business. #WorstBuy #YOUHADONEJOB."
 2. Target
Date: Cyber Monday, November 29, 2015
Fail: Website crashed for 30 minutes, leading to a share value drop of more than 1%.
When site visitors reached levels twice as high as their busiest shopping day, Target's system put shoppers into a queue, meaning they couldn't shop. An outage such as this on one of the biggest shopping days of the year can have devastating impacts for shareholders – this mistake cost Target a 1% drop in their share value.  
3. Lowe's
Date: Black Friday, November 24, 2017
Fail: Website crashed for around 20 minutes.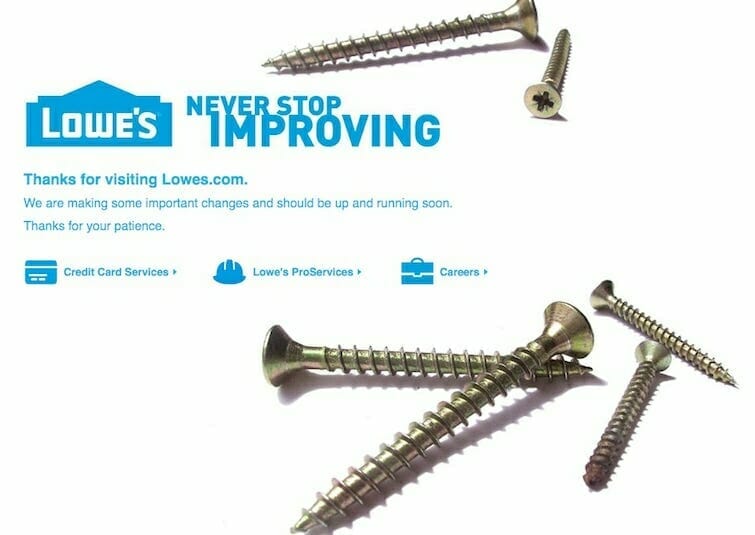 Lowe's website crashed due to increased traffic, but was only offline for around 20 minutes. However, 20 minutes is more than long enough time for angry customers to post on Twitter, and for them to shop on a competitor's site instead. Lowe's didn't reveal how much this outage cost them in revenue, but it was sure to have hurt.
4. The Perfume Shop
Date: Black Friday, November 24, 2017
Fail: Website crashed, leading customers to a competitor site.
After experiencing a website crash due to increased traffic, customers trying to shop at The Perfume Shop were directed to the competitor The Fragrance Shop via twitter responses to their angry messages. There's surely nothing worse for a retailer than being taunted by a competitor whose page can withstand the increased traffic, and serve your frustrated customers.
5. J.Crew's
Date: Black Friday, November 23, 2018
Fail: A 5-hour outage due to increased traffic, resulting in an estimated loss of $775,000 in sales.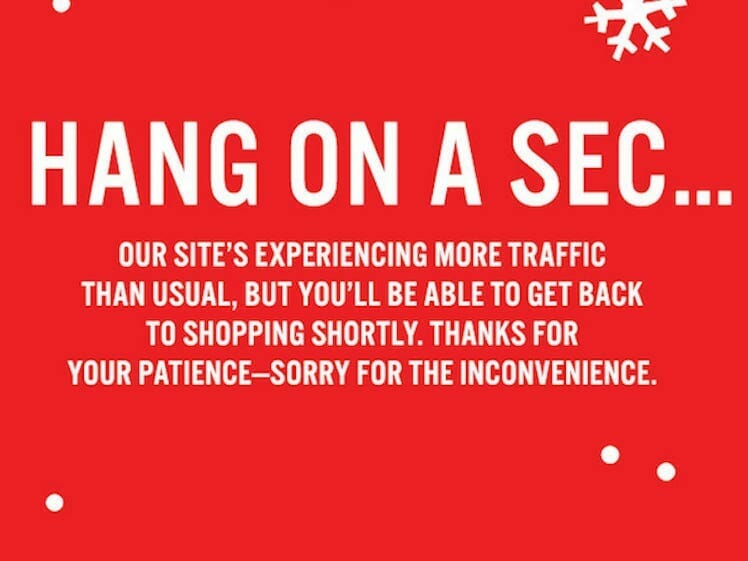 J.Crew's website crashed for 5 hours during the 2018 Black Friday, with shoppers reporting errors with being able to add items to their cart, losing items once added, and issues with not being able to pay. This was the second year running that J.Crew's experienced issues during Black Friday and Cyber Monday. Experts estimate that it could have resulted in a loss of over $700,000 in sales.
6. Macy's
Date: Black Friday, November 23, 2018
Fail: Macy's credit card payment system went down for six hours on Black Friday, resulting in both financial and customer losses. 
Macy's credit card processing system went down on Black Friday in 2018 due to 'over-capacity' problems. Having also experienced technical glitches the previous year, this sent an unfortunate message to Macy's customers that the brand was not prepared for an increasingly digital sales environment. 
7. Costco
Date: Thanksgiving Day, November 30, 2019
Fail: Website was down for 17 hours, resulting in an estimated loss of $11 million, or 40% of its estimated sales for the time period.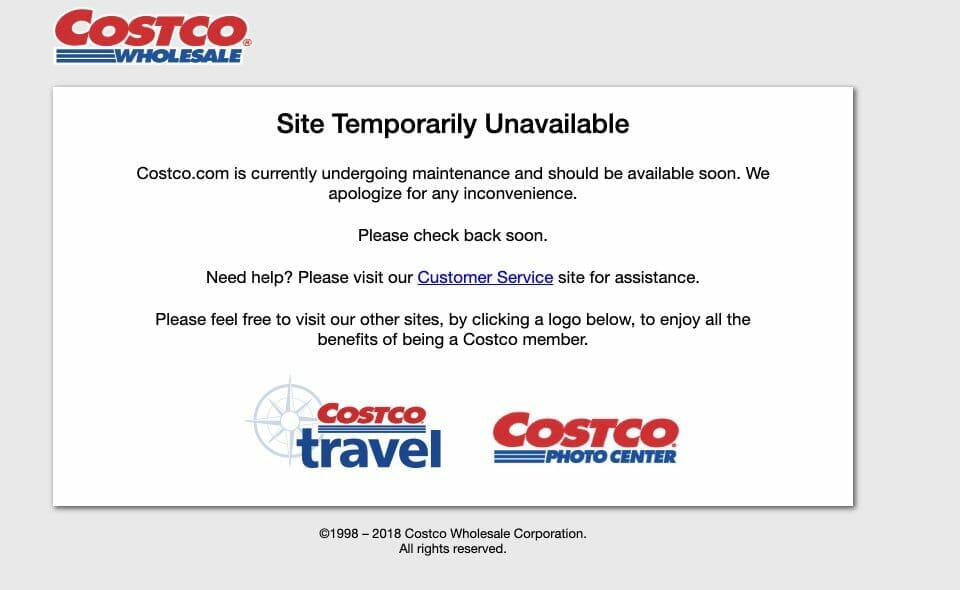 Source: Costco
Costco's website was down for around 17 hours on Thanksgiving, during which time shoppers could not complete transactions. The crash affected 2.65 million users, and experts estimated that it could have hurt the organization to the tune of $11 million.
8. Walmart
Date: Black Friday, November 29, 2019
Fail: Technical issues affected around 3.6 million shoppers and cost the retailer an estimated $9 million in lost sales.
While Walmart's website was only down for around 150 minutes, LovetheSales.com estimated that they suffered around $9 million in lost sales. It's an embarrassing mistake for such a big company, especially as by 2019, digital sales should have really been at the forefront of their agenda. 
9. PChome, Shopee, and Momo
Date: Singles Day, November 11, 2018
Fail: Three major websites went down due to high volume of traffic. 
Singles' Day, originally called Bachelor's Day, has been celebrated in China since the early 1990s. Like all good holidays, Singles' Day has turned into an excuse for massive retail sales, with marketplace platforms like Alibaba reporting $75 billion in sales on Singles' Day in 2020.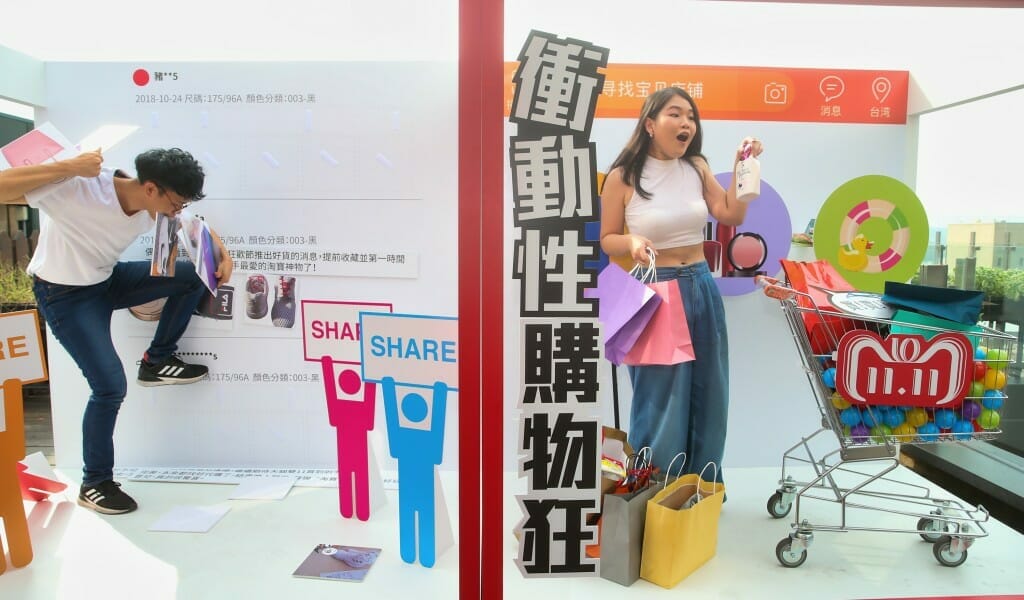 Source: CNA Photo
10. Amazon
Date: Prime Day, July 16, 2018
Fail: Several hours of site outages, resulting in over $72 million in lost sales and thousands of unhappy customers.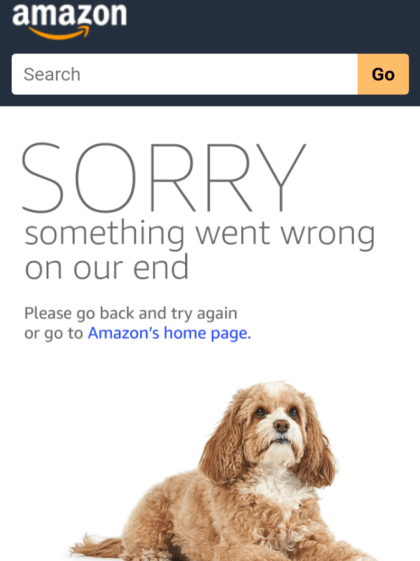 Source: Amazon
While not technically an end-of-year business failure, Amazon's 2018 Prime Day malfunction is a good example of how the technical side of the business must be ready to deal with the increase in traffic if you're anticipating an unusually high amount of traffic. 
The outage occurred because Amazon didn't have enough servers to handle all the traffic on its site, according to internal documents obtained by CNBC. This resulted in a simpler backup front page and a temporary blockage of international traffic. The most embarrassing thing for Amazon was that this took place just 15 minutes into Prime Day. This malfunction was estimated to result in over $72 million in lost sales.
What can we learn from these 10 big failures?
There's some common themes to all the failures outlined above:
During big sales days, websites experience unusually high volumes of traffic. Your business needs to be prepared for that to avoid any malfunctions on the day.
Payment processing problems or cart failures are some of the biggest issues, leading willing customers to competitors. 
Slow load times due to an unprepared server is going to result in frustrated customers and loss in sales. 
A website outage on a big sales day leads to massive losses in revenue, loss in customer loyalty and trust, and can even impact share price. 
From a branding perspective, it's a real bad look when your website can't cope with a big sales day, and your customers will take to social media to blast you for it. This opens you up to competitor ridicule, and gives them leverage over you. 
How to prevent an end-of-year business failure
There is simply no excuse in this day and age for a Black Friday website crash. The key to making sure your business doesn't end up on one of these listiciles is in your technology, your team communication, and customer service. 
Technical Infrastructure 
Sort out your technical shortcomings. You should have a scalable hosting solution such as AWS or Google Cloud Platform to make sure your site can handle the increase in traffic. Make sure to stress test your website well in advance of any big sales days by adding load to your website and seeing how it performs, paying particular attention to load time. Check-in early with your hosting provider to review your Service Level Agreement and record how long it takes for them to respond – this is a good indication of how long your site could be down should the worst happen.  
Payment & promotions
Not only should your payment processing system be stress tested to the max so you can sleep comfortably knowing you're not going to lose out on any sales due to a cart failure, but you also need to make sure your pricing is on point. Customers are not going to be happy bunnies if you have banners advertising 70% off, which reveals itself to be only 10% once you get down to it. Ensure a clearly communicated roadmap between your pricing and marketing teams to avoid any mishaps with promotions. As a last word of advice about pricing, triple check that your voucher codes are all valid and don't throw up any unknown errors.  
Support
Should the unthinkable happen, you need a clear plan of action in place to mitigate any brand damage. Make sure you have appropriate error page banners, get your customer service team on standby to respond to any angry Tweets, and have an email campaign lying in wait to offer a promotion to any customers affected. Obviously, the idea is to prevent any mishaps at all costs, but we're all just human at the end of the day. Having a smart POA in place will prevent your business from seeming too clueless and may help to limit some of the worst damage to customer trust. 
Don't be a #BlackFridayFail
November might sound far away, but there's lots of work to be done if you want to ensure that your business doesn't suffer from a notorious #BlackFridayFail. If your current e-commerce platform doesn't seem up to the challenge, why not check out this migration guide to avoid pitfalls in software replatforming, to help you replatform without a hitch.