ROSE Bikes by the Numbers
The innovative bike dealer ROSE Bikes wanted to drive its holistic digital transformation focusing on an outstanding e-commerce experience and technology ownership. Within few months they launched an MVP online shop allowing customers to customize their unique bikes. In combination with three times faster page loading times and elaborate filter, search, and discount features this led to 100 percent growth in online sales.
Snapshot
Introducing ROSE Bikes
Since its foundation in 1907, ROSE Bikes has developed from a small specialist bike dealer to an internationally oriented, digital omnichannel company. With its award-winning stores and showrooms, the company has specialized in individualized bikes. All bikes are designed at the headquarters in Bocholt, Germany, assembled by hand and then delivered worldwide.
Background
More Than just a Standard E-Commerce Shop
The topic of cycling is highly emotional for many people, even representing a very individual lifestyle. Not least for this reason, ROSE Bikes' core values include functionality, straightforwardness and extremely customer-oriented services, coupled with a high degree of individuality. To convey this mixture of technology, emotion and passion for cycling, ROSE Bikes needed more than just a standard e-commerce shop. There is more on offer than the customers' desired function and design.
ROSE Bikes might not be reinventing the wheel, but they are definitely reinventing cycle purchases and the configuration experience.
The old shop was getting a bit long in the tooth and the release cycles were becoming longer and longer. This was causing an increasing backlog of projects and even minor modifications. Content commerce was not possible, the mobile conversion was not satisfactory and the loading times were no longer up-to-date. The online shop was not on the same level as our products and stores, for which we regularly win prizes. So we started looking for a new solution.
Challenge
Transformation through MVP Launch
As a pioneer in distance selling and online mail order, ROSE Bikes not only realized how important it is for a company to be constantly developing and trying out new things. In its own logistics center, and even in its graphics and design department, ROSE Bikes has always taken an innovative approach. This step should now also be taken in commerce in order to further advance the holistic digital transformation.
For the re-launch, the company has pursued a classic MVP approach. The goal was to keep the e-commerce transformation concentrated and lean with a clear focus on the most relevant features.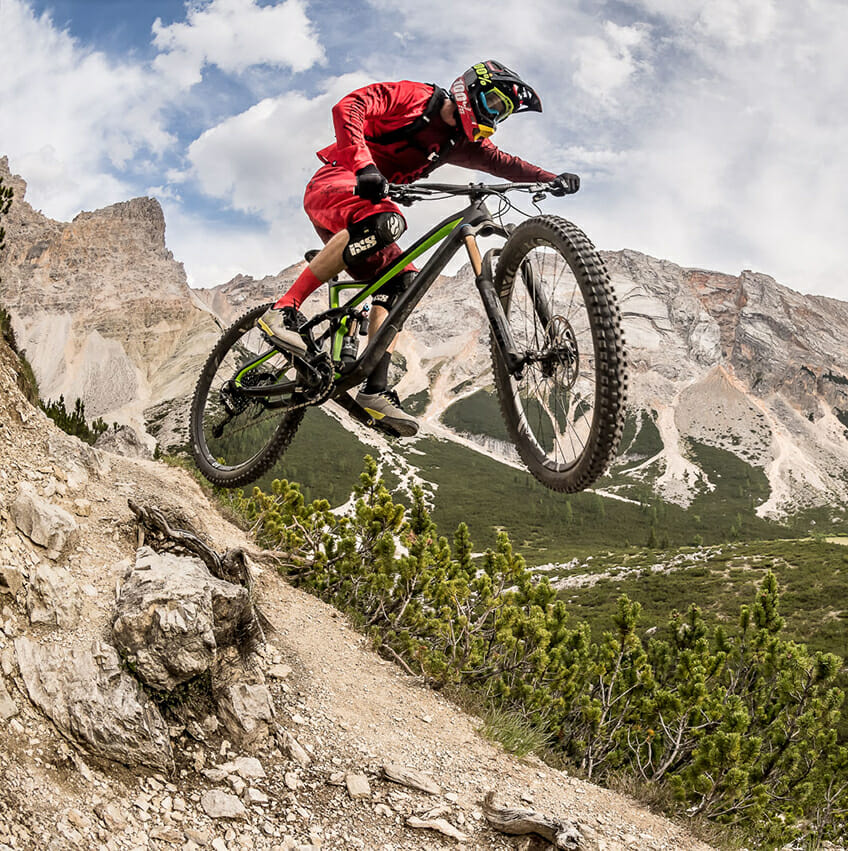 We have recognized how important it is for our company to invest in its own skills in order to continue to develop in a dynamic and agile way. For years, this is exactly how we have been setting up our product development, so now it was important and logical for us to take this step in e-commerce too.
Solution
Build Your Own…Bike!
For ROSE Bikes, the key feature is bike configuration, which is gradually being expanded and optimized. Customers can design their bikes individually from components, so they are better configured to their own requirements. The integration of product attributes and tags has now improved categorization in the shop. The combination of product attributes and filters then facilitates the targeted and detailed structure of the search function for the configurator as well as for the rest of the shop. Elasticsearch has also been implemented with many powerful features, such as the synonym search.
These features help simplify the user journey in the shop and take the presentation to a new level – all controlled by us and therefore perfectly adapted to ROSE Bikes' requirements.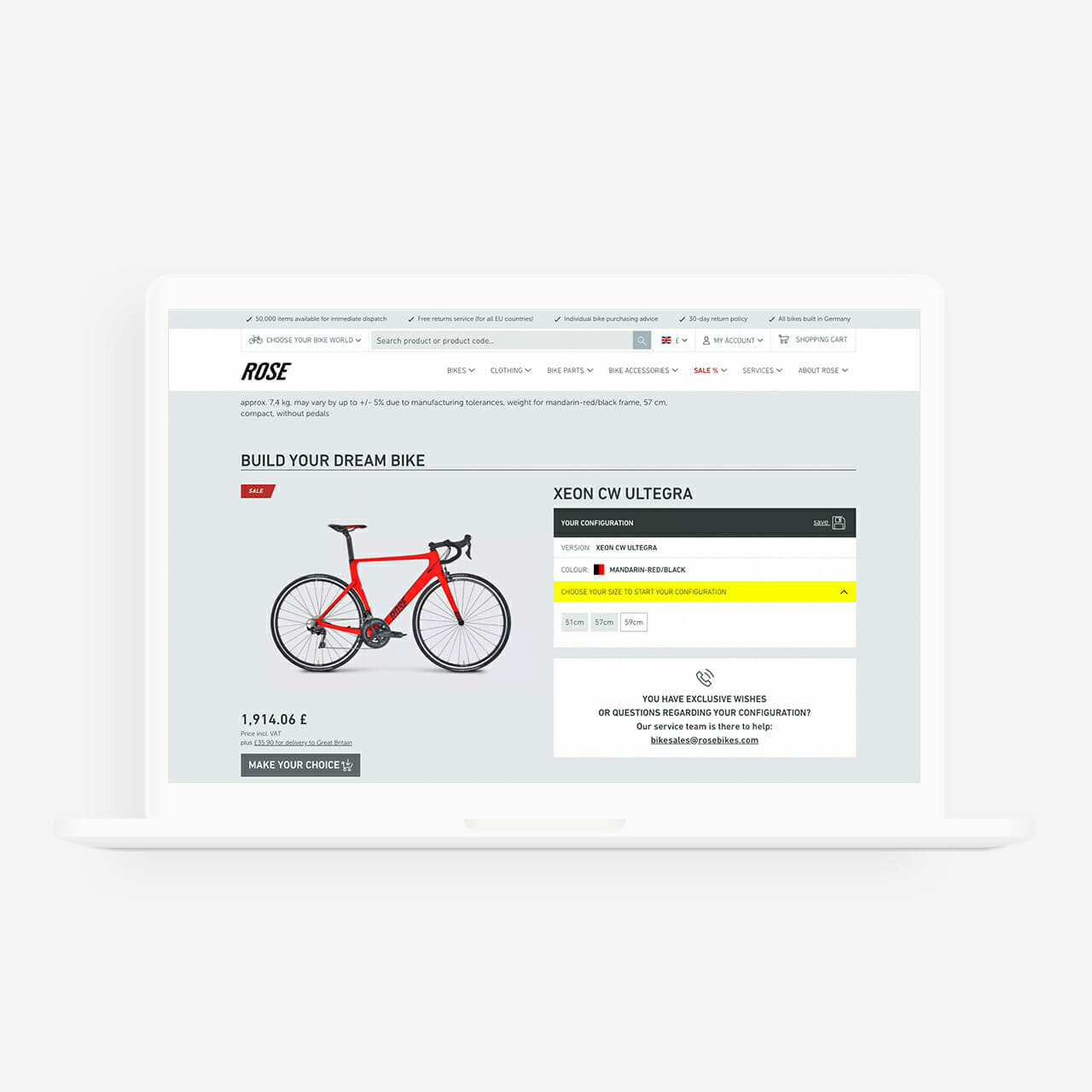 Sale, Sale, Sale
ROSE Bikes uses the Spryker Discount Engine to offer its customers attractive prices and special offers, as well as B-grade goods. Using this, discount rules can be created quickly and clearly, and even time-limited price promotions are child's play to implement.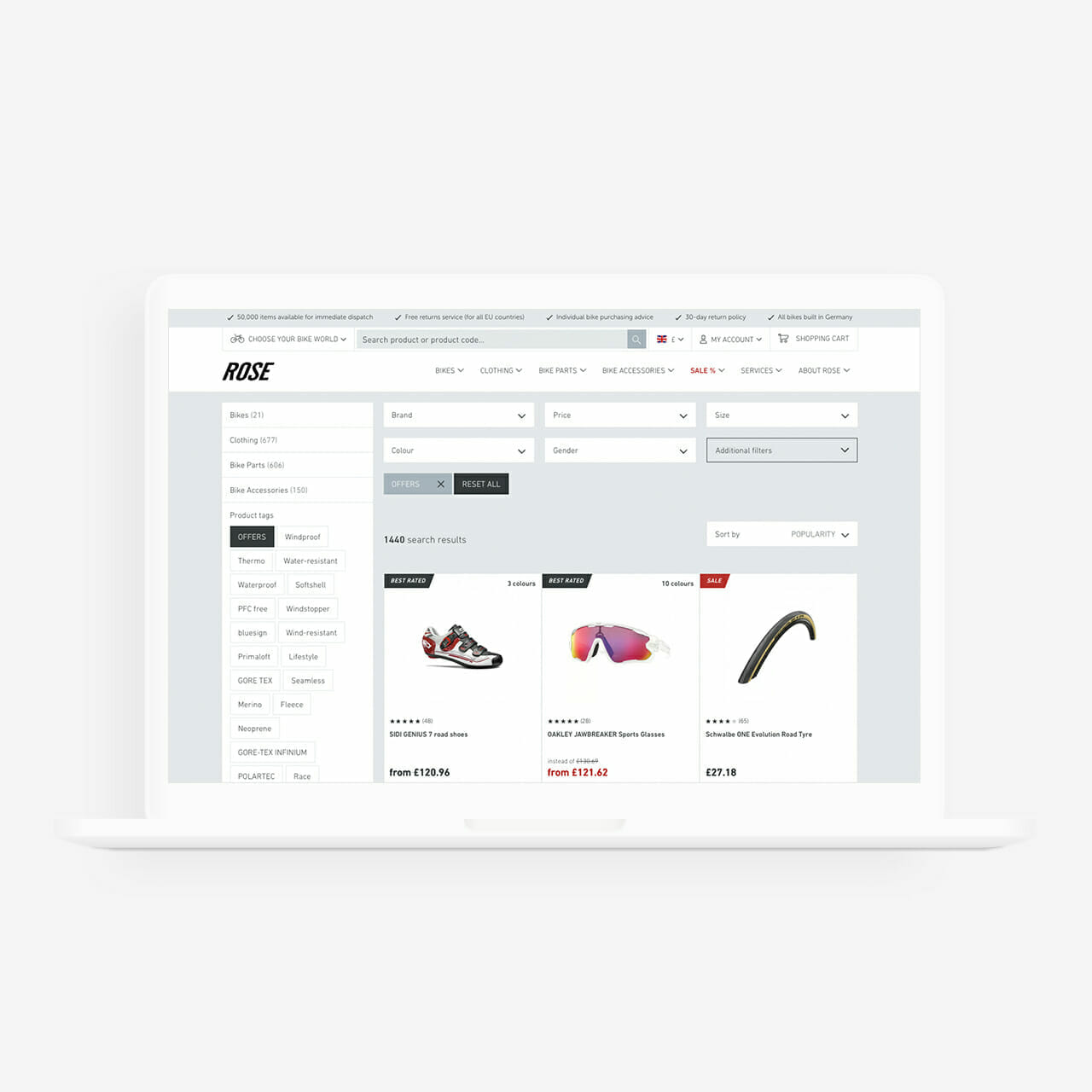 Referral Measures Made Easy
Gift vouchers are a great opportunity for attracting new customers and increasing sales. ROSE Bikes has implemented this Spryker feature and offers it as a gift idea for bike lovers. The system is set up to send vouchers by email, so there are no shipping costs and they are immediately available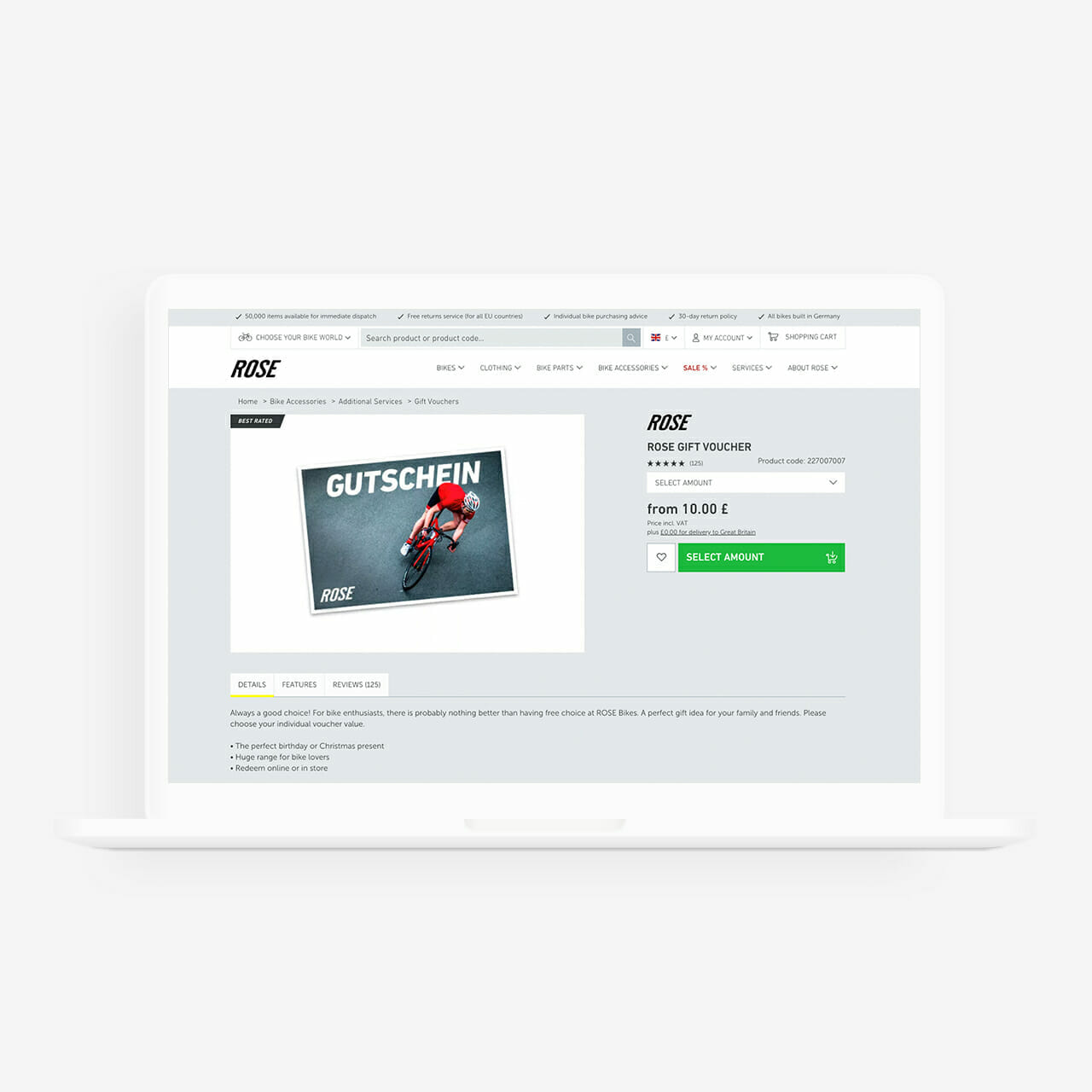 Results
New Shop, Happier Customers, Higher Revenue
The Spryker Commerce OS is helping ROSE Bikes to increase usability and consequently the customer satisfaction. According to Managing Director Heckrath-Rose, the average page loading time could be reduced from 5.9 seconds to 1.9 seconds after the relaunch which in turn led to a lower cart abandonment rate. Ultimately, ROSE Bikes' e-commerce success could be proven by a 100 percent growth of online sales in the year after the relaunch and a 21 percent YoY increase of revenue for H1 in 2020.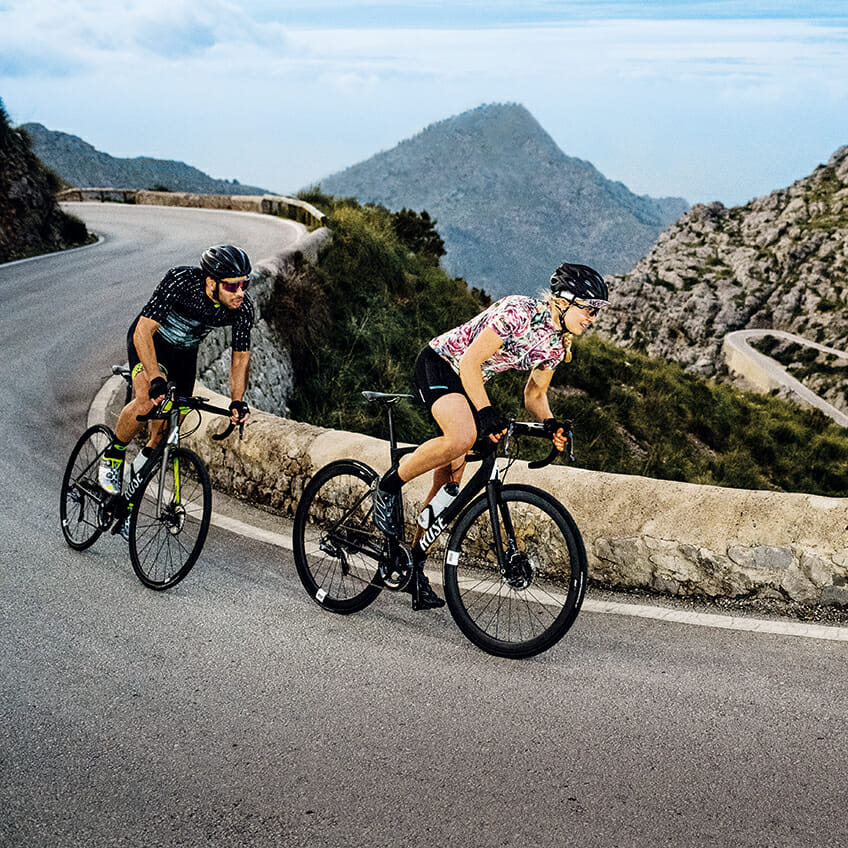 Strong Branding for a Cycling Passion
Content integration – especially for ROSE Bikes' own brand and other products – is an important step toward recreating the emotion and passion for cycling online. With Spryker's CMS, ROSE Bikes has succeeded in connecting content and products, thereby create a lively and informative shopping experience for customers.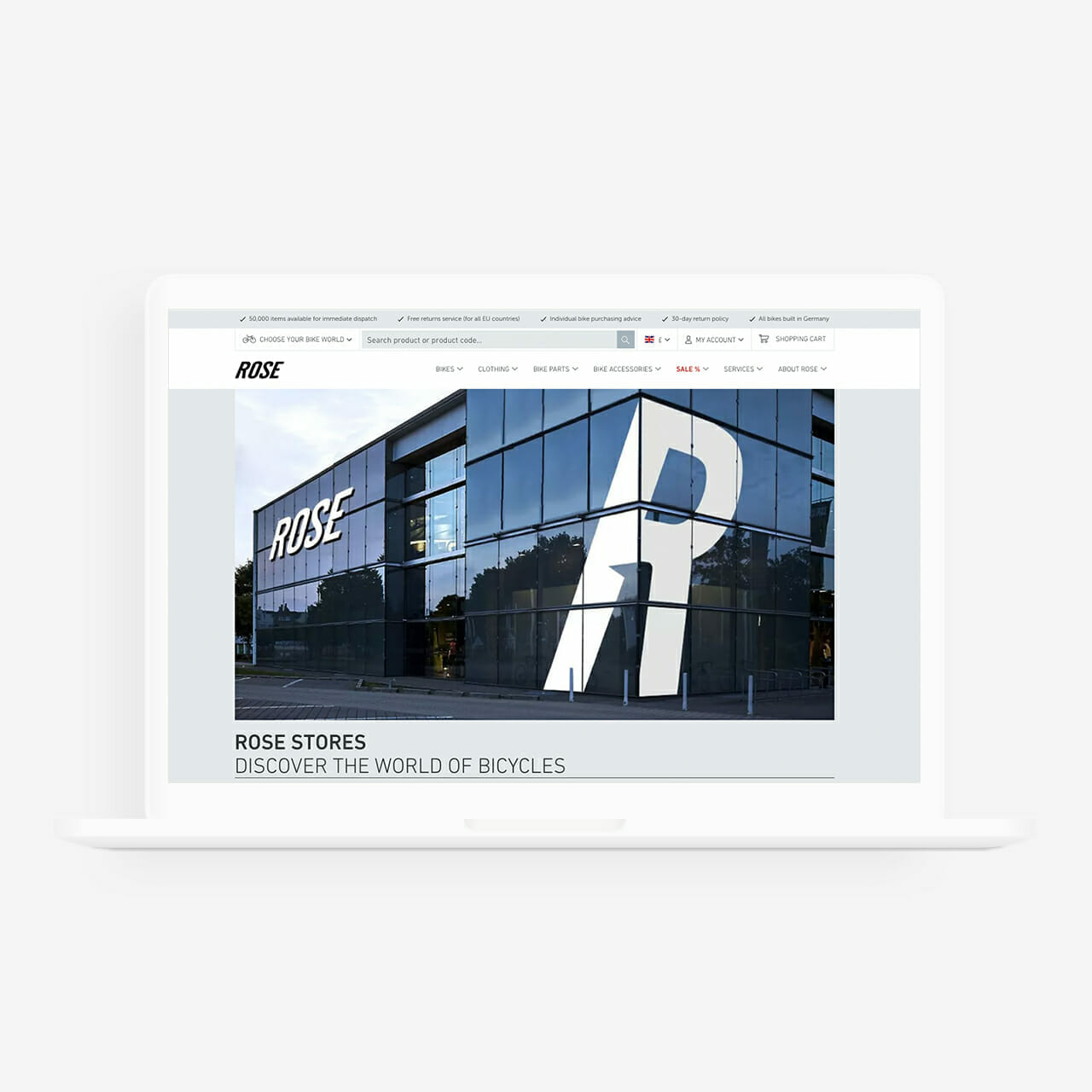 Ecosystem
Spryker Technology Partner
From the very first hour ROSE Bikes has relied on the successful payment module of heidelpay GmbH. ROSE Bikes customers can easily pay by credit card, Paypal, instant bank transfer and iDeal. The payment model of heidelpay GmbH enables a smooth check-out process tailored to the needs of ROSE Bikes. Due to the seamless integration into the Spryker Commerce OS, the system could be implemented in a very short time and thus a smooth payment process could be guaranteed.

See how
Spryker

can work for you.

A platform developed with your unique business in mind. See Spryker in action.