Thinking about
starting a marketplace?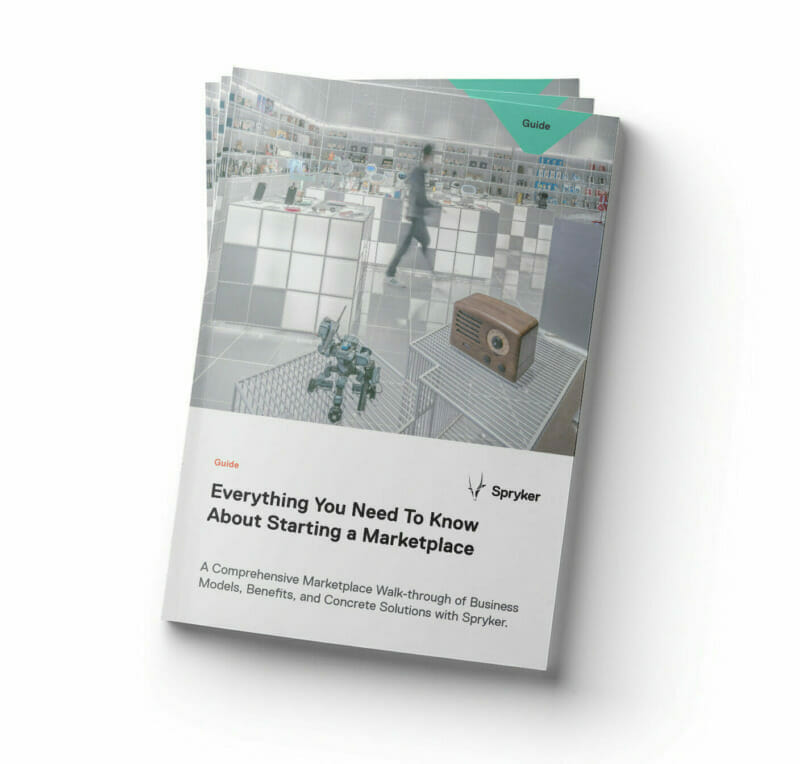 What's inside the Guide?
The Guide offers a comprehensive marketplace walk-through of marketplace business models, benefits, and concrete solutions with Spryker: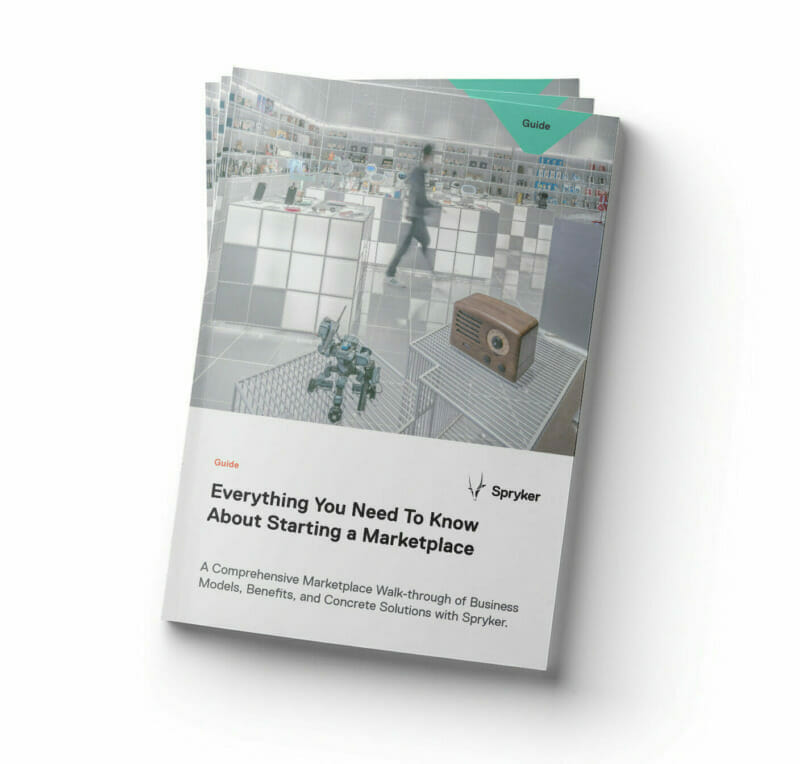 CHAPTER 01 - Introduction to Marketplaces: How does a Marketplace work and what are the roles of the Marketplace Operator & Merchants

CHAPTER 02 - The Benefits of Starting a Marketplace: Benefits for the Operator, for your Merchant, and for your Customers

CHAPTER 03 - Getting Started with Spryker's Marketplace Suite: The Merchant Portal, the Marketplace Storefront and the Back Office for Marketplace Operator
An Error occured while trying to load the form. Please reload the Browser to try it again.
What is a Marketplace?
Traditionally, marketplaces are a space where sellers and buyers converge to offer and purchase products.
When Amazon first launched its online marketplace in November 2000, the idea of third-party vendors congregating on a website to present products to consumers was still very much a novelty. These days, marketplace sales account for 62% of the global online retail sales. In 2020 alone, about $2.67 trillion was spent on the world's top 100 marketplaces.
As global marketplace giants such as Alibaba, Amazon, eBay, and Etsy make continued efforts to increase their market share, the relevance of online marketplaces will become even more apparent to potential vendors and businesses alike.
Manufacturers underestimate the potential of marketplaces.It's not just about offering products, but creating a self-reinforcing ecosystem through a holistic experience of products and services for customers.

– Alexander Graf, CEO, Spryker
Marketplaces offer immense growth potential for businesses within B2C and B2B industries. By adopting a marketplace model, companies have the opportunity to scale at a much quicker pace while reducing risk. Gartner predicts that by 2023, 15% of medium-to high-GMV digital commerce organizations will have deployed their marketplaces, thereby creating an entirely new digital ecosystem.
For organizations with an existing traditional e-commerce platform, a digital marketplace could be the next step in accelerating customer acquisition and increasing revenue.
Read the Marketplace Guide
See what Spryker's
Enterprise Marketplace

can do for your business.

Get a personalized Marketplace Suite demo based on your company's unique needs.